Darren Rovell Dishes On Pat Riley's 'Three-Peat' Trademark
03:51
Play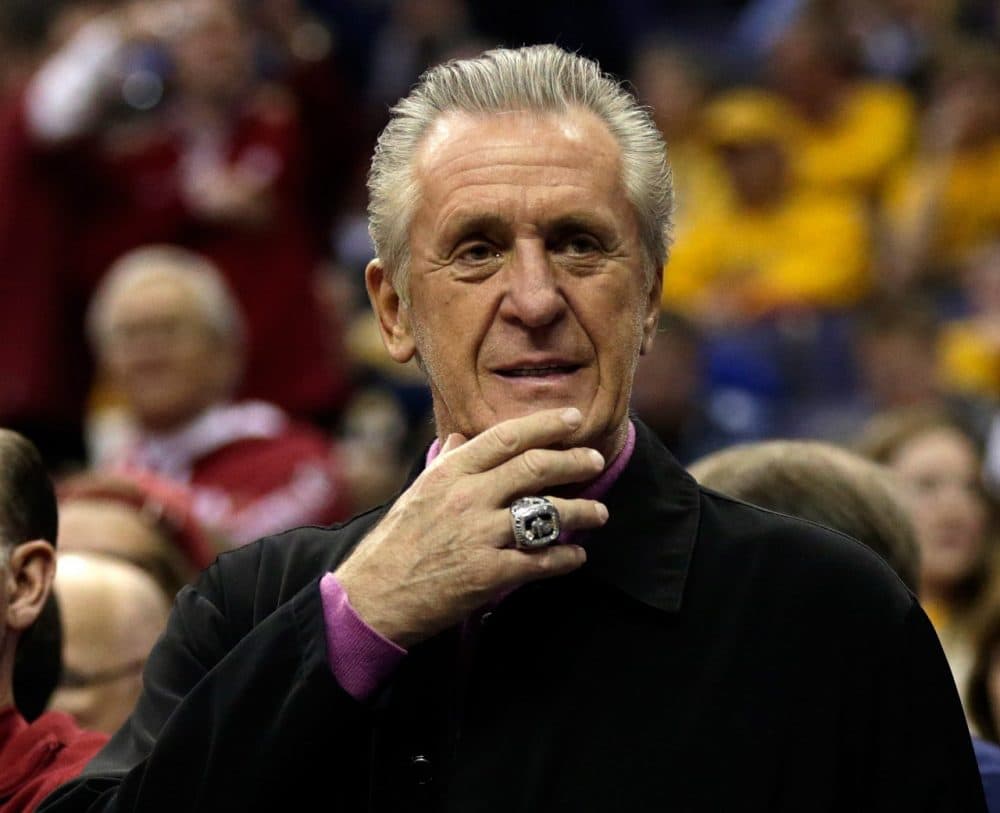 This article is more than 7 years old.
Last week as the Miami Heat continued their quest for a third consecutive NBA title, team president Pat Riley filed to expand his trademark rights to the phrase "Three-Peat." Riley has held those rights since 1988, months after his Los Angeles Lakers won back-to-back titles. Those Lakers didn't three-peat, nor has any of Riley's other teams, but that hasn't stopped him from profiting over the years.
ESPN's Darren Rovell joined Bill Littlefield to explain.
BL: Obviously Pat Riley would prefer to profit from his trademark by having his own team win three championships in a row but does that actually make any difference in the world of trademarks?
[sidebar title="Gregg Popovich's Div. III Roots" width="330" align="right"]The San Antonio Spurs coach got his start far from the glitz and glam of the NBA.[/sidebar]DR: Well, it didn't for him. When the Bulls won in '93 for the third time, he was able to make money off that when the licensees used the phrase. In 1998 when the Bulls three-peated again, so to speak, winning their sixth title, thanks to Michael Jordan. He collected again in 2000 — he collected when the Yankees three-peated.
The Lakers finally did three-peat in 2002, so he also collected there. So, it didn't matter that it wasn't his team. But it did matter that he had the trademark and people thought it was cool enough — I mean anyone could have avoided it — but they thought it was cool enough to actually use it.
BL: Pat Riley has said he does not seek out business for the trademark but his lawyers have certainly gone to great lengths to protect it. What challenges have they been able to fend off?
DR: In order to make money off a trademark you have to protect it because if you don't protect it then it doesn't have value to the people who might want to buy it. And so when USC was potentially going to win three championships — Pete Carroll, of course, was their coach — there [were] people trying to put out "Three-Pete," and they went after them. And they've gone after a fairly significant amount of people over the years to kind of protect their trademark as kind of necessary focus on — you can only make money if you protect it.
BL: Riley told ESPN in 2005 that he gives much of the money he makes from the trademark to charity. But if the Heat win it all this year former Lakers guard Wes Matthews is hoping his former coach will send him a check. Why's that?
[sidebar title="Jeff Pearlman's 'Showtime'" width="330" align="right"]In March, Bill Littlefield spoke with 'Showtime' author Jeff Pearlman about his history of the Lakers' 1980s dynasty.[/sidebar]DR: Well, despite the fact that the legend goes that Pat Riley turned Byron Scott's original word of "Twee-Peat" into "Three-Peat," the book "Showtime" came out about the Lakers, and, in that book, Wes Matthews actually says he actually said the word "Three-Peat," and Riley essentially stole it from him.
Now, he's not mad, and the check is kind of a joke. He said that he wouldn't have thought to trademark it and good for Riley for doing so. But I guess 25 years after he wanted to say on the record that he indeed did come up with the phrase and at least get some credit from it.
BL: Soon after last week's filing, Heat fans began complaining that Riley had jinxed their team. And sure enough LeBron et al. dropped their next game to the Indiana Pacers. Are we looking at a jinx here?
DR: It's an intellectual jinx. It's like you have to go to the U.S. Patent and Trademark office to see that they're filing these types of things. I will say he did file for "Three-Peat" on jewelry, namely rings — that's exactly how it's written — but I see he was very careful when he provided the specimen of what the "Three-Peat" ring would look like, the years on it said 2009, 2010 and 2011. Now, if it said 2012, 2013 and 2014 then I would call it a jinx.
This segment aired on May 31, 2014.