The Life Of A French Open Ball Kid
03:56
Play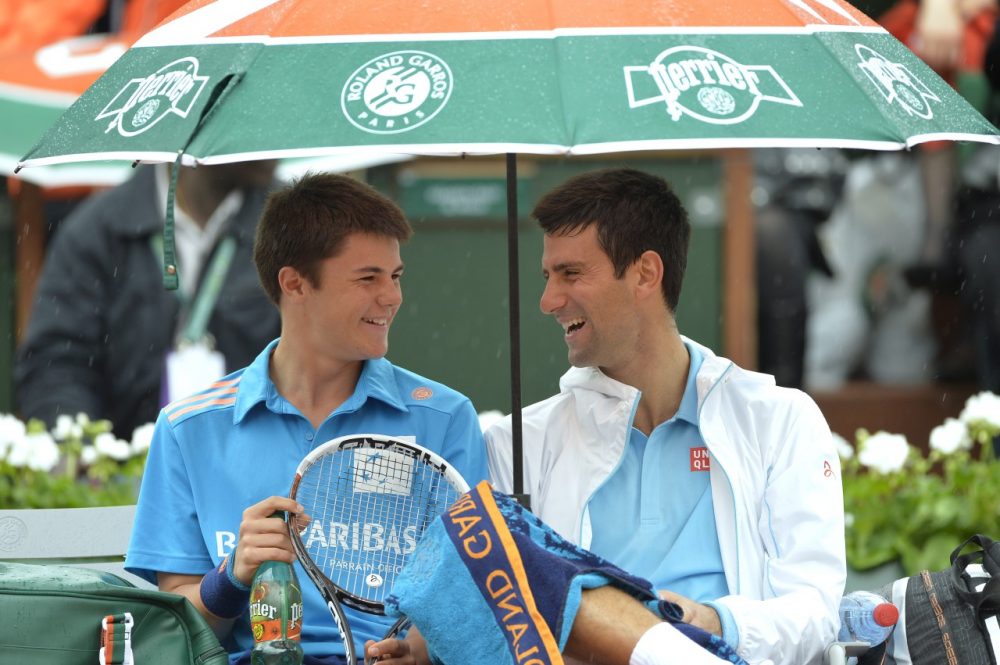 This article is more than 7 years old.
Most eyes at the French Open have been on Rafael Nadal or on Andy Murray or Maria Sharapova or Simona Halep, but the eyes of John Martin of the New York Times have been on the ball kids, the boys and girls scuddling around the court retrieving tennis balls and returning them to the players.
Martin joined Bill Littlefield on Only A Game.
BL: The girls and boys who gather up the tennis balls at Roland Garros begin their day in an unusual way. What do they do as they run across the grounds in formations similar to — at least as you have written — a military unit on a morning jaunt?
In a way [ball boys and girls] are athletes -- and darn good ones. When you watch them perform on the court it's amazing.

John Martin, New York Times
BL: I can understand why the ball boys and ball girls would also prepare for their day by stretching. That makes perfect sense. But tell me why they then lie down on the ground in neat rows and close their eyes for five minutes.
JM: It is quite a sight, and I've had people just sort of gawk at that: "What in the world are they doing?" David Portier, who's the head of the team, says they're just concentrating, getting themselves in the right frame of mind. Athletes do this too as you know. In a way they are athletes — and darn good ones. When you watch them perform on the court it's amazing.
BL: What else makes the experience of a ball boy or a ball girl at the French Open different from somebody running after tennis balls at one of the other major tournaments. 
[sidebar title="More From The French Open" width="330" align="right"]One of the greatest tennis champions in French history is Max Decugis. Meet France's forgotten champion. [/sidebar]JM: Well, the main thing is their attention to fitness, to physical condition. The three other major  international tournaments have kids of the same age — although the U.S. Open actually has kids, "kids," up to the age of 48, 49; there's no upper age limit in New York — but basically it's they're putting themselves into the physical condition to get out there and do their job.
BL: Three-thousand children applied for jobs as ball boys or ball girls at the French Open and only 250 of them made the cut. What distinguishes a successful candidate?
JM: Speed is a big factor as you know from watching a tennis match. Those kids are in and out of view often in eight seconds, seven seconds, so they've gotta be fast, they've gotta use their heads. It's so interesting to watch them because they are performing for the first time, you know, on an adult scale.
BL: On YouTube, you can find videos of ball boys and ball girls who have screwed up in one way or another. I guess the really successful ball boy or ball girl is one who's never noticed.
JM: That's right. If they're doing their job they're invisible. You know, the best YouTube video of that, however, is Seinfeld's satire on ball kids. I don't know if you saw that.
BL: I'm familiar with it.
JM: Yeah, Kramer gets a job, and he's down there and he's trying real hard and all of a sudden he knocks over Monica Seles in the final. And Seinfeld says from the stands, "So ends the ball man experiment." Well, of course, it isn't over because they still have ball man tryouts.
BL: During a rain delay at this French Open, Novak Djokovic invited a ball boy charged with holding his umbrella to ... sit down next to him. He gave his guest some water from his bag, and the two looked to be conversing and having a fine old time together. I suppose the usual day of the ball kid is not quite that glamorous.
JM: Not at all. And I think the greatest thing about Djokovic was that he looked just like a ball kid. He was quite a few years older than the kid who was sitting next to him but he had that same composure and very casual. It was wonderful. It really was great.
This segment aired on June 7, 2014.