Spain, England Eliminated And Other World Cup News
04:22
Play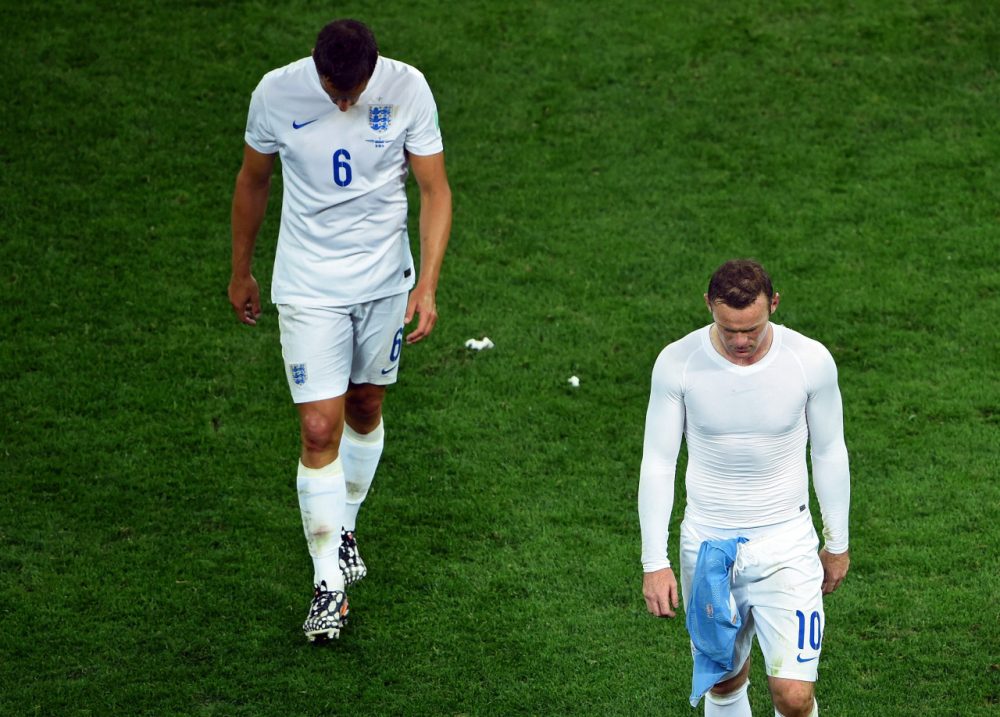 This article is more than 6 years old.
More surprising results have come out of Brazil, including defending champion Spain being eliminated in two games, England's own elimination courtesy of a heartbreaking loss to Uruguay, and the United States overpowering Ghana.
Roger Bennett, ESPN soccer expert and co-host of Men in Blazers once again joined Bill Littlefield to discuss the latest Cup results.
BL: Roger, speak to us of England's 2-1 loss to Uruguay, courtesy of two goals by that perfect gentleman, Luis Suarez.
RB: It's absolutely excruciating. This is the quickest England have gone out of a World Cup in history, they've not exited the group stage since 1958. And the talisman, Wayne Rooney, was really struggling on both Facebook, when he screamed at the English public to get off his back, and on the field where he could do little right but score once in a game we ultimately lost. So a terrible, terrible day. It feels a little bit like the empire disintegrating, just a tiny bit.
And if one thing has changed, I think England's expectations have now downgraded. If you look at our form since 1970, we're really just a little dog that thinks it's a big dog. Our form ranks up there with kind of the Mexicos and Swedens of the World Cup, and I do believe the United States will win the World Cup before England ever get the chance to do so again.
BL: I don't think anybody expected defending champion Spain to be bounced out of the tournament in two games – I know you didn't. Did the entire roster suddenly get old all at once?
"This CONCACAF region is a little bit like Olivia Newton-John at the end of <i>Grease</i>, where they've turned up in a pair of drainpipes with red stiletto shoes and said to the world, 'Tell me about it, punk.'"
RB: There was a little bit of age, there was a little bit of heavy legs, but they played two very fast young teams who just pressed them, came at them without fear, and they did not have the ability to counter it. The fact that they are out should not take away from the incredible achievements that they've carried through in the game since 2008. So it's the end for now, but they will be back. They will be back.
BL: Mexico held on for a draw against Brazil, which has not looked exactly dominant, though they will very likely advance. You're in Brazil, are you concerned about what might happen if the home side doesn't win the whole thing?
RB: Mexico would be phenomenal. Not just Mexico, but every team for the United States' region, CONCACAF [Confederation of North, Central American and Caribbean Association Football]. CONCACAF has always been a lesser region, almost a joke, a footballing footnote on the world stage.
This time, they're topping almost every group, bar Honduras. This CONCACAF region is a little bit like Olivia Newton-John at the end of Grease, where they've turned up in a pair of drainpipes with red stiletto shoes and said to the world, "Tell me about it, punk." And this Brazilian team doesn't come even close to the mess. They don't even try to. We have a mess of Brazilian football, Cirque Du Soleil, where they toss the ball around like an ultimate Frisbee, depriving the other side of the glory of touching it. They have this young star Neymar, he's dyed his hair blonde, he looks a little bit like Megan Rapinoe running through the middle of the field – but unfortunately he played a little bit like John Daly, circa 1998. And I think the country is definitely concerned. It's a lot for any team to bear, and we're still waiting for them to put on their first truly Brazilian performance.
BL: The U.S., winners against Ghana on Monday, play Portugal on Sunday. How important is this match to the Yanks?
RB: The match is unbelievably important. There's the emotional and there's a rational when it comes to this United States team. The emotional is, what a remarkable three points against Ghana. But what it was remarkable for was the tenacity. They dominated the game, unbelievably, for the first 29 seconds, and then they fell back. Ghana battered them – a better team may have scored three or four goals in that period. If the question was, how good is this U.S. team when they came to Brazil? The honest truth is, we still do not know the answer.
They're gonna be playing against a Portuguese side that is not a great collective. They do have the best player in the world, Cristiano Ronaldo, who is a wounded warrior right now. But to believe – as many people now do, because they won the first game – that they're suddenly gonna go into the jungle of Manaus and dominate the game is to perhaps overestimate this American team.
This segment aired on June 21, 2014.