Up Next, 2018: The Future Of The U.S. Men's National Team
04:16
Play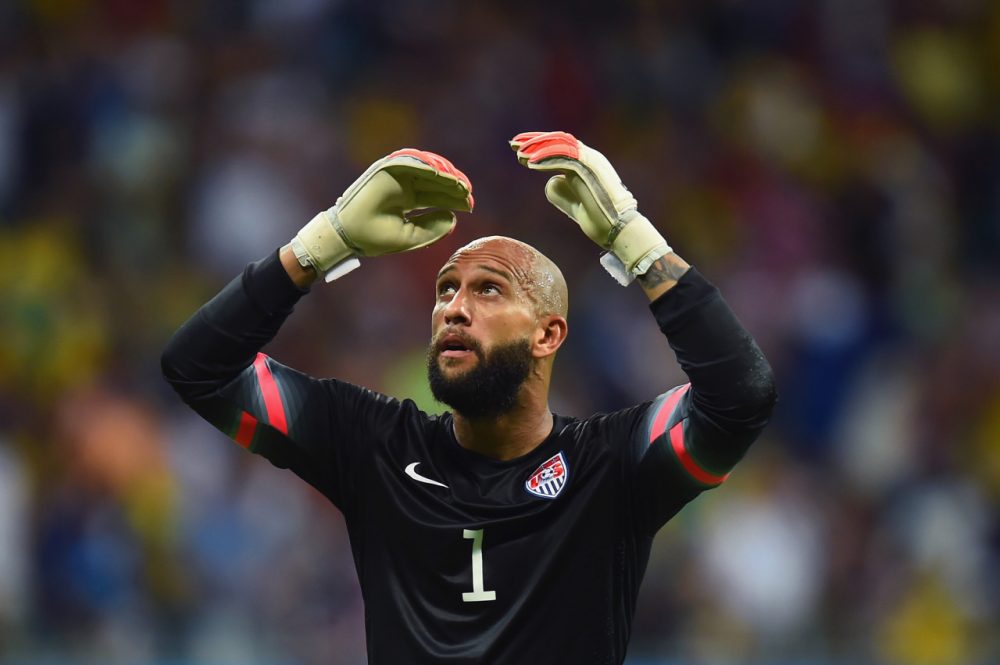 This article is more than 6 years old.
The U.S. escaped group play and made into the Round of 16 at the 2014 World Cup. But does that accomplishment mean the national team was successful? And what does the U.S. program need to do over the next four years?
MLSsoccer.com Editor-in-Chief Greg Lalas joined Only A Game's Karen Given to provide some answers.
KG: So what did the U.S. team accomplish in Brazil in terms of its competitiveness on the international stage?
[sidebar title="Change The Penalty Kick?" width="330" align="right"]Does every foul in the box deserve a penalty kick? Grantland's Kirk Goldsberry tells us about his study.[/sidebar]GL: It showed that it can continue to compete with the biggest teams in the world. You go up against the Portugals and the Germanys of the world and you can hold your own. And, in fact, you can actually beat some of them and escape "The Group of Death."
KG: In order to compete against that world-class talent you need world-class players, so which players on the current U.S. roster fit into that category? 
GL: Tim Howard is a world-class goalkeeper, arguably one of the top-three goalkeepers in the world right now, and the performance he put in against Belgium proved that. I would put [midfielder] Michael Bradley in that category. He's a player that can change games when he's at his best. Didn't have the greatest tournament of his life, but he is certainly at that level.
And I would say that a player like Matt Besler, [who] plays for Sporting Kansas City, he's a defender who I think had a tremendous tournament. And other than sort of one little mistake against Belgium, I think he showed that he has the potential to be a world-class player.
KG: Head coach Jurgen Klinsmann has been lauded by some for making the right substitutions at key moments, but he's been derided by others for not having a suitable backup for Jozy Altidore and maybe asking too much of midfielder Michael Bradley. How do you rate Klinsmann's performance?
GL: I think that the criticism that he's come in for is all deserved. At the same time, considering the group that the U.S. was in, I don't think that we could have asked for that much more from him. Yes, it would have been great if he'd had another target forward who could replace Jozy Altidore. It would have been nice if Michael Bradley could have played in his more-preferred, sort of withdrawn-holding midfielder position.
But it's not just about a collection of individuals. It's about, you know, that spirit and the cohesion and the understanding. And I think we all have to tip our hat to Klinsmann for getting that right.
KG: Well, I think the fans at least are ready for this team to do more than just get out of the group stage. So what changes does the team need to make before 2018?
[sidebar title="Soccer: It's In The Game" width="330" align="right"]Is a popular video game one reason for American fans' increased interest in soccer?[/sidebar]GL: I think you're going to see Jurgen Klinsmann bringing in more young players. You know, we saw DeAndre Yedlin, this 20-year-old kid from Seattle, who came in as a sub early in that Belgium game and was arguably the best player on the field for the United States other than Tim Howard.
And so I think you're going to see more of these young players being brought into the fold over this next World Cup cycle, which is only a good thing. If you can get a 20-year-old kid in now, you got four years to drill it into his head that he's just as good as that German player or that Portuguese player or that Belgian player. And I think in 2018 you're going to see a U.S. team that goes out there with that sort of mentality.
KG: According to recent Nielsen ratings, more people watched Tuesday's U.S.A-Belgium match than the average number that tuned in to the World Series and NBA Finals. Does this mean that the U.S. has finally caught on to soccer or merely that we finally caught on to the World Cup?
GL: I would say that it is not that anybody has caught on to anything; it's that a lot of people have been exposed to the fan and the supporter culture that's out there. The energy, the buzz, the excitement that everybody felt during this tournament — that's taking place every single weekend at soccer stadiums across the United States and Canada already.
It's not to the same scale, but look, they're getting 40,000 people to [MLS] games in Seattle. In Kansas City, every game is sold out. There's a cultural moment taking place, and I think that this World Cup has just made some people kind of look and notice what was already right in front of them.
This segment aired on July 5, 2014.