Has Derek Jeter's Celebration Turned Into Deification?
05:00
Play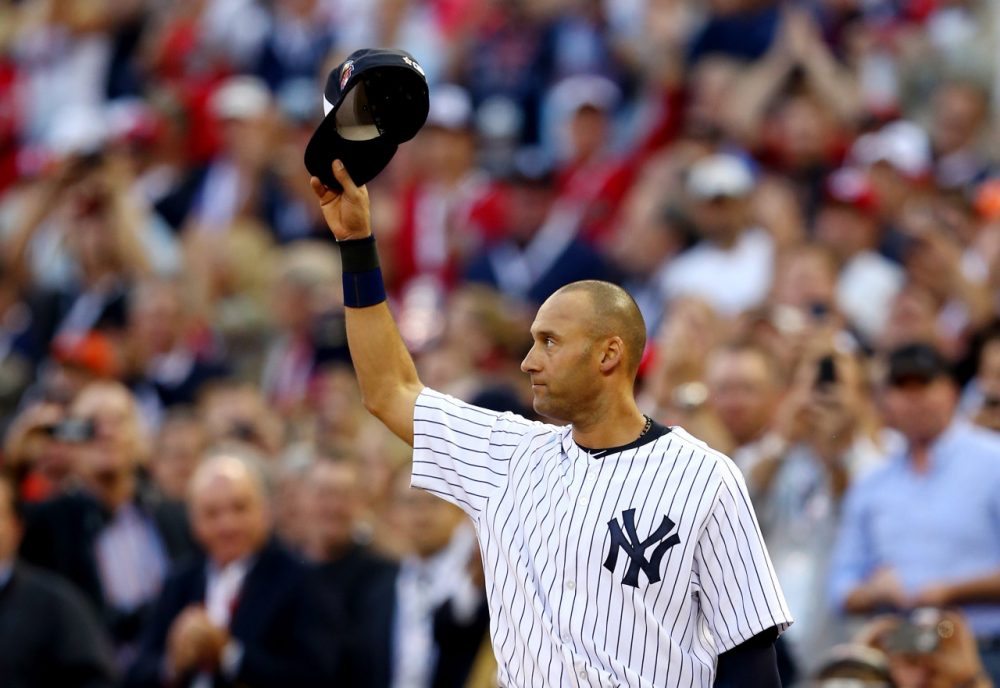 This article is more than 6 years old.
When an athlete announces his retirement before actually retiring, it signals the start of a farewell tour. New York Yankees shortstop Derek Jeter is in the midst of his right now. But has the celebration of a great career crossed over into deification?
Sports On Earth's Will Leitch thinks it has and wrote about the phenomenon in a column titled "It's Never Enough." When he joined Bill Littlefield on Only A Game, Leitch said the creation of The Derek Jeter Legend began as soon as he reached the big leagues.
"I looked back and found video of Jeter's first hit, and the announcers referred to him as 'brilliant,' which is very impressive after a man's first hit," Leitch said. "This has always kind of baked into him."
When Jeter made his debut in 1995, the Yankees had gone nearly two decades without a World Series title, but in his first full season, 1996, they won it all. The timing of Jeter's arrival, says Leitch, helped further his treatment in the media.
[sidebar title="75th Anniversary Of Gehrig's 'Luckiest Man' Speech" width="330" align="right"]In 1939, former Yankee Lou Gehrig delivered the most famous retirement speech in sports history. Richard Sandomir explains why the speech's message has endured.[/sidebar]"He kind of ushered this in and he therefore stood for how the Yankees saw themselves, how people wanted the Yankees to be seen, as this classy, professional, no-facial-hair, standing-in-for-Americana kind of ideal," Leitch told Only A Game. "So because of that it's been impossible just to appreciate that this is a guy who has 3,000 hits. This is one of the 10 best shortstops of all time. He has to be the 'True Yankee.'"
Derek Jeter appeared in his final All-Star Game this week. St. Louis Cardinals pitcher Adam Wainwright gave up a double to the Yankees captain then said he had intentionally grooved some pitches for Jeter to hit. As social media exploded over the remarks, Wainwright backed away from his statement even before the game was over, but he had also originally said Jeter "deserved" that kind of chance.
In his column, Leitch argues that Wainwright diminished Jeter's final All-Star Game.
This Jeter, our Jeter, he'd rather strike out, yes? Wainwright made him — a Hall of Famer having his final sendoff — look like a charity case. If you're going to get on Wainwright's case, get on him for that.
During Jeter's 20-year career, we've seen a lot of baseball's shining stars dimmed by scandal — Mark McGwire, Sammy Sosa, Barry Bonds, Roger Clemens and Jeter's teammate Alex Rodriguez to name a few — but Jeter has avoided trouble like a low-and-away breaking pitch.
"Derek Jeter has played not just in the public eye in sports, but at the dead, solid center of the public eye," Leitch said. "I made the argument one time that as great as Jeter has been on the field, his accomplishment of keeping his name out of scandal is arguably more impressive. I mean, this is a single man this entire time for crying out loud."
This fall, Jeter will walk away from the game, but Leitch expects his shadow to loom large in New York for years to come.
"You're going to see this after he retires," Leitch said. "Every Yankee that strikes out in the ninth inning of a playoff game or gets into some sort of off-field trouble, that's going to be the whisper from now on: 'Well, Jeter wouldn't have done that.'"
This segment aired on July 19, 2014.