As Traditional Golf Courses Shutter, Topgolf Draws Crowds
03:45
Play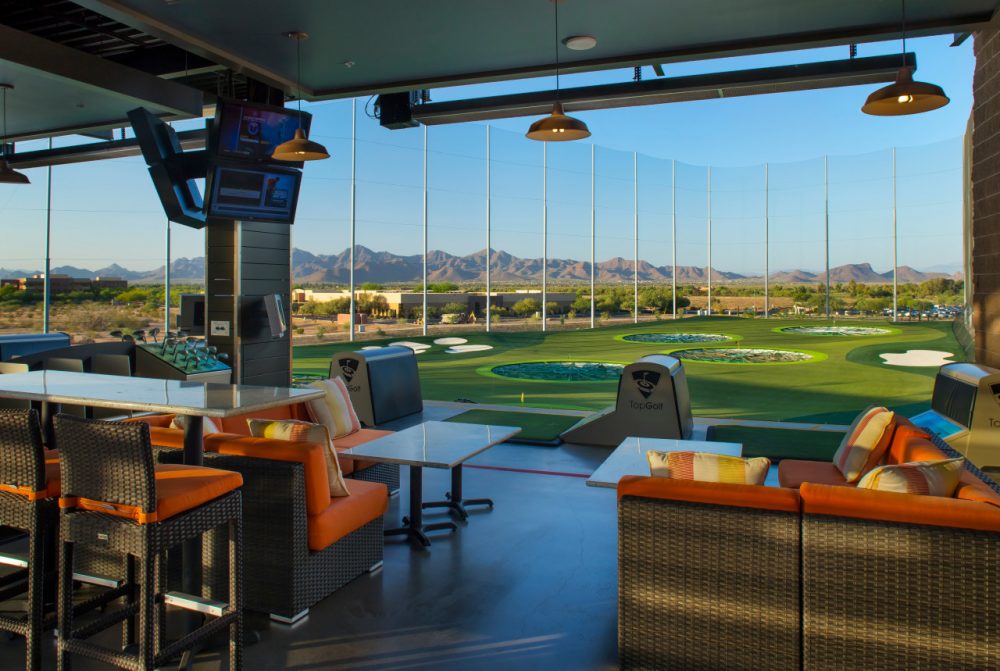 This article is more than 7 years old.
This month's edition of HBO's Real Sports with Bryant Gumbel looks closely at the decline in the golf industry. Over the last eight years, participation in the sport has fallen 20 percent in the U.S., and, on average, 130 courses have closed each year.
But the Real Sports investigation did find plenty of golfers at a place called Topgolf, where "golf skills are not required," but patience often is. Topgolf has become so popular that visitors will wait hours to tee off. Topgolf CEO Ken May joined Bill Littlefield to share the company's secrets and to discuss the future of the golf industry.
I think that we are going to revitalize the game of golf. We are going to help the game of golf thrive.

Ken May, Topgolf CEO
KM: Well players hit balls with microchips inside them at targets for points. There are targets that are built out into an outfield, and so once the ball goes into the target points are accumulated on a screen right behind the golfer.
It makes golf a lot more approachable than a traditional golf course because you don't have the huge up-front cost of equipment. It's a lot quicker game. It doesn't take four or five hours to play, and it's not intimidating for someone who's never played before, so all in all it's just a great experience.
BL: And no mosquitoes?
KM: No mosquitoes — just a lot of golf balls.
BL: Now are your clients typical golfers just taking a break from the Country Club scene?
KM: No, not at all. Fifty percent of our guests will say that they're non-golfers. We're bringing in a younger, more female clientele into the game.
BL: And where are these facilities where people can encounter Topgolf?
KM: Right now we have three facilities in London and 10 facilities in the U.S. In Dallas there are three. Houston, Texas, has two. Austin, Texas, has one. One in Scottsdale, Ariz., one in Alpharetta, Ga., right outside of Atlanta. One in Chicago and one in Washington, D.C. But we're opening up three more by the end of the year, and 10 next year, so we have a pretty aggressive growth plan.
BL: Do you think Topgolf is creating more golf fans or just more Topgolf fans?
KM: I think it's both. I mean it's evident that people that come into our facilities who have never played golf before — it happens all the time that they'll start playing our game, but then they'll want to get better. A lot of times they will buy a package of lessons as a result of just tasting the experience.
BL: I'm going to assume that Augusta will not be installing targets anytime soon, but what lessons should standard golf courses take from the success of your operation Topgolf?
KM: Golf needs to be sped up. There's no doubt. For an individual to have five or six hours on a Saturday or Sunday or during the week to drop what they're doing to go play golf, it's just very difficult.
[sidebar title="What about the fans?" align="right"] Would a rivalry on the course bring viewers back to golf on TV? Listen to Bill's conversation with ESPN's Farrell Evans.[/sidebar]BL: One of the things that I've heard from people who want to try and make golf more popular, arrest this decline that we've been talking about, is make it easier by making the hole about four times as big as it currently is. How do you feel about that?
KM: As a traditional golfer I don't like the idea. I think shortening the game would be more important than making the hole bigger. So requiring people to hit off the tees that are farther up would be a better idea than for making the hole bigger.
BL: So this is great. You're a traditionalist but you've got this game where people hit targets, and they're finished very quickly.
KM: Yeah, well, I love the game of golf. And being able to bring more people to the game, I just think is just magical. I mean and you can come to one of our facilities and just walk around and look at the people that would never touch a golf club in their life out there just having the times of their life. So it's amazing to see that experience, and I think that we are going to revitalize the game of golf. We are going to help the game of golf thrive.
This segment aired on July 26, 2014.