Can Byron Scott Bring 'Showtime' Back To LA?
03:33
Play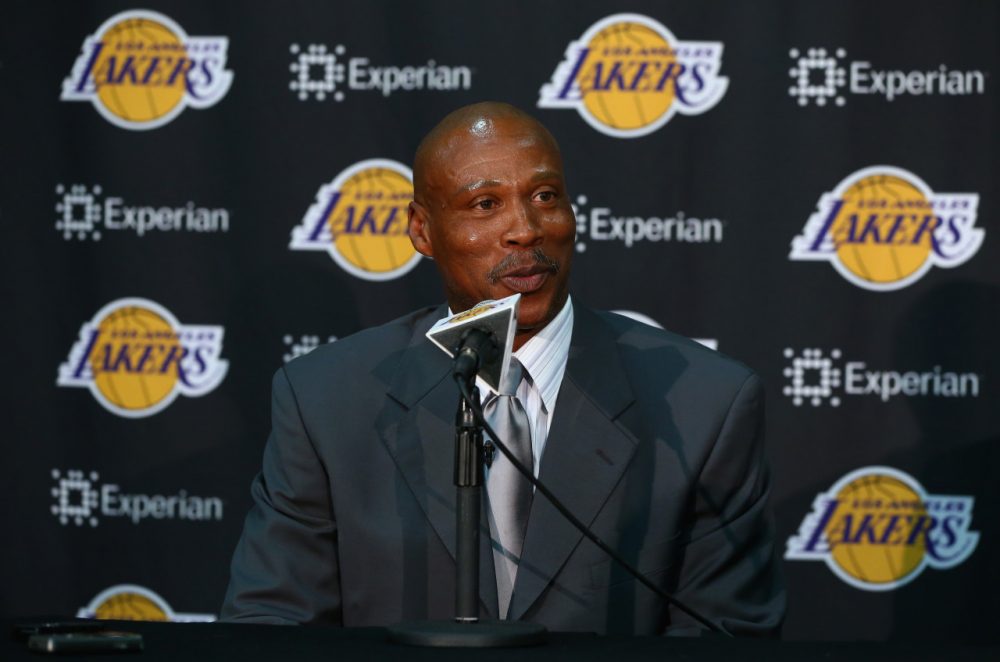 This article is more than 7 years old.
The Los Angeles Lakers have in recent years dealt with injuries and a turnover of head coaches that could be characterized as rapid, at least by Lakers' standards. The team filled its head coaching vacancy this week by signing a starting member of its fabled "Showtime" era teams, starting point guard Byron Scott.
Eric Pincus of the Los Angeles Times joined Bill Littlefield to discuss that move.
BL: The Lakers almost always make the playoffs — or at least it seems that way to those of us in Boston — but under Mike D'Antoni, the team missed the 2014 postseason. How does Scott's coaching style differ from that of his predecessor?
[sidebar title="The Showtime Lakers" width="330" align="right"] Back in March Bill spoke with Jeff Pearlman about the Lakers' golden years. [/sidebar]
EP: D'Antoni is famously known for playing very up-tempo: a lot of outside shooting, very little defense — but that's not their hallmark. Bryon Scott's going to come in with a much more disciplined approach. He's much tougher. He's not someone you mess around with, whereas D'Antoni kept things very loose and light, and guards loved to play for him because they had a lot of freedom. It will be more of a deliberate pace. They won't be throwing up three-pointers every possession. Hopefully for Scott and for the Lakers, they'll get an actual roster on the court this year as opposed to last year.
BL: Well that was going to be one of my questions. The Lakers have re-signed five members of last season's 27-55 team, and they failed to hold onto Pau Gasol. Has Byron Scott been dealt a losing hand?
EP: To a degree. I mean this is not — when you look, at least, on paper — this is not an elite team. This is a borderline playoff team. They're better than they were last year simply by the fact that Kobe Bryant — if he stays healthy — is better than anyone they ever had last season. And they've improved at point guard. They're bringing in Jeremy Lin, who's better than anyone they had playing last year. They've added Julius Randle from Kentucky — a rookie with a ton of promise and could be a high-impact player. We'll have to wait and see. But I don't really think [Scott's] got a great roster to work with.
BL: Scott's final season as a player with the Lakers was Kobe Bryant's first in Los Angeles. Bryant of course has been critical of Lakers' coaches in the past. I wonder what he thinks of Scott?
[sidebar title="A Conversation With Former Laker James Worthy" width="330" align="right"] Bill spoke with Hall of Famer James Worthy about his career with the Lakers...and his interest in Star Trek. [/sidebar]
EP: They're close. I mean they have a long history. A long relationship. Obviously from Kobe, who grew up a Laker fan watching Byron Scott contribute. Byron Scott was his mentor his rookie year — really helped him through that first season, and they've kept in touch and been close throughout. And so it will buy Byron Scott some good will, not just with the fans because of his Laker ties but with Kobe. I think Byron Scott has Kobe's ear. The question is can they fill in this roster quickly enough? Kobe only has two years left on his contract. Can they find a way to add the talent to give Byron and Kobe a chance to win in that brief period of time? That might be a very difficult task.
BL: What's your best guess about how long it will take Scott to get the Lakers back into form as contenders?
EP: I don't know if it's Scott who can do that. I think it's really Mitch Kupchak and Jim Buss who are the basketball operations staff. You look at this roster and you say, 'Well, if Byron can get Jeremy Lin playing his best basketball and Kobe Bryant's healthy — everything that has to go right this season goes right —  are the Lakers in the top four in the West?' I don't think so. I think if everything goes right they're still not there. I think it's more of a matter of can the Lakers find a way to use their flexibility either in trade — there's a possibility that they can find a way to quickly improve the talent level. I just don't know how Scott can do it with what they have right now. at least at an elite, contender level. They're not quite close. They're at least a couple of players away from that.
More:
This segment aired on August 2, 2014.