National Basketball Player's Association Elects New Leader
03:21
Play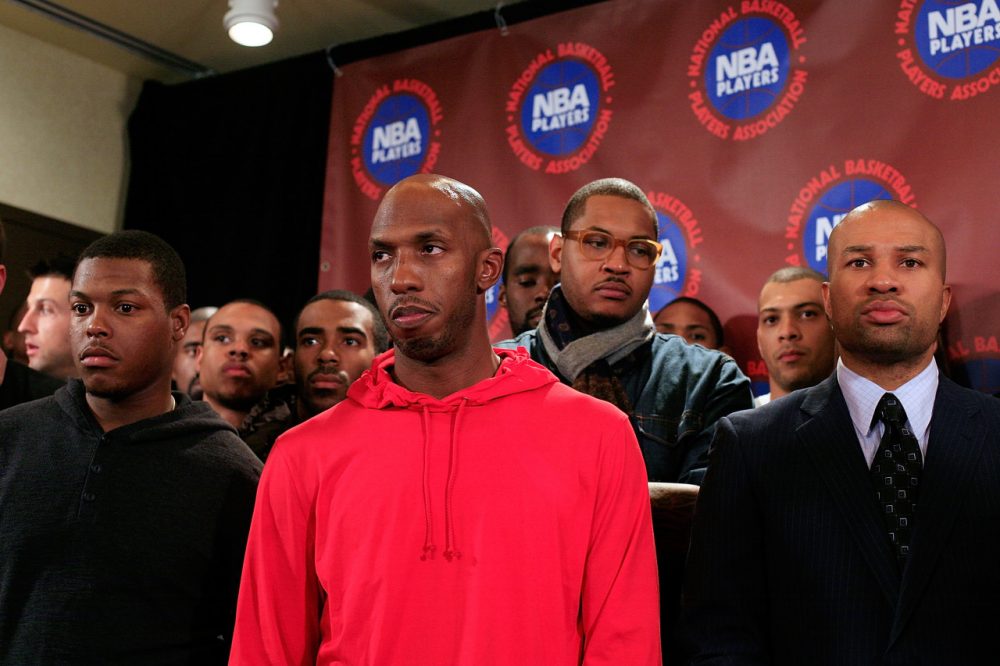 This article is more than 7 years old.
On Monday, the National Basketball Player's Association made history by naming a woman, Michele Roberts, as their new executive director. This appointment is intriguing some for other reasons as well.
For that story Bill Littlefield turned to Sam Amick of USA Today.
BL: Eighteen months ago, former union head Billy Hunter was unceremoniously fired. Which of Hunter's qualities were the players trying to avoid while choosing his successor?
[sidebar title="1-On-1 With Michele Roberts" width="330" align="right"] The new NBPA head tells Bill Littlefield why she wanted the job. [/sidebar]SA: He was a very aggressive, some would argue intimidating, more of a power hungry type of guy — and that would be the view from his critics. And I think it's no mistake at all that the executive committee that led this search wound up going with somebody like Michele that not only — like you said in the intro; it's a little slice of history — but has a personality that is the polar opposite of Billy's.
She is very inclusive, very intelligent, and her entire strategy when it comes to getting the union back on its feet is gonna be all about the team approach and having multi-layered management that helps these players give themselves the best situation going into 2017 when they're likely going to be negotiating a new collective bargaining agreement.
BL: On Monday morning several prominent agents made a last-minute push to delay the vote saying the process had been rushed. I'm not sure I understand how a hiring process that took 18 months could be characterized as rushed.
SA: Yeah I'm with you. You're not alone there. I think, though, the focus was on the fact that there was a search committee independent of the executive committee that was working with those players, and they were the ones who knew the candidates. They were the ones going through, they said, 300 candidates, got it all the way down to 18 finalists and then three finalists. I think the agents' complaint was that nobody else knew who was in the mix until the 11th hour.
BL: Were the agents complaining on behalf of their clients — the players — or did the agents just think they'd make out better with somebody else in that job?
SA: I think they were arguing on behalf of themselves and trying to convince the players to see the merits in their thinking, and I don't think it was necessarily just about Michele. It was just the 11th hour of the process and the idea that a lot of the candidates weren't known to anybody other than the executive committee and the search committee until that final stage. They simply didn't feel like they had enough time to learn about who these people were. They wanted the players to take a step back and take more time. Obviously they weren't successful.
BL: Yeah, in the end Roberts received 32 of 36 votes. You described her as inclusive among other things. Tell me more about why she's the right person for the job.
SA: Well, I mean I give her credit first and foremost for the ability — for somebody who's on the outside with no background in pro sports at all; certainly not in the NBA — to come in and connect with young athletes like this. And I think a lot of it is, again, that she has a strategy to have people below her that make sure the players have the kind of support system they need to learn more, to educate themselves about the CBA and educate themselves about the business side going into 2017, which is a crucial summer, obviously.
BL: It is widely assumed that the players will opt out of their current contract in the summer of 2017. The $2 billion sale of the LA Clippers means that franchises certainly are more valuable than ever, and it has fueled the talk that the players deserve a bigger piece of that bigger action. Can Michele Roberts accomplish that goal?
SA: I think it's gonna be extremely difficult. The players took such a step back in the last negotiations from 57 percent of basketball-related income down to 50, that I have a hard time seeing the league letting that go back in the other direction.
This segment aired on August 2, 2014.