Former Teammate Assesses Becky Hammon's New Role As NBA Pioneer
Play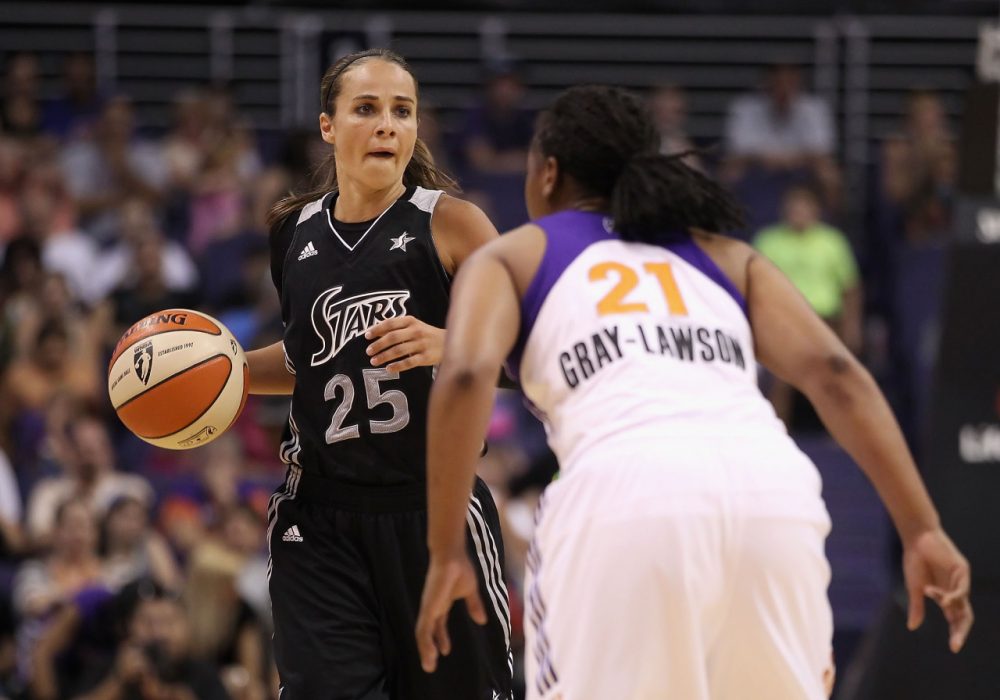 This article is more than 8 years old.
On Tuesday the NBA champion San Antonio Spurs became the first team to hire a full-time female assistant coach, welcoming former WNBA All-Star Becky Hammon to their staff.
Kate Fagan was Hammon's teammate for two seasons. Today Fagan is a writer for espnW. She joined Bill Littlefield on Only A Game to discuss what Hammon will bring to her new job.
BL: Becky Hammon played 16 seasons in the WNBA — the last eight with the San Antonio Stars. And you have written that it's clear to anybody who knows her that she would eventually become a coach. Why?
[sidebar title="The NBPA's New Boss" width="330" align="right"]After she became the first woman to get the job, we spoke with the National Basketall Players Association's new executive director Michele Roberts.[/sidebar]KF: I actually played with Becky for two seasons in a semi-pro league. She always talked about wanting to be a coach when she was done playing. We never knew when she would stop playing because that was obviously her first love. But we figured she would go into women's college basketball.
She just had this knack for understanding X's and O's. One thing I was surprised with was that the NBA was ready to hire a woman. I thought we were still a few years away from that.
BL: Tell us the story of the first time you witnessed her basketball intelligence as it was applied to you when you were teammates on the Colorado Chill.
KF: I actually came to that team like a month into the season because I had been playing overseas and the very first day I was her shooting guard. She was the point guard, and we were on the same scrimmage team. Only a few minutes into the scrimmage during a break in the action she came up and she had already broken down all of my game — knew what I was best at. I don't think she even knew my name at that point.
And she was right. She was right about what I was good at, and she seemed to know about as much about my game as I did. And that was really impressive. It wasn't a one-time thing. During all games she would have an insight into what was going on. She would offer something, a play that she thought would work, and it always worked the way she thought it would.
BL: I wonder if there's any disadvantage to beginning your NBA coaching career with a champion. I mean if the Spurs don't repeat will anybody write, "They were better off before they hired that new assistant coach?"
I think it's perfect for her because the Spurs don't do gimmicks.

Kate Fagan, espnW writer and Hammond's former teammate
They've always been a franchise that does things slightly differently with an extreme focus on the X's and O's and the basketball, and I think that's going to limit the discussion around this move being, "Oh, they hired a woman for the press or because it's a gimmick." People know that San Antonio and that franchise does not operate that way.
BL: Becky Hammon is not the first female assistant coach in the league exactly. Lisa Boyer was a part-time, unpaid coach for the Cleveland Cavaliers during 2001-02. Why do you think it took 12 years from that point for a woman to be hired full-time?
KF: I really think it's not because the players won't listen to a woman or a woman doesn't understand basketball as well as a man does. I think genuinely the reason it hadn't been done is because nobody had done it before, and the NBA, like all sports leagues, is a very risk-averse place. It's very hard to break a model, break a mold.
If it does turn out that Becky contributes and the players embrace her, I do think in the next five to seven years you're going to see more women say, "Wait, that's an option for us?" And you're going to see other teams go, "Oh, we want to try that too." So I think it is a really big deal.
This segment aired on August 9, 2014.