No Quarterback, No Problem For Alabama?
03:16
Play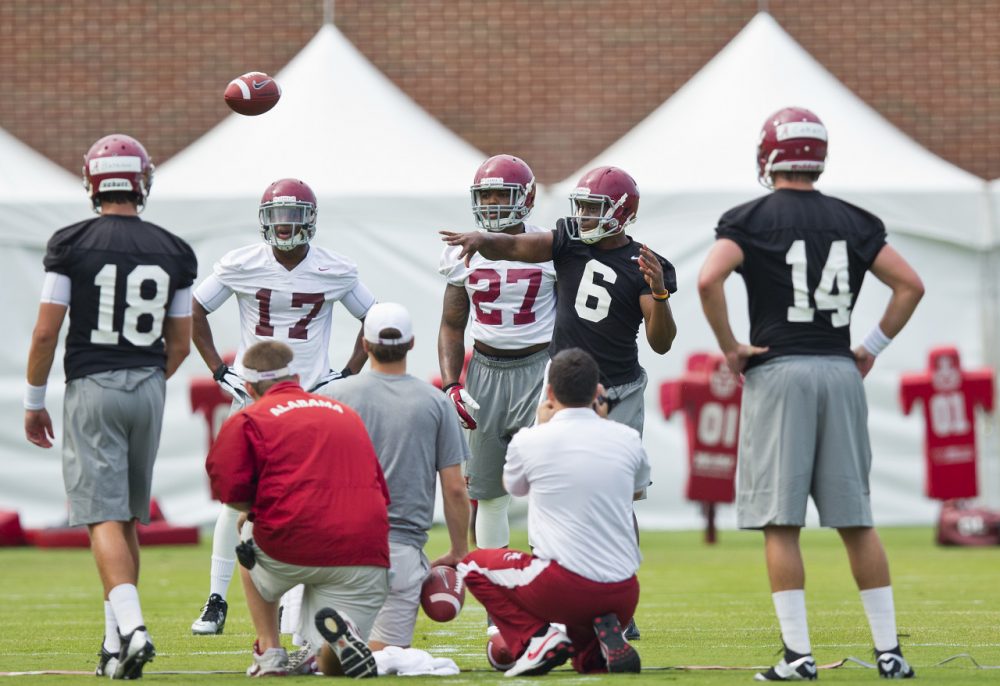 This article is more than 6 years old.
Alabama opens its 2014 season on Aug. 30 against West Virginia. But the Crimson Tide's starting quarterback remains to be determined. One thing is certain: whoever lands the job will be playing his first meaningful minutes in college football. That hasn't stopped the Coaches Poll from making Alabama No. 2 in the preseason rankings.
Matt Hinton has written about the team's quarterback situation for Grantland and he joined Bill Littlefield.
BL: Is Alabama the only place where quarterback isn't the most important position?
[sidebar title="Alabama's 'Rising Tide'" width="330" align="right"]Last August OAG's Karen Given spoke with the authors of a book about Joe Namath's time at Alabama.[/sidebar]MH: If you look at the other teams that are projected as really serious contenders for the national championship, Alabama is the only one that doesn't return a starting quarterback. Alabama doesn't even have a quarterback who has taken a meaningful snap yet in college. I don't know that there's any other program right now that would get the benefit of the doubt. Usually when you lose a quarterback that leads to what they call a rebuilding year.
BL: In the past Alabama has won national championships with novice quarterbacks. You suggest that head coach Nick Saban has been able to do so by "making his quarterbacks as interchangeable as the supporting cast." How does that work?
MH: Well, the short answer is by building great defenses. I mean Alabama's defense is perennially under Saban the best in the SEC. The rest of the offense is extremely talented as well. But I also did want to challenge the notion a bit of the interchangeable, game manager quarterback.
I mean I think it's easy to look at the last decade of Alabama quarterbacks and say they all look alike. But I think the last quarterback they had, AJ McCarron, I think was a little bit better than that. I think he may still fit into the broad game manager category, but I think if you look at his performance in really big games, AJ McCarron had the best pass efficiency rating in the nation against ranked opponents last year.
BL: So is Alabama appropriately ranked at No. 2 in the nation?
MH: Most of the time, Alabama is not going to give up more than 14 to 17 points. But as I said they're not quite the monolith on defense that they used to be, and I think that's because offenses — I mean we're really in an offensive moment right now. I think offenses have really evolved strategically ahead of defenses, and so even top defenses like Alabama have games where they're going to struggle. I mean they had three games last year where they really did not play well.
I think it's very difficult right now when your goal is a national championship, where there's really almost no margin for error, where one loss can potentially ruin your entire season, it's very hard to say, you know, "We can rely on our defense every single week." You need a quarterback who can deliver for you and really put up some big numbers when he needs to, even if that's not their offense all the time. And I don't know if McCarron is going to be as easily replaced as the preseason polls suggest.
Earlier: 
This segment aired on August 16, 2014.