'Football' Collects Writing From All Sides Of Gridiron
Resume
60 years ago, the pro football game was regarded as disreputable by those who regarded it at all. The collections contains those stories, but also pieces about the incredible heights and deep lows of the game, it's players and beyond.
In Football: Great Writing About The National Sport, editor John Schulian collects some of the best writing about football. Schulian spoke with Bill Littlefield.
---
Highlights From Bill's Conversation With John Schulian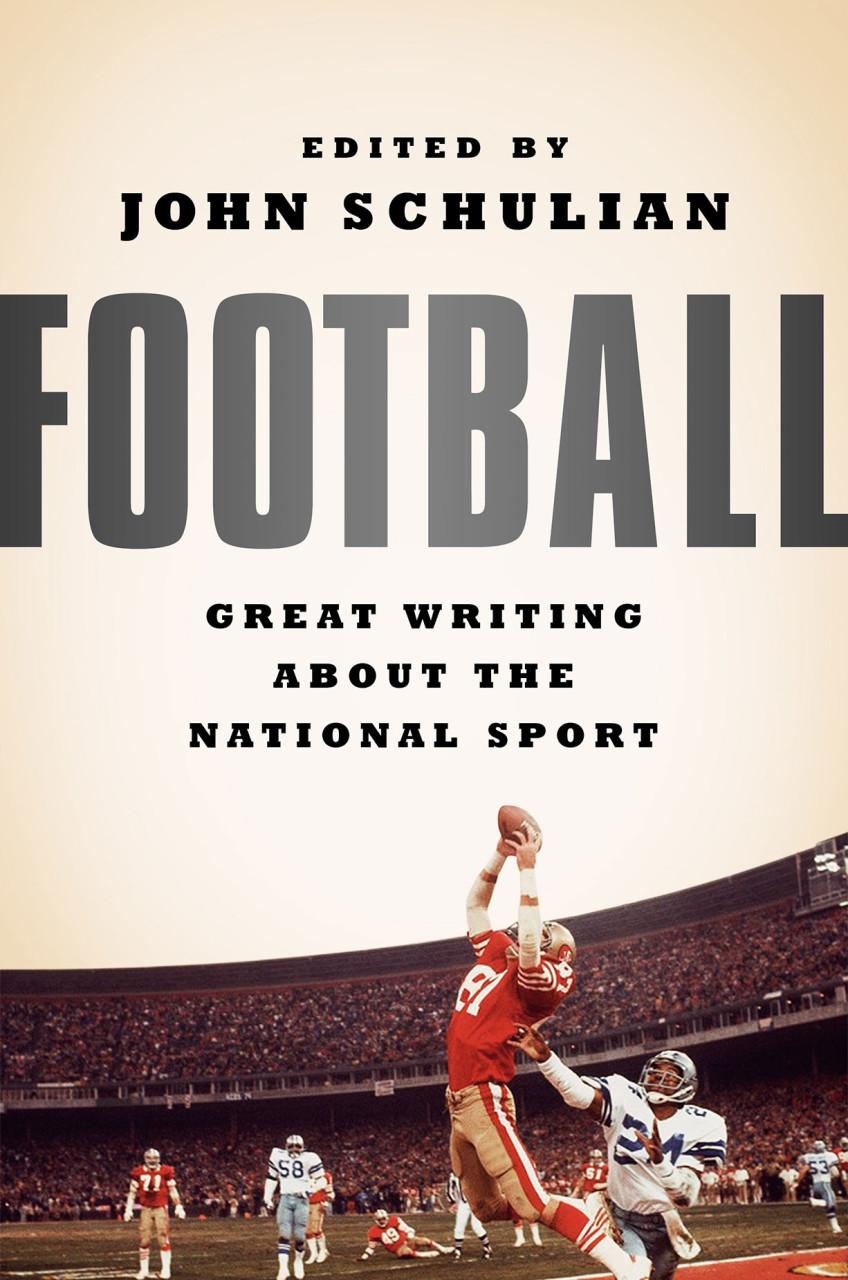 BL: For me, one of the most powerful pieces in the book is Jennifer Allen's account of how her father, George Allen, responded to being fired as coach of the Rams. Is it fair to say that profile could have only been written by a family member?
JS: Yeah, that one definitely. As a reader, I really felt for her father. And believe me, I covered George Allen when I was working at the Washington Post, and I did not have the same sympathy for him then. My first day on the job I went up and introduced myself to him, and he said, 'Oh, where are you from?' And I said, 'Well, I've been working in Baltimore the last five years,' and he said, 'Oh, a Colts fan, huh?' and turned on his heel and walked away. I think he regarded me forever more as a spy for the Colts.
BL: In this book, there are stories about former football stars who've done very well – our own Charlie Pierce's profile of Archie Manning, for example. But also included is the story of the alcoholic and indigent former Tennessee great Bob Suffrage, former pro Nate Jackson's account of drug abuse, and the story of Dave Duerson's dementia and eventual suicide. I wonder if those latter stories are in there because you didn't want readers to make the mistake of thinking this as a volume that was simply a celebration of the game.
JS: Football has certainly entered a dark period. I mean, it's still wildly successful and lucrative, but to not have those pieces in this book would not have been fair to readers or to the history I was trying to portray in some loose, scattershot way. This is what is happening. The Duerson piece is just incredibly powerful, a guy who committed suicide – a former Bear, an All-Pro safety – committed suicide by shooting himself in the heart, so his brain would be intact for researchers to examine.
And yet, you read the Nate Jackson piece – which I loved, Nate Jackson's one of those rare treasures, an athlete who can really write – and you see how much this guy loves the game. He both hates it and loves it. He hates what it's done to his body, and he hates the idea that he's really just a piece of meat to be tossed around on the great griddle of the NFL. And yet, he loves it. He can't give it up. And that, in a book that's honest about football, has to be included.
BL: A lot of what's in the book first appeared in newspapers as late as the 40s and 50s. You write in the introduction that, 'The press started out treating the game like a ne'er-do-well brother-in-law.' Why was that?
JS: I just think football didn't have the hold  that it does today. One of the pieces in the book is from an oral history that a wonderful guy named Myron Cope put together – John McNally is the player's name – and one day he forgot that his team was playing on Sunday and he went to scout another team, and somebody said, 'John, what are you doing here?' And he said, 'Well, I've gotta prepare for next week's game.' He said, 'But you're playing today!'
BL: Is that the guy who had the great line about there was no point in his going to any classes, and so he didn't?
JS: There you go, that was football in the early days. Actually, maybe it's still football today.
BL: I was gonna say, some things never changed.
---
Bill's Thoughts On Football: Great Writing About The National Sport      
 
The usual suspects are here: Red Smith, W.C. Heinz, Dan Jenkins, and Jim Murray. But the triumph of this collection is the inclusion of the unusual: Nate Jackson, an NFL alum, writes about his ambivalence regarding the job that brought him glory and riches while beating him silly and driving his associates to drugs; Jennifer Allen recounts the story of how it felt to be the daughter of NFL Coach George Allen, whose idea of a family outing was everybody watching game film in the basement. Paul Solotaroff explores the life and death of Dave Duerson. When dementia and despair drove him to suicide, Duerson shot himself in the chest so that his brain would remain intact for the convenience of those studying CTE among football players.
With Football: Great Writing About the National Sport, editor John Schulian and the Library of America have produced an exceptional collection. It has long been the accepted wisdom that boxing and baseball are the two sports most likely to be associated with great writing. This book demonstrates that like a lot of accepted wisdom, that contention bears reconsideration.
This segment aired on August 16, 2014.