Why Are NFL Joint Training Camps On The Rise?
05:01
Play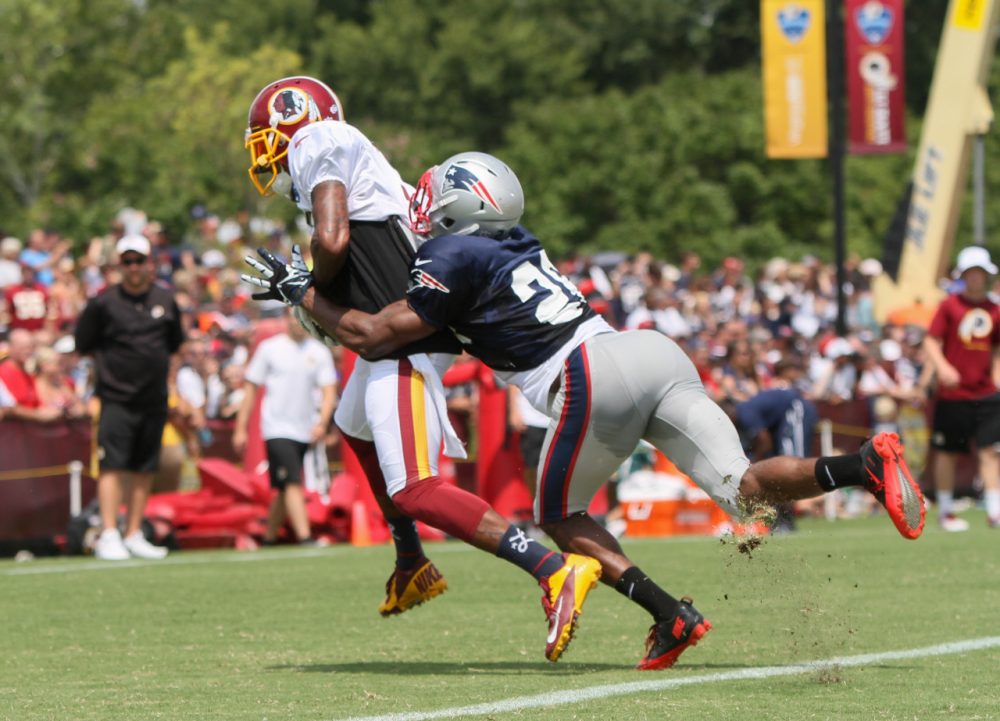 This article is more than 6 years old.
The beginning of the NFL season is only three weeks away. To prepare for Week 1, nearly half the league's franchises are participating in joint practices with other teams, with varying degrees of success. ESPN's senior NFL writer and commentator John Clayton joined Bill Littlefield to explain why joint practices are more popular than ever.
BL: Joint practices are not new, but they do seem to have become more popular. Why is that?
JC: What coaches are finding out with the new CBA [collective bargaining agreement], there's such a limit to what you're able to do in your own practices. Bill Belichik spoke to this the best – he's had two joint practices – he could get 20 red zone plays in against another team, where at a preseason [game] he's be lucky to get five or six red zone plays. So, it gives you a chance to one, help evaluate your players better, two, add more things for the starters that they can do, and three, really give a better competitive edge and kind of get an energy that you might be missing if you're gonna be together with this team for two weeks or 15 days.
BL: Were there specific changes to the most recent CBA in 2011 that made these dual practices more popular?
JC: Yeah, I mean dramatic, because what you have now is a limitation of the number of times that coaches can have players with the shoulder pads on, and it's basically once a week. You also have limitations in the time you can be on the field, no more two-a-days, meeting times are regimented, all those different things. And so, all those things changed because the players were coming out of the CBA making less money, and so what they wanted to do is try and preserve their bodies a little bit better.
BL: Last week, you were in Virginia for a practice featuring Bill Belichik's New England Patriots and Washington's NFL franchise, was that interaction different from what might have happened between two other teams?
JC: I think it took everything to the highest level and, I think, speaks to where a lot of this stuff is going to go, because it was a practice that almost lasted three hours. There was no fights, everything was done in an organized way.
But what you can look for in the future, and this could come as soon as next year, there is an effort – or at least a thought – by Roger Goodell to try to eliminate one or two preseason games. And if that's going to be the case, you could take a Redskins – Patriots model, because it's such a benefit, and it really helps a team like New England [or] a team like Philadelphia, jump ahead of the curve compared to all the teams that aren't doing it.
BL: You mentioned that there were no fights between the New England players and the Washington  players. At a joint practice on Tuesday, the Dallas Cowboys and the Oakland Raiders did get into a brawl. I wonder if that's one of the downsides of joint practices?
JC: Yeah it is – I was actually last week over in Atlanta and Tennessee, and there was – not as many fights as there were in the Raider practice against the Cowboys – but there were fights. It's not as bad as some of the old days, where you would have Jerry Glanville take an Atlanta Falcon team and maybe have a dual practice and a lot of fights, but it is a concern because they may be protected with helmets and different type of gear, but also the hands are not. And so you may have broken hands or some kind of an injury, and that's what you don't want when you have a dual practice and you have all that energy going around.
BL: You make a  good case that these dual practices benefit players and coaches, but surely fans would rather watch actual preseason games, no?
JC: I question that. The season ticket holders that go to the regular season games, I don't think like paying regular season prices for preseason games, and I think they'd like to see a better quality of the games in the preseason. Maybe the best way to do that is to eliminate one or two, and then see, down the line, if they can get 18 regular season games.
BL: If these become popular enough, won't the NFL just charge fans whatever they can get to attend these practices?
JC: Yeah, but I think there's a limit to what you can charge on this because you're in very unusual places. There is some charge, you can pay $6 or $8 or in some cases $15, but I think the thing is, it's a good family-type environment, for a lot of the people who may not be able to afford some of the $100, $150 tickets. Fans, if they had a choice, would probably rather pay $15 to watch a practice, as opposed to $100 to watch a third or fourth preseason game.
This segment aired on August 16, 2014.