For Kansas City Royals' G.M., Patience Pays Off
04:11
Play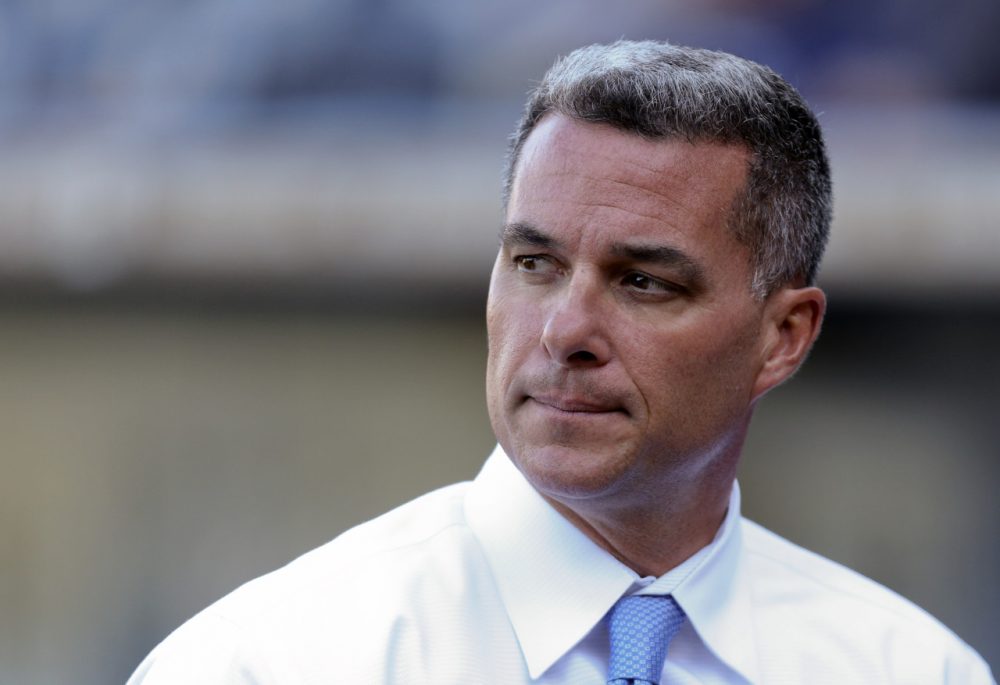 This article is more than 6 years old.
The Kansas City Royals have Major League Baseball's longest active postseason drought at 28 years. The last time they reached the playoffs, the Royals won the 1985 World Series against the St. Louis Cardinals. But the drought could soon end.
Heading into Friday night's game against Cleveland, the Royals lead the American League Central with a 1.5-game lead over Detroit. For K.C. general manager Dayton Moore, success has been a long time coming. Moore has been on the job for more than eight years, but the Royals hadn't finished above .500 during his tenure until last season.
'A Very Difficult Process'
Moore was hired in May of 2006, as the Royals were enduring the worst stretch in franchise history. He and his wife Marianne were the happiest people at his introductory news conference. But the event was not so much an introduction as it was a public grilling of Royals owner David Glass, who was pressed by reporters about the team's three straight seasons with 100 or more losses.
"Well, I think that we all share that responsibility, and I certainly do," Glass said. "It's something that I'm not quite sure how we got here."
Two radio reporters had their credentials suspended for the rest of the season because of their pointed questions to Glass, who seldom talks publicly anymore. So Moore absorbs most of the criticism these days.
I recently caught up with him at Kauffman Stadium, where he discussed some of the difficulties of being the G.M. of the major league team with the longest active playoff drought. "We made it clear to all of our people that this was going to be a very difficult process," Moore said. "There was going to be a lot of ups and downs along the way and it takes eight to 10 years to build an organization the way we're trying to build it."
Knocking On The Door
Last season's winning record, created high hopes at the beginning of this season, but by late July, the Royals had fallen eight games behind Detroit in the AL Central. Then K.C. surprised many by moving into first place on Aug. 11 after a victory over the Oakland Athletics.
New York Daily News baseball writer Mark Feinsand thinks Moore should be commended for sticking with his plan.
"I think he's patient, but with an eye on ways to make the ballclub better, especially now that they're finally starting to see a window to actually win," he said.
Leading the Royals' charge to the postseason are manager Ned Yost and three All-Stars developed from their own farm system: catcher Salvador Perez, left fielder Alex Gordon and closer Greg Holland, who Moore envision as the core of the team.
Despite their successes this year, Moore still feels the team is a piece away from title contention. But at the July 31 trading deadline, the Royals didn't pull the trigger.
No Big Trades
"I was very disappointed ... because I really felt we needed to make some type of deal to upgrade our team. We looked on all fronts to improve our team," Moore said. "There just simply wasn't a deal to execute. There was nothing there."
But Willie Wilson, who led the American League in hits and stolen bases during the Royals' glory days in the 1980s, is glad to see Moore is sticking with the plan and not panicking.
"He knew what he had," Wilson said. "He saw it before we saw it, so he just let the guys develop and right now that part's working out. But what I'm very pleased with is that the trades that he's made--or the non-trades he's made have worked out well for the Royals."
Moore watches Royals home games from his booth at Kauffman Stadium, and he appears calm. But he concedes that there's more to it than meets the eye.
"There's a lot. I mean, there's been times that, truthfully, that several members of our baseball operations staff decided to watch games at other places. I'm pretty intense up here at times," he said. "Our goal from day one to get into the playoffs is have one really great month and play .500 the rest of the way or two good months and play .500 the rest of the way and we're not where we want to be right now. But we're on track."
Some of Moore's anxiousness might stem from the fact that most of the Royals' regulars weren't even born until after the '85 World Series. They might not yet appreciate the frustrations associated with a 28-year playoff drought.
This segment aired on August 30, 2014.