Remembering Kutsher's, Where Pro Athletes, Vacationers Mingled
Resume
This summer, an iconic resort in upstate New York is being demolished, and with it ends a major chapter in American sports history. In its heyday in the 1950s and '60s, you could go to Kutsher's resort and see Muhammad Ali training for a fight, Mickey Mantle playing golf and Wilt Chamberlain carrying your bags.
Kutsher's is the last of the Borscht Belt resorts of the Catskill Mountains, where Jews and gentiles alike escaped the concrete of the city for sports, comedy and, of course, lots and lots of blintzes and borscht.
A Place Of Acceptance
This story starts at the end. On a lonely country road in the rolling hills of the Catskills, two people peer through what used to be the grand lobby of Kutsher's resort.
"You can actually see straight through from where the front entrance doors were to the back that used to lead out to the pool," Ian Rosenberg says.
Rosenberg and Caroline Laskow snap pictures of the half-demolished shell of the resort. Caroline points upstairs, where a curtain flutters and a lamp pokes out of what used to be a guest room.
Caroline and Ian have spent the last six years making a documentary about Kutsher's, titled "Welcome To Kutsher's: The Last Catskills Resort." And, on this day, they've raced 90 miles north from New York City to witness on film the final chapter.
"This is the end of the Borscht Belt," Rosenberg says. "This is the end of the Jewish Catskills. This is the end, not just of Kutsher's, but of an entire era."
[sidebar title="A Look Inside" align="right"]Much of Kutsher's has already been demolished, but click here for an illicit peek at the resort in its final days.[/sidebar]In the 1950s, East Coast Jews flocked to the Catskills hotels because, well, other resorts wouldn't accept them.
Myrna Young and her husband, Arnold, from north central New Jersey, were regulars. They loved the comedy shows and the pool and the activities and the food.
"It was really very important to us," Myrna says. "We always felt that that was a home for us."
But what set Kutsher's apart was the sports.
Some of the best prizefighters in the world trained in the boxing gym: Ezzard Charles, Leon Spinks, and Muhammad Ali when he was Cassius Clay.
Arnold Young says you could just hang out ringside.
"Oh my God, the place was loaded with people," he says. "A lot of screaming. People were betting on the sides. It was typically a good New York crowd."
Red Auerbach And An All-Star Game To Rival The NBA's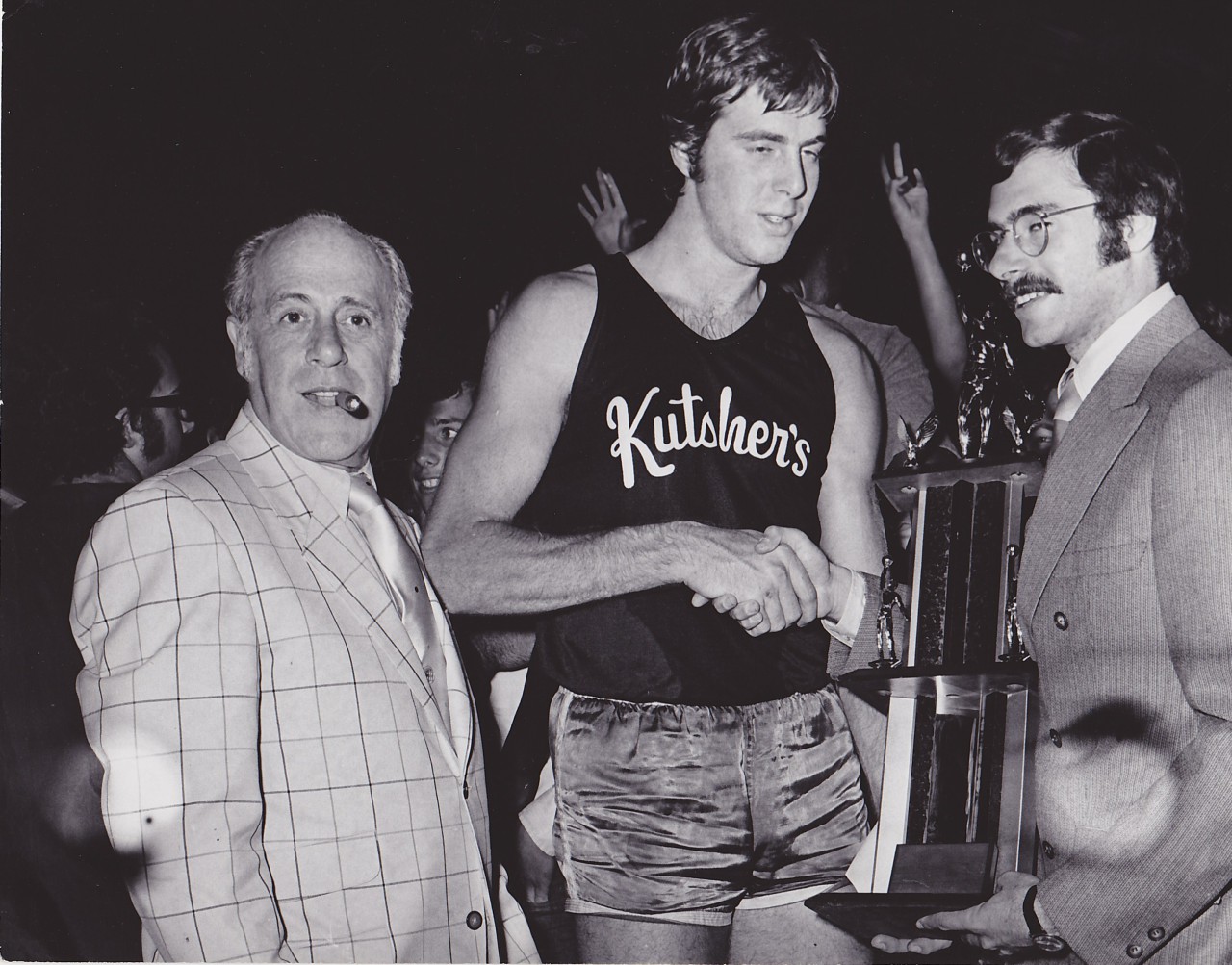 Kutsher's first opened in 1907. But its place in sports history really began 40 years later, says Caroline Laskow, when Milton and Helen Kutsher took over the family business.
"Milton Kutsher was a sports guy, and that is key to the Kutsher's whole sports legacy," Laskow says.
According to Milton Kutsher's son, Mark, all the Borscht Belt hotels recruited their own basketball teams. They'd play every Wednesday night at Kutsher's, with fans cheering on the players.
"Especially around the [New York] metropolitan area, which had the best basketball teams, [the players] were Jewish," Mark says. "I mean, there were legitimately Jewish athletes who the Jewish population could then turn around and watch and admire and root for."
Milton's master stroke, says Mark, was in 1950. He hired a young coach from the Washington Capitals of the nascent NBA to be the resort's athletic director: the soon-to-be iconic Boston Celtics coach and general manager Red Auerbach.
"Red got famous as we were growing," Mark says.
Auerbach drew the nation's best basketball players to Kutsher's.
In 1958, after budding star Maurice Stokes suffered a brain hemorrhage during an NBA game, teammate Jack Twyman and Milton Kutsher organized an all-star game to raise money for Stokes' bills. It became an annual tradition that rivaled the NBA All-Star game in talent.
But the athlete most deeply associated with Kutsher's arrived in 1954.
Wilt Chamberlain was a rail-thin, 7-foot-plus high schooler when he came to work as a bellhop that summer.
In Laskow and Rosenberg's short film for ESPN, "Wilt Chamberlain: Borscht Belt Bellhop," a newsreel shows how Chamberlain raked in the tips by leveraging his prodigious height. Ian Rosenberg describes the clip.
"Wilt standing on the ground floor of the hotel and putting a guest's luggage in their room by lifting it up and sticking it in the second floor window while he's standing outside on the ground."
"Wilt the Stilt" became a fixture at Kutsher's. Chamberlain came to see Milt and Helen as parents. Mark Kutsher tagged along as a little brother when Chamberlain starred for the Philadelphia 76ers.
"It's hard to explain the relationship but, truly, I spent a lot of time with Wilt over years," Mark says. "Wilt was part of our family."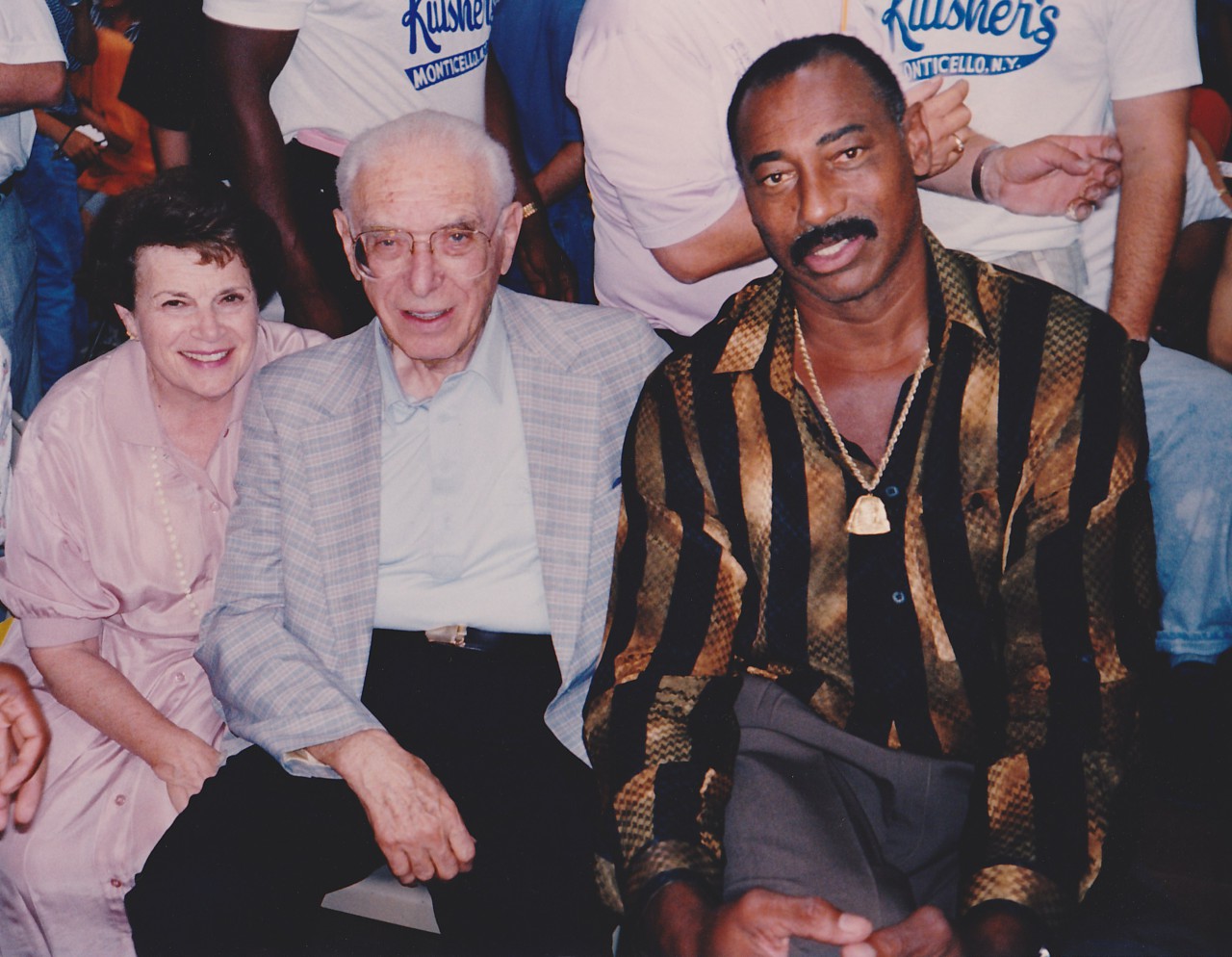 Chamberlain wasn't the only big-time athlete to mix with the guests. And perhaps this is what made Kutsher's unique. Boxer Leon Spinks played a pick-up softball game the day before a fight. You might bump into Dave Winfield or Thurman Munson during the baseball offseason.
And everyone, says Laskow, ate together in the huge dining room.
"The meal times were set in stone," Laskow says. "And they were having the lox in the morning, the blintzes at lunch and the borscht and the fried perch or stuffed cabbage or whatever. So you had this really interesting mix of the leisure class and these professional athletes in a way that I don't think has happened before, and it certainly doesn't happen anymore."
The Next Logical Step?
After running the hotel himself for decades, Mark Kutsher sold the property to an Indian billionaire who's going to build a high-end yoga retreat there. Kutsher says, in a way, that's the next logical step.
"People would, over the years, come up to our hotel for their vacations," Mark says. "They usually, if we did our job right, left feeling a lot better and relaxed. What's going to happen in this new iteration is something, in its essence, that's similar. People will leave feeling relaxed and better."
Kutsher is writing a book about the hotel now. He says buildings are buildings, but what remains are the memories of a time when sports legends and everyday people vacationed together. And he's proud the Kutsher family made that happen.
This segment aired on September 6, 2014.