Start Your Flippers: Pinball World Championship Comes To Pittsburgh
05:31
Play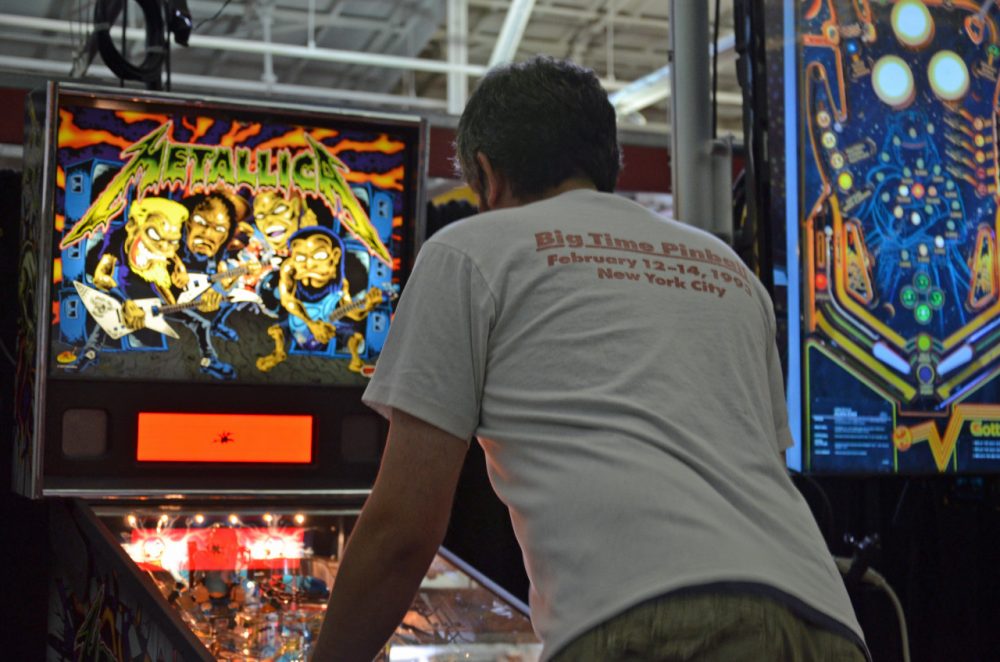 This article is more than 6 years old.
It's unlikely that anyone would mistake Bowen Kerins' hobby for a sport, though it does have a few whiffs of athleticism. For starters, it requires agility, quickness and coordination. Plus, there are balls and an elaborate point system.
Kerins, from Salem, Mass., is a pinball player. But not just any pinball player — he's last year's world champion. And he was in Pittsburgh recently to defend his title at the 2014 Professional and Amateur Pinball Association's World Championships.
It is the chance to be a pro athlete for one weekend.

Bowen Kerins, world champion
The tournament, in its 17th cycle, drew hundreds of players from around the U.S. and a few from countries such as the Netherlands and Sweden, where pinball is popular.
The top players like Kerins competed for a $10,000 first-place purse — nothing to sniff at for an arcade game where normally the only prize is being able to input your initials when you land a high score.
"It is the chance to be a pro athlete for one weekend a year," Kerins said.
A History Of Booms And Busts
PAPA 17, as this year's championships were called, was held in a massive, 30,000-square-foot warehouse filled with nearly 500 pinball machines.
"This is a tournament with 24 qualifiers all playing eight different pinball machines set up at a very high difficulty," said tournament director Mark Steinman, who doubles as the event's TV play-by-play announcer. "And the winner of this tournament will be declared the world pinball champion."
Some of those eight challenging machines testing the pros include Metallica, Alien Star and the classic Addams Family — the most successful pinball game in history.
The setup for the competitors was impressive. Each of the eight machines had a camera mounted overheard that projected to a giant flat screen mounted nearby so spectators could see the play unfold. Some of the machines even had extra cameras trained on the players' faces and the machines' scoreboards.
Clearly, championship pinball has become somewhat of a spectacle, though it hasn't always been this way.
"If you look at pinball history, it goes through a cycle of booms and busts," Steinman said. "And now, competition pinball and some of the new designers out there are bringing it back."
Cayle George, an elite player from Seattle, described competition pinball as a game of risk and reward.
"The whole game is about risk management — of risk and reward of different shots, how much it puts the ball at risk, what the value of the shot is," George said. "Then when you get to the finals you really have to go all-in on the risk factor for the reward max-out."
'Attack From Mars'
Of course, there could be no pinball championships without the machines themselves. There are many of those — Eight Ball Deluxe, Medieval Magic, Doctor Who — the list goes on. Paul Sundue, an enthusiastic pinball player from Brooklyn, explains that each pinball machine is designed by an individual who lends personal style to the machine's design.
"So just like movies have an auteur and one particular individual is responsible for the voice and the style, individual games are that way, too," Sundue said.
[sidebar title="Decriminalizing Pinball" width="630" align="right"] The city of Oakland has finally lifted its bizarre, 80-year pinball ban. [/sidebar]
Sundue and his friend, Anna Wolk — one of the few women competing here — decided I needed to play pinball before I could do any more reporting on it. So they picked a game the three of us could play: Attack From Mars. To watch them play, you got the idea that pinball is more than just wailing on the flippers and hoping for the best. These two have some style. Before long, we have two-billion points.
When we finished playing Attack From Mars, the elite finals were well underway between George, a pair of 30-something brothers and a teenage phenom from Illinois.
Kerins didn't make it to the end. He said competition is stiffer than ever.
"The quality of play in pinball has really grown in the last five years because of the leagues, the growth of tournaments and the availability of learning videos online for players to learn skills in specific games," he said.
In the end, George took the day and left Pittsburgh $10,000 richer.
"It's amazing," he said. "I wasn't sure I'd ever be able to do it. This is my fourth time making the final four at this event. And there are so many good players, you only get so many shots."
And this was his.
More: 
This segment aired on September 13, 2014.