Nebraska: America's Cricket Hotbed?
05:07
Play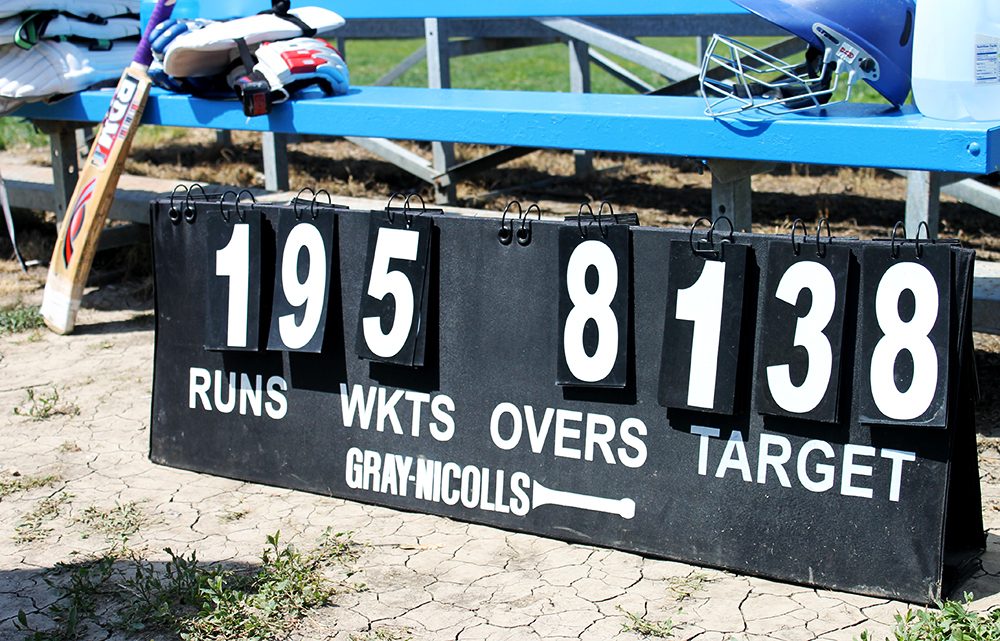 This article is more than 6 years old.
There's a new sport in Nebraska. Actually, it's an old one. But kids in the heartland have enthusiastically taken to it.
It has nothing to do with Husker football or even the College World Series.
Middle schoolers in Omaha are getting excited about cricket. You know, the bat-and-ball game that kinda looks like baseball? And, okay, most of the kids' parents are from Commonwealth countries like India and Pakistan, where cricket is a big deal. But while these kids may have seen their expatriate parents tuned in to pay-per-view cricket and reminiscing of home, they like cricket for their own reasons.
[sidebar title="India v. Pakistan" width="630" align="right"] Last year, Ken Shulman traveled to Delhi and Calcutta to report on a cricket rivalry that transcends sports. [/sidebar]
"You run and catch the ball, and you fall down and bump your head," explained one young player.
"That's the exact thing I like! You get hit!" another shouted gleefully.
These young cricketers play for the Omaha Ninjas and the Lincoln Warriors in Nebraska's first inter-city youth league. The league was organized by the Omaha Cricket Club, which has played at N.P. Dodge Park in Omaha for more than 20 years. For the past three years, the club has been setting up camps in local schools to introduce the game to young batters and bowlers. They have a running tally of kids they've reached on their website. Currently, it's 4,474 kids from 49 different schools.
Even if only a slice of that tally sticks with it, cricket in Nebraska is here to stay.
Peter Michaud, a transplant to Omaha from Washington, D.C., sat on the sidelines with other enthusiastic parents at the game. He said the energy of the coaches, the players and the parents is just fun to be around.
"That kind of enthusiasm is really contagious," he said. "That's what I like the most about it. And it's a new sport. It's different. It's off the beaten path for most traditional American sports."
Michaud's 7-year-old son, Alexander, recently scored the winning run for Omaha, even though he was playing 12 and 13-year-olds. So, what does Xander, as he goes by, like about cricket?
"Mostly batting," Xander said. Xander plays baseball, basketball and soccer, too.
[sidebar title="The Evolution Of Cricket" width="630" align="right"] Last September we spoke to the author of 'The Great Tamasha,' which explores the evolution of cricket in India. [/sidebar]
That popular game is actually the model the Omaha Cricket Club is following. The concept is to introduce the sport to kids so they can grow up and push for colleges to adopt the game. It's a national strategy that the United States Youth Cricket Association is employing. Bhaskar Setti heads the Omaha Cricket Club and also works with the USYCA managing over 300 clubs. He said cricket is perfect for what he calls "sideline kids" — those who don't have the build for football or the height for basketball.
"We want to target those kids and bring them here," Setti said. "Because our best player in the world is around 5-foot-6 and a normal build because of the game it is. We don't have to hit hard. We have to strategically place the ball in the field."
Sure, it's an uphill battle. And there are loads of sports to compete against. But Setti is convinced that cricket can find a new place in America. It already has an old place. Abraham Lincoln turned out for a game in 1849. And some argue that America's pastime — baseball — wouldn't even exist if not for cricket. The modern game is moving away from the traditionally slow-moving, five-day test matches to the fast-paced "T20" games, which can be over in two to three hours.
Suman Vallabhbhai is a parent and immigrant from Panama whose own parents hail from India. His wife, Michelle, says her son played in a youth workshop and decided, on his own, that he wanted to play.
"He tried basketball, he tried soccer and none of it stuck," she said. "It always was something that 'Aww, do I really have to keep going? Can we stop now?' This, I never get an argument. So it's really nice to finally find a group that's he feels comfortable and happy with, and he's learning something and being active."
The Omaha Cricket Club will continue with youth camps and workshops in Lincoln and Omaha throughout the school year, with a possible league game over fall break — depending on the enthusiasm.
This segment aired on September 27, 2014.