A Brief History Of Feel-Good Sports Moments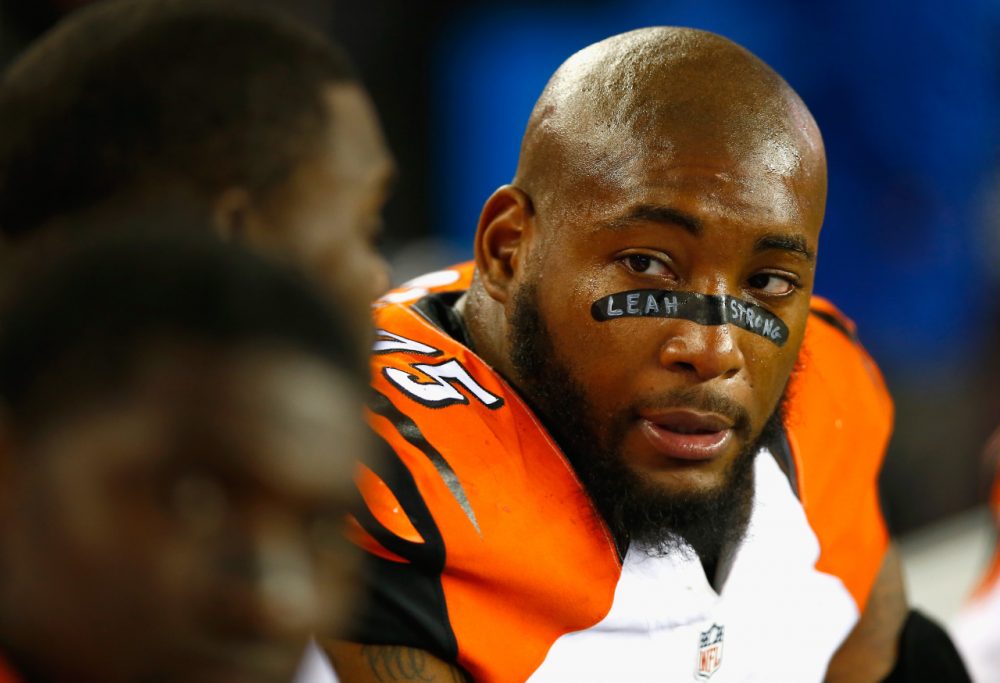 This article is more than 6 years old.
After the New England Patriots' touching halftime tribute to the cancer-stricken daughter of an opposing player last Sunday night, Only A Game looked back at other examples of uncommon kindness in sports history. Check out our brief list below and then add your own examples in the comments section — what did we miss?
Devon Still And The New England Patriots
In June, Bengals defensive lineman Devon Still's four-year-old daughter, Leah, was diagnosed with stage 4 neuroblastoma and given a 50-50 chance of survival. A surgery in September removed her tumor, but months of treatment remain. The Bengals have decided to donate all proceeds from the sale of his jersey to pediatric cancer research. So far over $1 million has been raised.
During the Patriots-Bengals game on Sunday, Patriots cheerleaders led a halftime tribute to Leah while wearing Still's No. 75 jersey that brought the Bengal to tears.

We are #LeahStrong #OneFamily #CINvsNE pic.twitter.com/dascEby4Ne

— Pats Cheerleaders (@PatsCheer) October 6, 2014

Additionally, the Patriots announced that owner Robert Kraft would donate $25,000 to Cincinnati Children's Medical Center in Leah's name. New Orleans Saints head coach Sean Payton has also joined in on the fundraising effort by purchasing 100 Still jerseys.

Lou Gehrig And The New York Giants

[sidebar title="Gehrig's 'Luckiest Man' Speech" width="630" align="right"] The 75th anniversary of Lou Gehrig's famous speech was in July. [/sidebar]

In the 1930s, the New York Yankees and New York Giants were bitter crosstown rivals, having faced off in the World Series in both 1936 and 1937 (the Yankees won both). Hall-of-Fame first baseman Lou Gehrig starred for those Yankees squads but was forced to retire in 1939 due to the debilitating disease that bears his name. Only four sentences of Gehrig's famous farewell speech at Yankee Stadium on July 4, 1939 have survived on film.

But from what we know of the rest of his remarks, they also revealed that he'd received gifts from teammates, stadium workers and even the hated Giants. As Gehrig put it, "When the New York Giants, a team you would give your right arm to beat, and vice versa, sends you a gift — that's something."

Chuck Pagano And The CHUCKSTRONG Campaign

Indianapolis Colts head coach Chuck Pagano was diagnosed with leukemia in 2012. During Pagano's absence, the hashtag #CHUCKSTRONG spread. Two-dozen of the team's players (and even two cheerleaders) shaved their heads in a show of solidarity and to raise money for cancer research. Rival players donned CHUCKSTRONG gear at Lucas Oil Stadium as well.

After a 23-20 win over the Miami Dolphins, the first game Pagano attended after his diagnosis, he gave an emotional speech to the team:

To date, the #CHUCKSTRONG campaign has raised over $1.7 million for the IU Simon Cancer Center.

Larry Bird And Magic Johnson

Larry Bird, unquestionably one of the greatest players in NBA history, won three championships with the Boston Celtics in the 1980s. Yet Bird was forced to retire after the 1991-92 season due to persistent back injuries. Magic Johnson, Bird's rival throughout the 1980s with the Los Angeles Lakers, surprised Bird at his retirement ceremony at the Boston Garden by wearing a Celtics t-shirt under his Lakers gear and giving a heartfelt speech.

Add your favorite feel-good sports moment in the comments section below!