Remembering Boston Mayor Tom Menino's Sports Legacy
There are plenty of ways to measure Tom Menino's legacy as Boston mayor. There are terms in office: five. There are years in office: 20. And then there are championships.
As mayor from 1993 to 2014, Menino, who died Thursday at the age of 71, oversaw the greatest all-around era in Boston sports history. During his time in office, the area's four major franchises combined for eight titles: the Celtics hung another banner; the Bruins lifted a Cup; the Patriots won three Super Bowls; and, of course, the cursed Red Sox won three World Series.
When Menino took office July 12, 1993, it had been seven years since Boston had won a title. Nowadays Bostonians view duck boat parades like St. Patrick's —  err, Evacuation Day: annual celebrations that belong to the Hub.
Menino's sports legacy will, in all unfortunate likelihood, also be tied to more-than-a-few verbal fumbles (see Vince "Wilcock" and Rajon "Hondo.")
But if you click through the slideshows and listen past the soundbites, you'll find something substantial -- a mayor who has shaped the way Bostonians experience their pro sports teams.
Saving The Seaport From The Patriot Way
When Robert Kraft took over as owner in 1994, the New England Patriots played at Foxboro Stadium, notorious for its aluminum benches and small capacity.
Kraft explored two potential venues in Boston: the first, a "Megaplex" in Roxbury that would also feature a new baseball stadium and convention center. The second, a solo football stadium in South Boston.
Menino, along with local residents, opposed both plans. And after some flirtation with Hartford, Kraft opted to build a new stadium Foxboro. With the Patriots out of the picture, Menino oversaw the transformation of South Boston into the Innovation District.
"Can you imagine what the South Boston waterfront would be like today if there was a huge sports stadium with parking lots there?" a real estate source recently told the Boston Business Journal.
Fenway Park's Savior?
At Fenway Park's 100th anniversary in 2012, Menino was celebrated as one of the park's saviors.
In the current, Green-Monster-seats era, it may be hard to remember a time before John Henry et al. purchased the Red Sox in 2002, back when there were doubts Fenway would make it to the century mark. John Harrington, CEO of the Sox under the team's previous ownership, pushed to tear down Fenway and build a new stadium in the city.
Menino reportedly nixed the idea of building a stadium on the water. He also eventually opposed a potential stadium near the park's current location.
When asked by reporters in 2012 if he had always been a part of the movement to save Fenway, Menino explained, "I had some questions early on when [the previous owners] were trying to tell us that the bowl of the park was broken. They showed some evidence of that fact. But then when the new ownership took over, they showed us that those things could be corrected."
Menino has since been credited with embracing the renovation of Fenway Park and of supporting the growth of the surrounding area.
"I'm just proud of what this old, beloved ballapark looks like today," Menino said in 2012.
In a statement released Thursday, Red Sox ownership praised Menino's role in the preservation of Fenway.
"The preservation of Fenway Park was one of his greatest and proudest achievements," Red Sox President/CEO Larry Lucchino said. "He cared deeply about the growth of this neighborhood and the protection of this ballpark."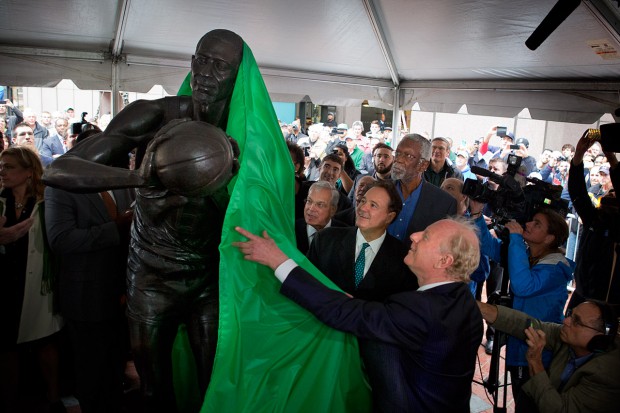 Honoring Bill Russell
In 2013, a statue honoring Bill Russell — who brought the Celtics 11 championships — was unveiled next to City Hall.
Menino reportedly played a big part in the decision to build the statue, which many felt was long overdue.
"The mayor has been the No. 1 biggest fan of this statue," Celtics co-owner Steve Pagliuca said.
At the unveiling ceremony, Menino explained why.
"[Russell is] a great friend to the young people of our state," Menino said. "Generations will come see [the statue] and say, 'Geez, that guy made a difference in a lot of kids' lives."
Stopping The Revolution
In a more recent move, Menino seems to have again halted the expansion of the Kraft Empire into Boston.
Talks of building a new soccer-only stadium in Boston for the Revolution — New England's pro soccer team, also owned by Bob Kraft — seem to have lost traction.
Earlier this year, Kraft's son Jonathan revealed that there had been talks of building a new stadium in Boston for 12 years.
But, Kraft added, " I don't think this was something Mayor Menino saw the value in, and it didn't get a lot of attention."
If there's a unifying thread in Menino's sports legacy, it seems to be one of prudence. While other cities have been tempted to splurge on new, costly stadiums, Menino pushed back.
Only A Game's Karen Given contributed to this report.
This article was originally published on October 30, 2014.