Historic (And Wacky) Trophies Intensify College Football Rivalries
Resume
When the University of Minnesota and University of Iowa square off each year in football, Gophers and Hawkeyes aren't the only animals represented on the field.
At the end of the contest, a certain hog gets passed around by the winning team. Its name: Floyd of Rosedale. This bronze trophy in the shape of a pig has traveled back and forth between Minneapolis and Iowa City for more than 70 years.
[sidebar title="Lehigh Vs. Lafayette" width="630" align="right"] No college football rivals have played more times than Lehigh and Lafayette. Before the teams' 150th meeting, we spoke to the 1964 team captains about one game that ended in disappointment for both sides. [/sidebar]Its origins were shaped by years of built-up hostilities. By 1935, the two programs simply hated each other. Some of the resentment included racial overtones. The Hawkeyes and their fans were not too pleased with Minnesota's brutal style of play the previous year, especially against Iowa's African-American running back Ozzie Simmons.
Gopher football historian Al Papas, Jr., said that's when a peace-offering of sorts entered the mix.
"The Minnesota governor was afraid for the safety for the football team," Papas said. "So he came up with this idea — 'I'll bet you a Minnesota pig for an Iowa pig.' It kind of calmed things down."
The idea resulted in a clean game in 1935. The Gophers were victorious, and the state was the recipient of an Iowa hog named after Minnesota Governor Floyd Olson.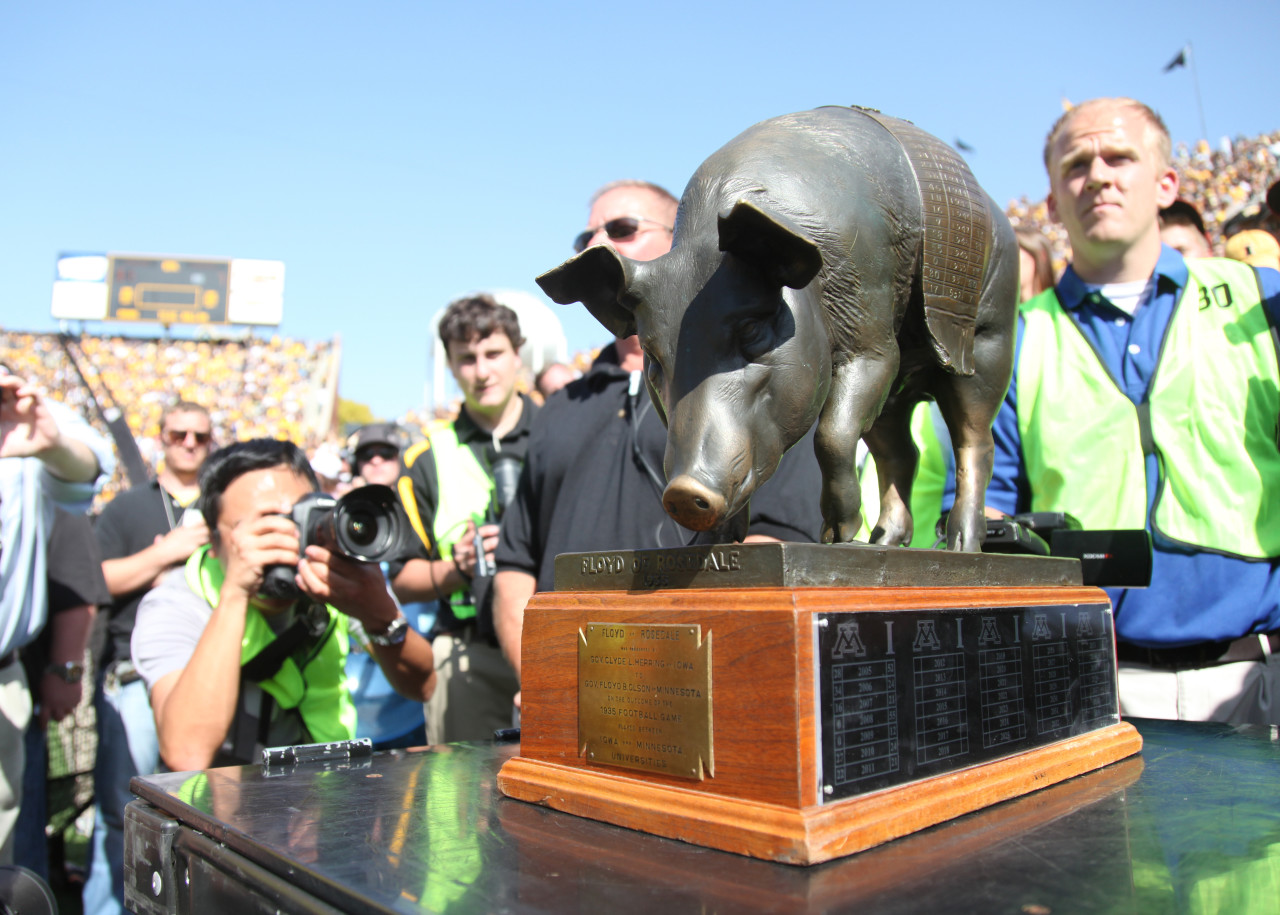 In a separate annual rivalry, the Gophers try to keep the Wisconsin Badgers from getting their hands on the Paul Bunyan Axe. Papas said, believe it or not, that prize also is rooted in swine.
"It started out as the 'Slab of Bacon Award,'" he said. "If you turned it one way it looked like an 'M.' If you turned it upside down, it looked like a 'W.'"
It was later switched to the Paul Bunyan Axe, which isn't to be confused with the Paul Bunyan trophy — a replica of the fabled lumberjack that Michigan and Michigan State tussle over each year.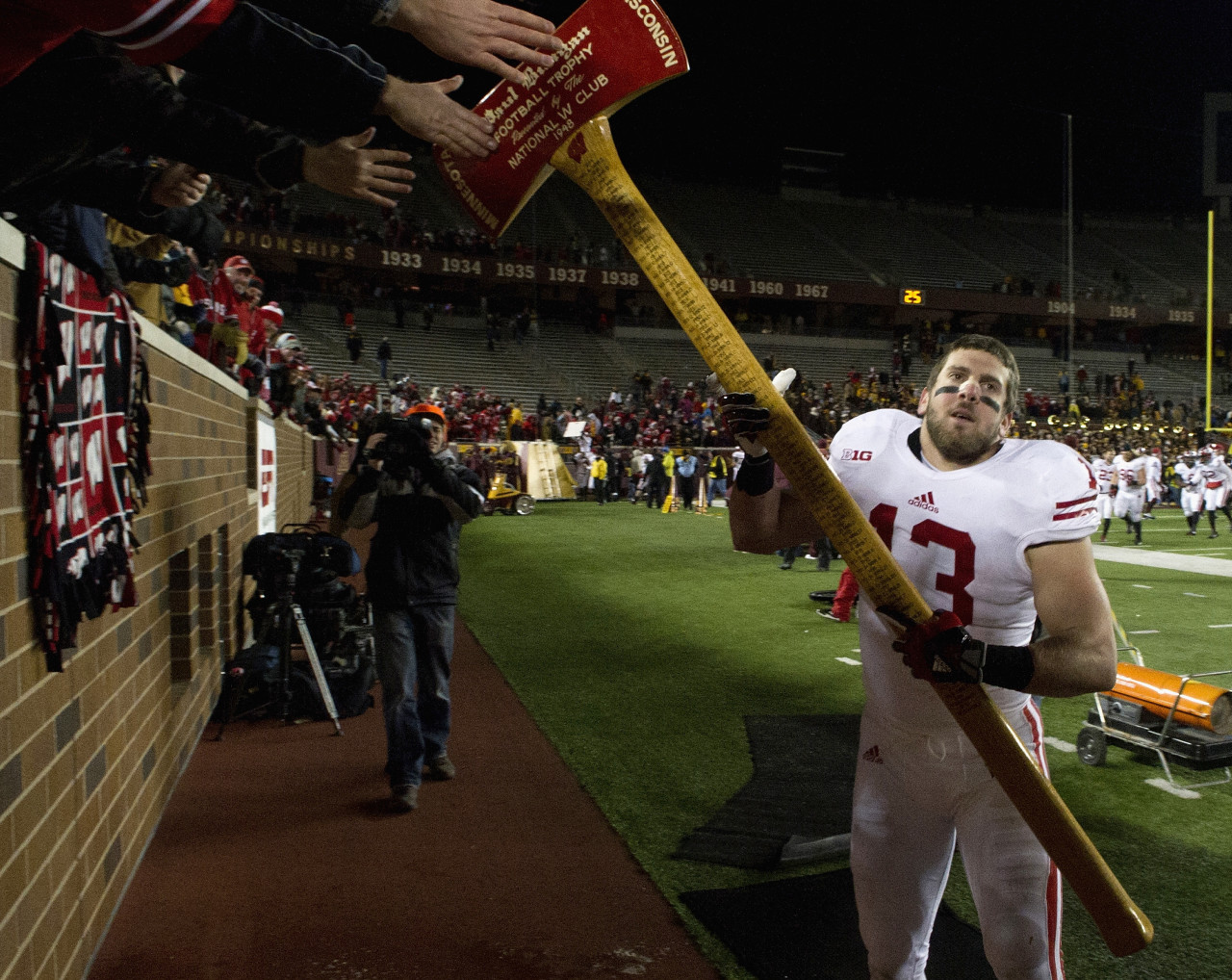 New York Times sportswriter Marc Tracy recently penned an article on the state of these games. He said another trophy that stands out is the one at the center of the Mississippi State-Ole Miss rivalry.
"It's the battle for the Golden Egg," Tracy said. "It was originally a football, and at the time it was made, footballs were kind of fatter, so it looked like an egg."
If bacon, eggs and lumberjacks aren't your thing, there are other trophies worth noting, including the Keg of Nails fought over by Louisville and Cincinnati. It's meant to show that the winning team is as tough as ... well, you get the idea.
[sidebar title="MSU's Early-Season Rise" width="630" align="right"] Earlier this season, Mississippi State was ranked No. 1 for the first time ever.[/sidebar]
These historic rivalries are steeped in decades-old tradition, but the relatively recent conference realignment has watered down some of the pageantry.
"So all of a sudden, Nebraska is playing Wisconsin every year and they create the Freedom Trophy, even though it's not really a historic rivalry," Tracy explained. "Nebraska's rivalries are with [old] Big 8 programs like Missouri, Kansas and Iowa State."
Tracy was quick to point out that the Freedom Trophy honors Veterans, and that Nebraska-Wisconsin will eventually become a storied rivalry of its own — especially if the games are competitive.
And if you're looking for one of the oldest trophies, you'll have to come back to the Twin Cities. The Gophers recently defeated Michigan for the Little Brown Jug, which dates back to the early 1900s. Papas said the story behind this trophy includes a little paranoia.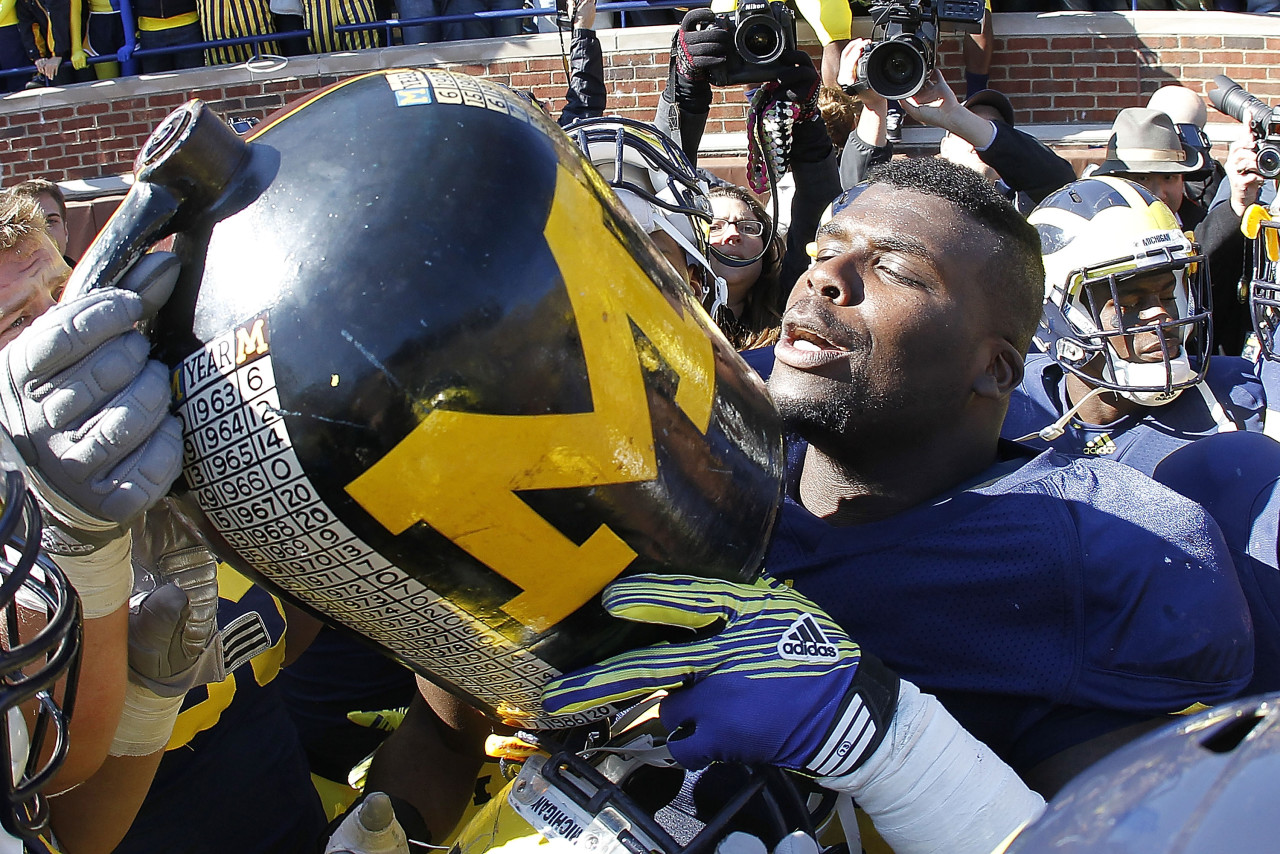 "Michigan didn't trust Minnesota to provide them with water before a game," he said. "So, they went out and bought their own jug and brought their own water to the game. They left their own jug in the locker room, and the Minnesota athletic director said 'If they want it back, they'll have to win it back.'"
And win it back they did. The Wolverines have kept the Little Brown Jug in Ann Arbor for much of its existence. But every now and then, it's held up by Gopher players, signifying the sheer joy these rivalries — and their trophies — can bring.
More College Football Coverage:
This segment aired on November 29, 2014.