'Maximalist' Shoes: The Latest Running Craze?
04:58
Play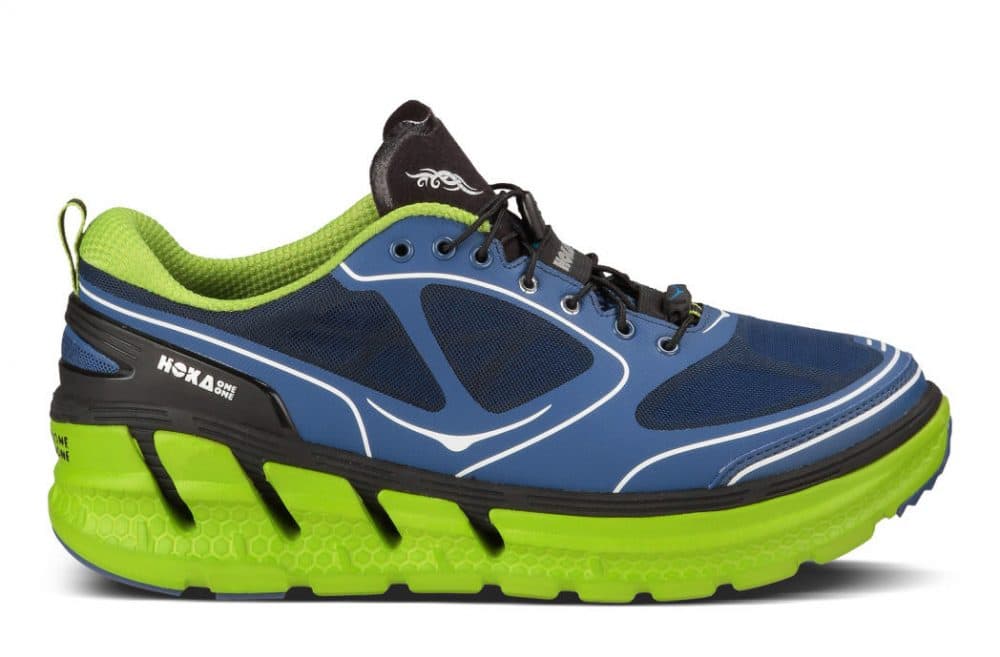 This article is more than 6 years old.
If you're still taking off your shoes before heading out on a long run, you're woefully behind the times. Minimalist running is so 2009. These days, runners are lacing up maximalist running shoes.
"When I first saw them, I thought they sort of looked like moon shoes," Lindsay Crouse, who wrote about the new trend for the New York Times, told Only A Game's Karen Given. "Or a little reminiscent of the Skechers shoes that you may remember from a couple years ago."
[sidebar title="The Minimalist Craze" width="630" align="right"]Back in 2010, minimalist running was the hottest thing to hit the running community.[/sidebar]Olympic medalist middle-distance runner Leo Manzano made the switch and says his plantar fasciitis disappeared after a week in his new shoes.
"He runs in them pretty much always," Crouse said. "Some people had dismissed the shoes as a little gimmicky to me, and he was a convert. I thought that was fascinating."
Manzano wears the heavily cushioned sneakers for the bulk of his training, but still sometimes runs barefoot to keep his feet strong. After recovering from his injury, Manzano posted his personal best in the 1,500 meters in July.
"What's striking about these shoes is that he not only got rid of his injuries but actually is performing faster than he ever has before wearing these shoes," Crouse said.
In 2010, "Born to Run" author Christopher McDougall told Only A Game that runners were casting aside their shoes in favor of barefoot running because, "People have been hurt for so long that they're desperate. They're obsessed because they want to run around and not get hurt anymore."
"We still don't necessarily have proof yet that extreme cushioning will help with anything."

Lindsay Crouse, New York Times
But that's the same reason runners are now turning to maximalist shoes, like those from Hoka One One.
"The problem of injuries has not gone away with barefoot running," Crouse said. "I think that's one thing that people have realized. ... What these Hokas are doing is trying to mitigate that impact and at least reduce that harmful element of running and reduce injury that way."
But the company has been careful to avoid making any statements about health benefits. Vibram — the company that sells "five-finger" minimalist shoes — had to settle a lawsuit after making claims about health benefits.
"Particularly with the Hoka brand, they seem to be relying much more on word-of-mouth," Crouse explained. "They're certainly treading the line, but I did speak with one of the founders and he never said anything sort of medically about the shoes. It's all sort of anecdotal, and I think that's been working for them so far."
"We still don't necessarily have proof yet that extreme cushioning will help with anything," Crouse continued. "I don't know that they are going to be the solution but as [American runner] Lauren Fleshman said in the article, people will kind of look for this panacea in any direction they possibly can, but there's no shoe savior coming for us."
This segment aired on February 21, 2015.