In The Philippines, Manny Pacquiao Is More Than A Boxer
Resume
After years of speculation and anticipation, boxers Floyd Mayweather and Manny Pacquiao have agreed to fight on May 2 in Las Vegas. While the American Mayweather falls short of celebrity status outside of boxing circles in the U.S., Manny Pacquiao's star long ago ascended beyond boxing in his home country of the Philippines.
Grantland editor Rafe Bartholomew lived in the Philippines from 2005 to 2008 and he joined Bill Littlefield.
BL: Rafe, soon after your arrival, you witnessed the country's devotion to Manny Pacquiao firsthand. Tell me a little bit about that.
He has a pretty bad record of attendance in Congress, but that's sort of understood because the rest of the House wants him to train for his fights and continue winning.

Rafe Bartholomew, Grantland editor
BL: You have written that Pacquiao's fight is "charged with meaning for the country" every time he steps into the ring. What baggage does he carry beyond the imperative to keep winning?
RB: Manny has sort of, almost single-handily, elevated the profile of the Philippines on an international stage, which is sort of a strange thing to think about given it's a nation of over 100 million people now. And even though some of the sort of elite circles in the Philippines sort of quibble over whether they want an athlete representing them on such an international level, he's beloved, really, by people who really don't know anything about the Philippines because he puts such a friendly, humble face on the country as a sportsman.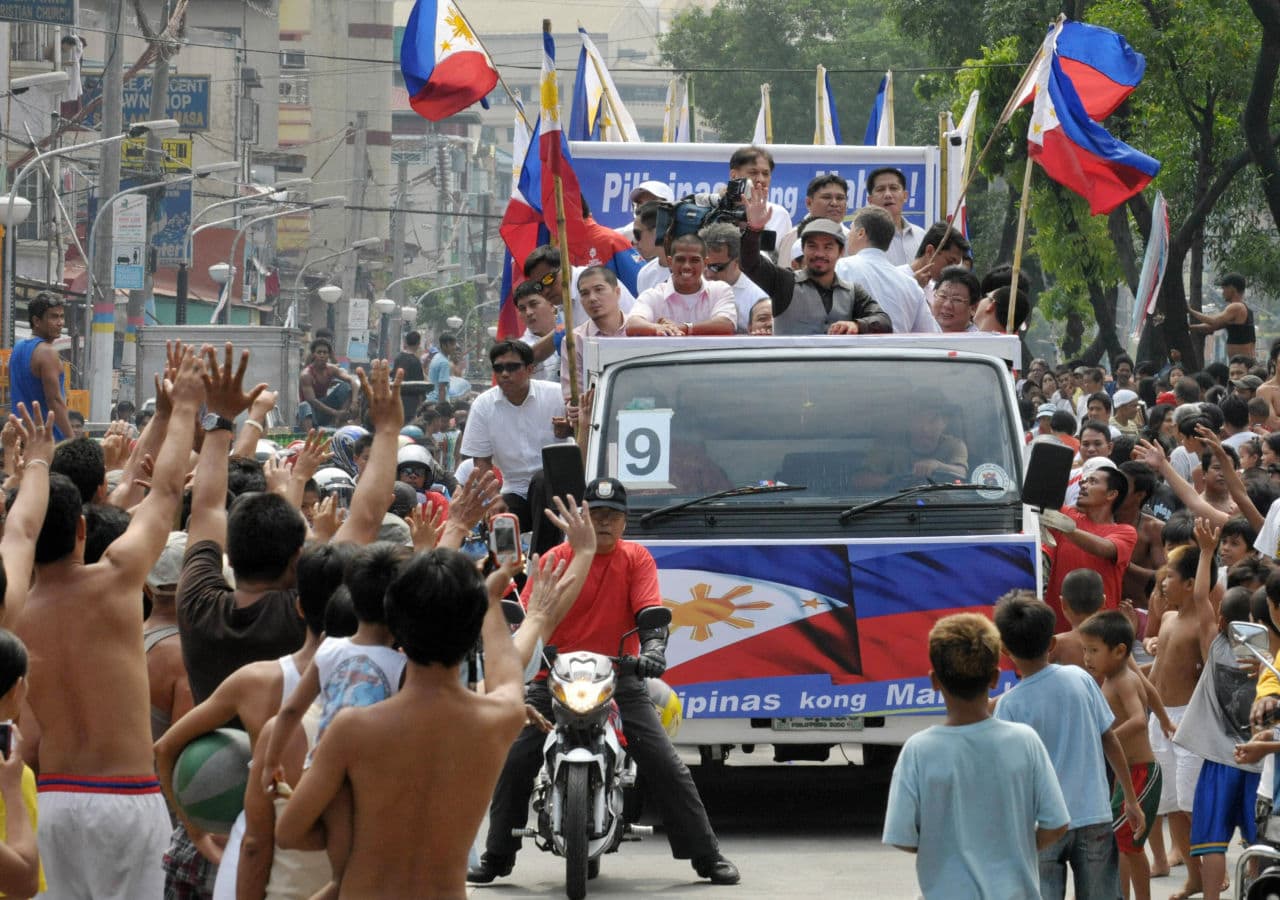 BL: Well, let's talk about some of the particulars. Pacquiao is also an actor and a singer. He owns a team in the Philippine Basketball Association's development league. He's suited up for a different team that he sometimes coaches. He's currently in his second term as a Congressman in the Philippine House of Representatives. Can he possibly do all of these things well?
RB: No, and I don't think that he expects to do all of them well — and few Filipinos do either. I mean there's a long history of — once you become a celebrity in the Philippines, then you start seeping out into the other kinds of celebrity. So there are other famous basketball players in the Philippines who have recorded their own albums and none of them can sing. But it's just sort of like, "I'm famous. I might as well make an album. I might as well have a sitcom."
[sidebar title="George Foreman III" width="630" align="right"]George Foreman III is following in the footsteps of his father --the two-time heavyweight champion of the world -- as an entrepreneur.[/sidebar]And so I think the two areas where Pacquiao is earnestly trying to succeed are boxing, of course, and he's honestly trying to be a good politician. Now, he has a pretty bad record of attendance in Congress, but that's sort of understood because the rest of the House wants him to train for his fights and continue winning.
BL: Pacquiao is 36. Floyd Mayweather is 38. Their bout is being billed as the "Fight of the Century" — no surprise there. Lots of fights are billed that way. But it's tempting to suggest that it would have been a better fight if they'd met a little earlier in the century, isn't it?
RB: Well, that's what everyone sort of feels like. And it was very, very disappointing in 2009 when the negotiations first fell through and then every other time they fell through after that. And while I think most people who follow boxing closely would agree that they've slipped from their absolute athletic peaks — in their late 30s that's not a surprise — they're still considered the No. 1 and No. 2 best fighters in the sport.
PB: Manny Pacquiao is the underdog in this fight with Floyd Mayweather. Do you get the sense that Filipinos are happy that this fight is happening — or do they seem to you worried that Pacquiao's image may take a hit?
RB: Oh, no. I mean I think the country — and I read the news and follow it pretty closely over there — is pretty elated that this fight is finally happening. I mean aside from being Filipino and Manny Pacquiao fans, they're boxing fans too. And like everyone else, they've been waiting for this fight to happen. And Filipinos I think have a lot more confidence in Pacquiao's chances in this fight than say the average American boxing fan or sports fan does. When you're rooting from a place of national pride, it's very easy to say, "Our guy is tougher, is stronger, he'll bring the fight, so we're not afraid at all."
This segment aired on March 14, 2015.