NFL Running Back Andre Williams On Chris Borland's Retirement
05:52
Play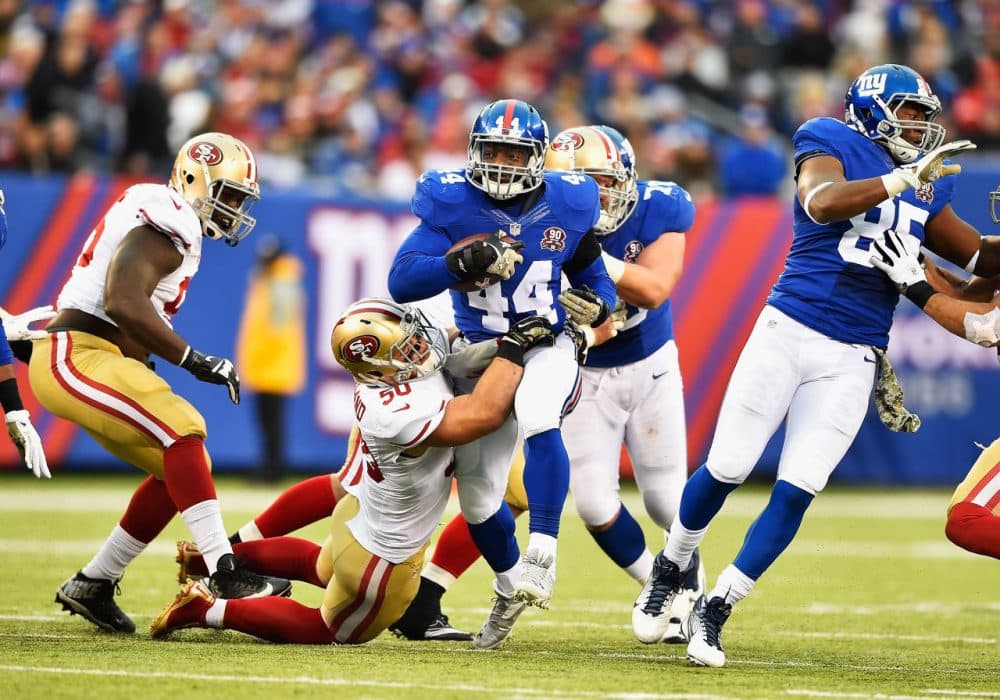 This article is more than 6 years old.
Citing health risks, San Francisco 49ers linebacker Chris Borland retired on Monday after just one season in the NFL.
New York Giants running back Andre Williams was also a rookie this past season and he joined Bill Littlefield.
BL: What did you think when you learned of Chris Borland's decision?
I don't necessarily think you can necessarily say, 'If you play football you're gonna have brain damage,' because a lot of people play the game and walk away from it healthy.

Andre Williams, Giants Running Back
BL: I understand that his decision notwithstanding you are not considering retirement after one year in the NFL.
AW: Not at all, not at all. I am good to go. I do not have any pressing health concerns at the moment. I'm looking forward to this next season and I'm actually down in Miami right now training at Pete Bommarito's spot with [Giants running back] Rashad [Jennings] and a couple other guys.
BL: The lack of health concerns notwithstanding, does the research linking football to brain injury and the NFL's acknowledgement that about 30 percent of players can expect to sustain damage to their brains concern you at this point?

AW: It doesn't concern me. Whether we're playing football or whether you're smashing your head into a wall or smashing into anything, there's some health risks that you're taking on. But there are ways to mitigate those health risks — taking care of your body and different things. And you know, the helmet definitely does something. It works. I haven't had any concussions yet and God's willing I won't have any.
But you know I'm not sure what causes or what it is, but you can't — I don't necessarily think you can necessarily say, 'If you play football you're gonna have brain damage' because a lot of people play the game and walk away from it healthy.
BL: In explaining his decision to retire — and forego up the hundreds of thousands of dollars that he was due to earn — Chris Borland told ESPN's Outside the Lines, "I just honestly want to do what's best for my health." Do you think that other NFL players have begun to think the same way?
[sidebar title="Wives Weigh In" width="630" align="right"] Gerri DeLamielleure shares the challenges her husband, Hall of Famer Joe DeLamielleure, faces. [/sidebar]AW: That is a big question for me to answer on behalf of the rest of the NFL players. If Chris believes that that was what's best for his health, then by all means it was time for him to stop, and I think that is the question everybody has to ask.
No matter how much I'm looking to get paid this year or next year, if my health is at risk I'm going to stop playing because I don't think football is a beginning or ending to life. So there are a lot of other things that I want to accomplish.
BL: It's interesting that you put it that way — that football isn't the beginning or the ending of your life --because in a way that's counter to the culture of the NFL of the past, isn't it?
AW: I mean, I suppose. There was a point where I said, "Maybe I can go to the NFL and if that happens I'll make some good money. I'll be on a special platform that most people don't get to stand on and that could be life-changing." But there are other routes to the things that people want out of life, and sometimes it doesn't take a money or a platform to get those things.
Really, some of the goals I have in life, learning to fly a plane. Having kids and just having the time and the energy and the resources to be able to teach them things that I picked up along the way in life. So it's up for debate and depends on the person.
BL: It's interesting to me that  you told Sports Illustrated's Monday Morning QB, "I don't play with hate in my heart or to injure people." I wonder if that's something that everybody else on both sides of the line is likely to be able to say?
AW: I do think that there is definitely a difference between the players that play the game and the fans that watch the game. You know, I think football, it's a form of art. And I can't do anything but respect the people who are able to express their art form through this game, so it's just exciting to me.
I don't necessarily — I don't feel any negative emotions toward my opponents after a win or a loss.  You shake their hand, and it's about winning the game — not necessarily dominating or hurting your opponents or anything like that. And I think the culture that surrounds the game can make the games safer and not just rule changes or a safer helmet.
This segment aired on March 21, 2015.