Steve Ballmer, 'The Most Normal $24 Billion Owner,' Lets Loose In L.A.
04:21
Play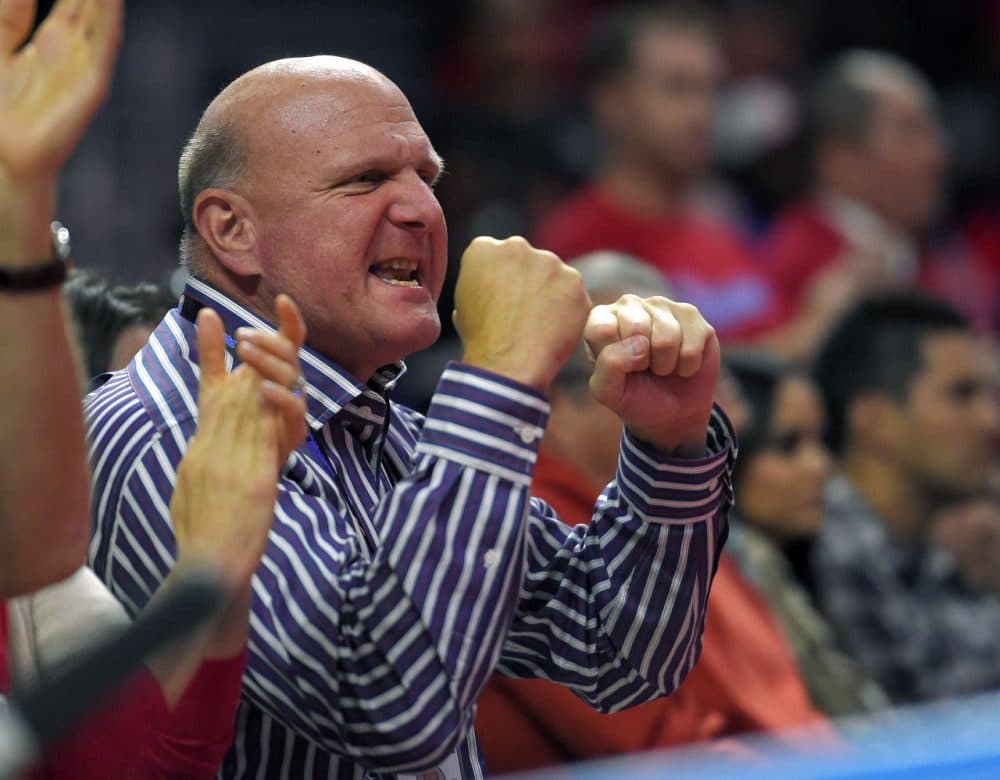 This article is more than 6 years old.
On April 29, 2014, newly minted NBA commissioner Adam Silver banned then-Los Angeles Clippers owner Donald Sterling for life after racist comments by Sterling had infuriated pretty much everybody and had taken some of the luster off the first round of the NBA postseason.
But Sterling is gone, replaced in August by former Microsoft CEO Steve Ballmer, whose image New York Time columnist Karen Crouse describes as "more J.C. Penney than J. Crew." Crouse spoke with Bill Littlefield about Ballmer's tenure as owner.
BL: Steve Ballmer, who is worth somewhere around $24 billion (give or take a billion), expresses his enthusiasm for the Clippers loudly and often at games on the sidelines. Is that why you describe him as "more J.C. Penney than J. Crew"?
KC: That's part of it. But he doesn't even have courtside seats. He's got a baseline seat. He is the antithesis of the owner looking to draw attention to himself. And yet he manages to do that because he screams like a hyena when he gets overly excited about how his team is doing.
(Ballmer's also been known to let loose at halftime concerts — see the vine embedded below.)
KC: He dresses in button-down plaid shirts that any sixth-grader would be embarrassed that his mom was buying him for school and khakis and sneakers. And when people told me this, they meant it as the ultimate compliment because his enthusiasm for basketball in general, and the Clippers in particular, is authentic.
BL: Still, Steve Ballmer lives in Seattle and he travels to Clippers games on his private jet. So he's not exactly Mr. Blue Collar, right?
KC: No, and I talked to a lot of season ticket holders — including a couple whose families had had season tickets since the Clippers were in San Diego — and the one thing that I heard again and again was this was the one thing that made them queasy: that this guy really does not represent the melting pot that the Clippers season-ticket holders represent.
I think the Clipper fans do appreciate that he is an authentic basketball fan.

Karen Crouse, New York Times
In the preseason there were these big banners outside Staples Center of Blake Griffin, of Chris Paul and then of Ballmer — which was very unsettling to these die-hard fans. They didn't want their owner to be one of the attractions. But those banners disappeared once the regular season began. And I think the Clipper fans do appreciate that he is an authentic basketball fan.
BL: What's the nature of the relationship between Ballmer and Clippers coach Doc Rivers?
KC: I got a sense that it's a very warm relationship. It seems as if they have a mutual respect and affection for each other. I laughed when I was talking to Doc, and he said, "Karen, he is the most normal $24 billion owner I have ever come across." And then he paused and said, "Of course, he's the only man worth $24 billion that I've ever come across."
BL: Has Steve Ballmer changed the team and the culture surrounding the team since he assumed ownership of the Clippers back in August?
KC: My sense is that not as much as people thought. When I talked to Doc, Doc said he was actually encouraging Steve to come by more, to stop in his office, to express his opinions — that he wanted Steve's input. He did not want him to be a hands-off owner. As he said, "This man is a very smart businessman, as he's proven. I want to hear his input."
This segment aired on April 25, 2015.