Elissa Ely: A Knee Injury, A 'Miracle' Exercise And A Dilemma
02:41
Play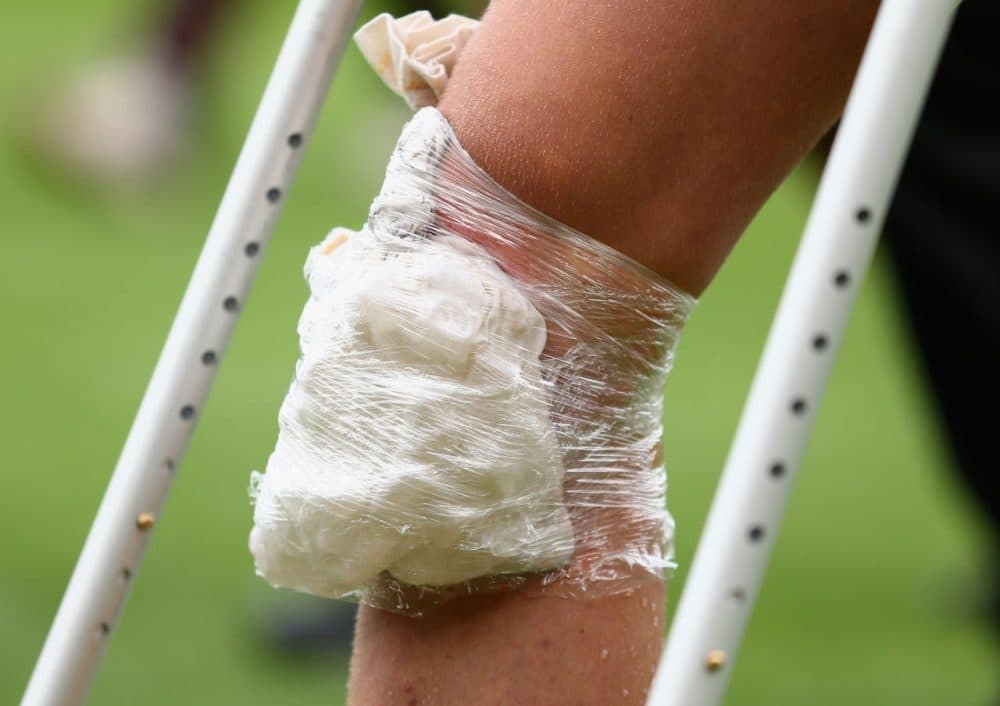 This article is more than 5 years old.
This story is part of Only A Game's "Motivations Show," which looked at stories of motivation in sports.
It was a sports-related injury, but also the time of life when each body part begins to complain in a different voice: the high soprano hip pain, countertenor toe, alto lower back. Before one part finishes, the next starts humming. A middle-aged body is nothing but a choir of separate singers, coming apart at their own rates.
Poor knee -- its end was beginning. It was not a minute too soon to start researching surgeons.
With no hope, I visited a chiropractor. I figured he would order MRIs, X-rays, maybe draw blood to check some weird kind of knee value. There was no fixing the problem, of course.
He took the knee through its range of motion, while I hovered over myself protectively, watching his face to see how dire it was. He flexed, extended, rocked and tapped. History-taking and elicitation of symptoms were excellent (in a psychiatrist's opinion). But it didn't matter. I knew the pronouncement would be hopeless.
Then he laced his hands behind his head and leaned back. "It's the vastus medialis obliquus," he said. "A very small muscle. For some reason, it weakens more in women as they age." Bad luck for my gender.
He showed me the exercise. It was a lifting and lowering that required focus, and quickly became boring. I went home and diligently did 12 reps three times daily.
When I returned two weeks later, I felt 92 percent better. I also felt a weakening of resolve.
"How come no one does this exercise?" I asked him. "It's like a miracle."
I didn't mention to him that I had dropped to 10 reps twice a day.
He leaned back with his fingers interlaced. I could see he had given the dilemma great thought, and had come to understand much of human nature from the single knee.
"It's too easy," he said.
More From Elissa Ely: 
This segment aired on June 6, 2015.