Against The Odds: Trying To Become A Great American Jockey
Resume
Last weekend Victor Espinoza, 43, became just the 12th jockey to ever win the Triple Crown. There are an estimated 2,000 jockeys in the U.S. racing at a time when the industry is shrinking, so Espinoza and other high-profile jockeys are part of an elite few.
Reporter Anne Marshall spent time with a young jockey just starting out, and found a difficult world offering prohibitive odds for success.
An Early Start
It's Kentucky Derby day at Churchill Downs, and I'm 100 miles north of the spotlight to meet 23-year-old Richard Oliver. He's on the backside of Belterra Park racetrack in Cincinnati.
Some days I get mad because I be riding nothing.

Richard Oliver, Jockey
"It could be a very busy morning," Richard says. "Or it could be a very quiet morning. It depends who's got what going on."
Richard's looking for a trainer who may need him to work out a horse. His dark-red cowboy boots hustle quickly through a maze of 33 barns.
"Hey, hey does Joe needing a hand this morning at all with anything?" Richard asks.
"No, no, we're all good," a trainer tells Richard. "I have two guys on staff, so we're pretty covered with riders"
"Yeah, yeah — no, that's OK," Richard says. " I just thought I'd check back."
"Good to see you," the trainer says. "Take care."
Richard moved to the U.S. in January. The England-native wants to be a great American jockey. How do you do that? Ride the best horses and win.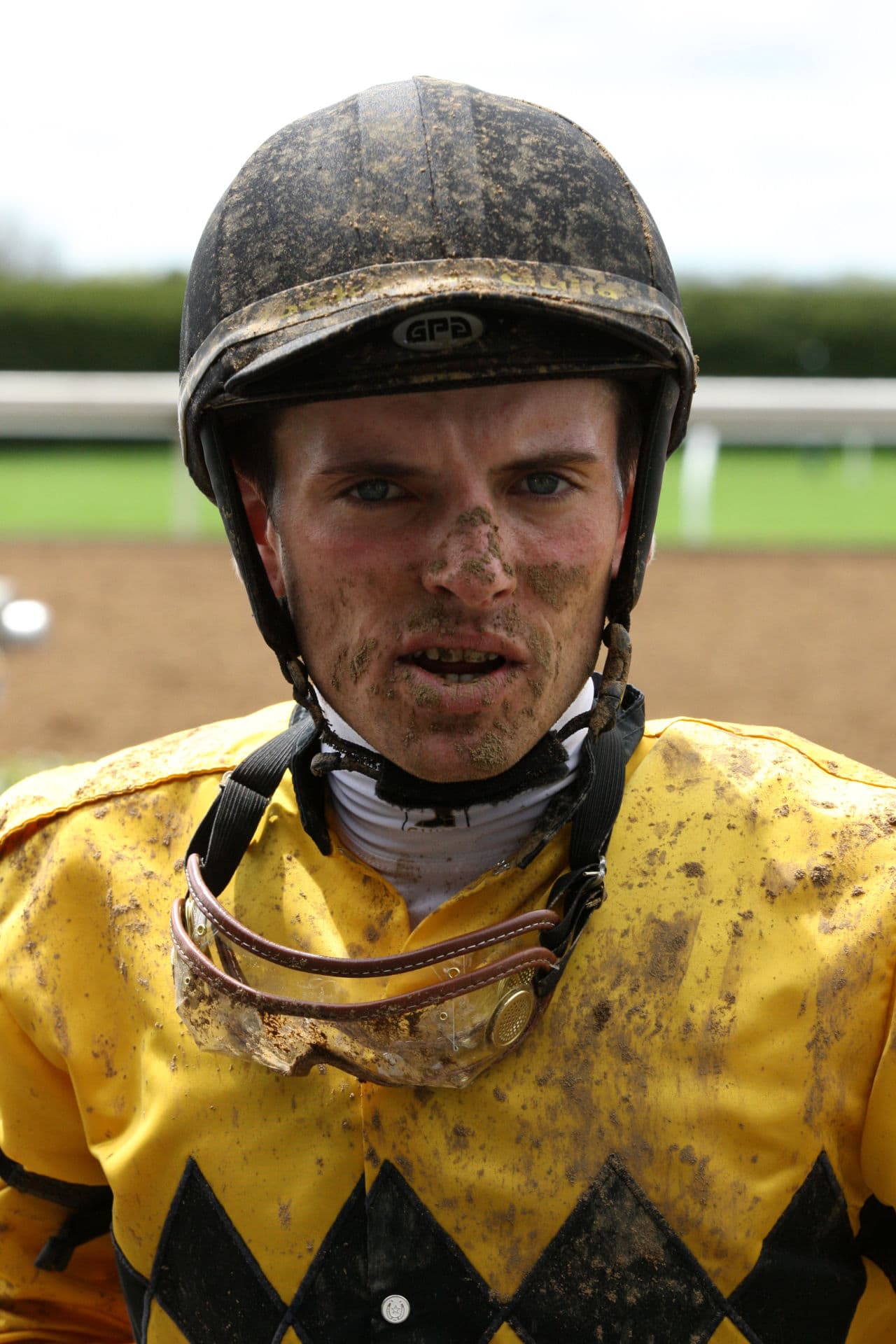 So every day he arrives at area tracks around 6 a.m. to work out horses. Richard hopes the horse trainers will decide he's a good fit and mount him in afternoon and evening races.
"It's networking," Richard tells me. "It's speaking to people and showing your face that you're here to work, and, unfortunately to kind of reap the rewards you have to work for free a lot."
'A Cheap Track'
Richard says he grew up a chubby farm kid. He always loved horses. But at 15-years-old, the jockey dream hit him. He lost 60 pounds in three months. His parents feared he had an eating disorder.
At 16, Richard left home to pursue jockey school and work as a stable boy. Like most jockeys, he now appears delicate: 5-foot-6, about 110 pounds, two percent body fat. With his boyish face and big blue eyes, he could pass for a teenager.
But he carries himself like a professional. He clutches a whip and wears a black riding helmet.
Richard spots a slightly hunched trainer with gray stubble.
"You want to get those two fillies out this morning?" he asks.
"Yeah," the trainer replies.
Richard's new to the game, so he can't be too choosy about which horses he mounts. He and the veteran trainer talk about the races the day before.
"I ran third and fourth yesterday," Richard reports.
It's harsh to call the newly renovated Belterra Park cheap. But well-known trainers with top horses don't come here. Purses are small.
Richard's 3rd and 4th place finishes the day before earned him about $250. After paying his agent, the person who helps him with his race equipment and other costs he pocketed about $185. The days he doesn't place in the top four, he earns only a mount fee, $55 to $100 depending on the track. Sometimes, he goes home with zero dollars.
"Some days I get mad because I be riding nothing," he says. "It's not through my fault of not working. Maybe the horses [aren't] running that I usually ride or whatever. Like, it's — it's a pain."
Still, Richard moved to America because there's more opportunity here. It's not uncommon to hear of famous Latin American riders who came from nothing.
Take Espinoza. He's one of 12 children who long ago worked as a bus driver in his native Mexico.
Richard now needs to rack up wins.
Today he'll mount a 10-year-old thoroughbred named Borden Brave, a horse going off at 8-1 odds.
The race is six furlongs, or three-quarters of a mile. Borden Brave struggles at the back of the pack and stays there.
Richard crosses the finish dead last. Dirt cakes his face, white nylon pants and lime-green silks. He walks past me without saying a word and disappears into the jockey's locker room.
'I Worry A Lot'
I meet Richard and his wife Clementine in their small basement apartment, not far from Belterra Park. Clementine, 32, is making her husband some black tea. The couple lives with their dog and two fish. Kids? Maybe someday. Right now finances are too unstable.
Clementine works part-time as a track photographer, so she often watches Richard race. That's good and bad. She was there when he fell off a horse. Richard's nose broke, curving left like the letter J.
"He doesn't realize how much I worry about him," Clementine says. "It's hard. I worry a lot. You have to kind of just let it just go over me — or else I'd just be a nervous wreck.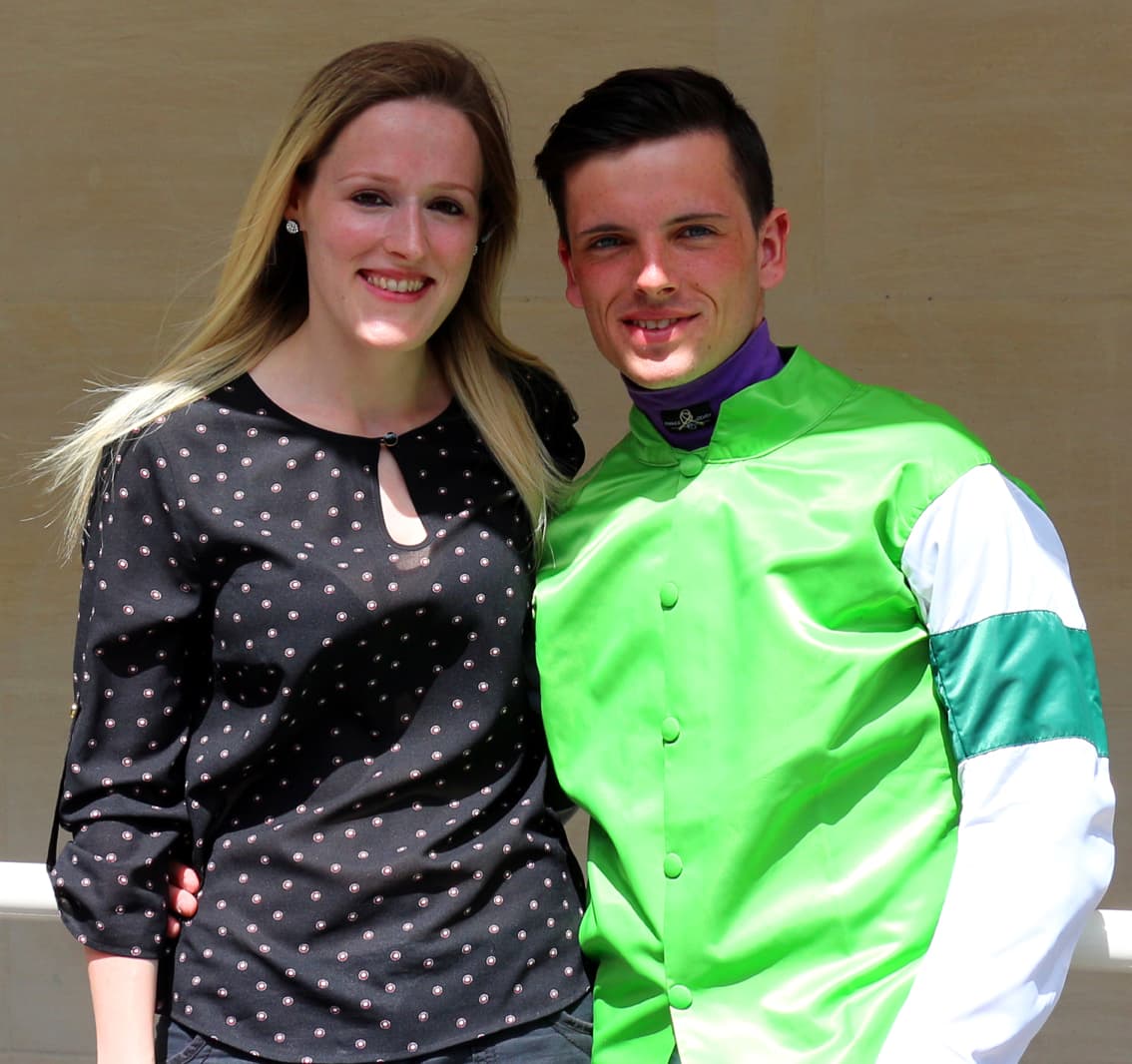 Richard's lost a patch of hair the size of a tennis ball on the back of his head due to poor diet and stress. He smokes to help curb hunger. Clementine listens as Richard recites his weight loss routine in the days before races.
"Tomorrow's the day before racing," he says. "So I'll be losing weight all tomorrow and all Friday morning, possibly tonight, through sweating and taking laxatives and exercising and various other things.  There's a combination of stuff that I've found works for me. Some people don't eat. Some people starve. Some people sweat. Some people..."
"Flip," Clementine says.
"Some people, it's something called flipping which is essentially bulimia," Richard says.
Some riders crumble under the pressure to stay light. The most severe mental stress comes after a fall that leads to serious injury.
But none of this will deter Richard. His wife and fellow jockeys tell me he's too stubborn and absolutely loves the rush.
Back At Belterra Park
Back at Belterra Park, Richard smokes as he waits to race. It's a sunny May afternoon, blue skies and a big crowd.
"It's horrible in the winter when you're riding and there's like five people in the grandstand, and one of them's some old guy who stands there and abuses you the whole time," Richard says.
In the weeks since Richard's last-place finish, things have improved. He's won seven races and placed top-four dozens of times. Trainers are taking notice.
"He's a good finisher," one trainer tells me.
I see that when he mounts a filly named Cassie.
I stand near Cassie's assistant trainer who's pressed against the rail watching the three-quarter mile race. In the nine-horse field, Cassie's got 12- 1 odds.
The race begins.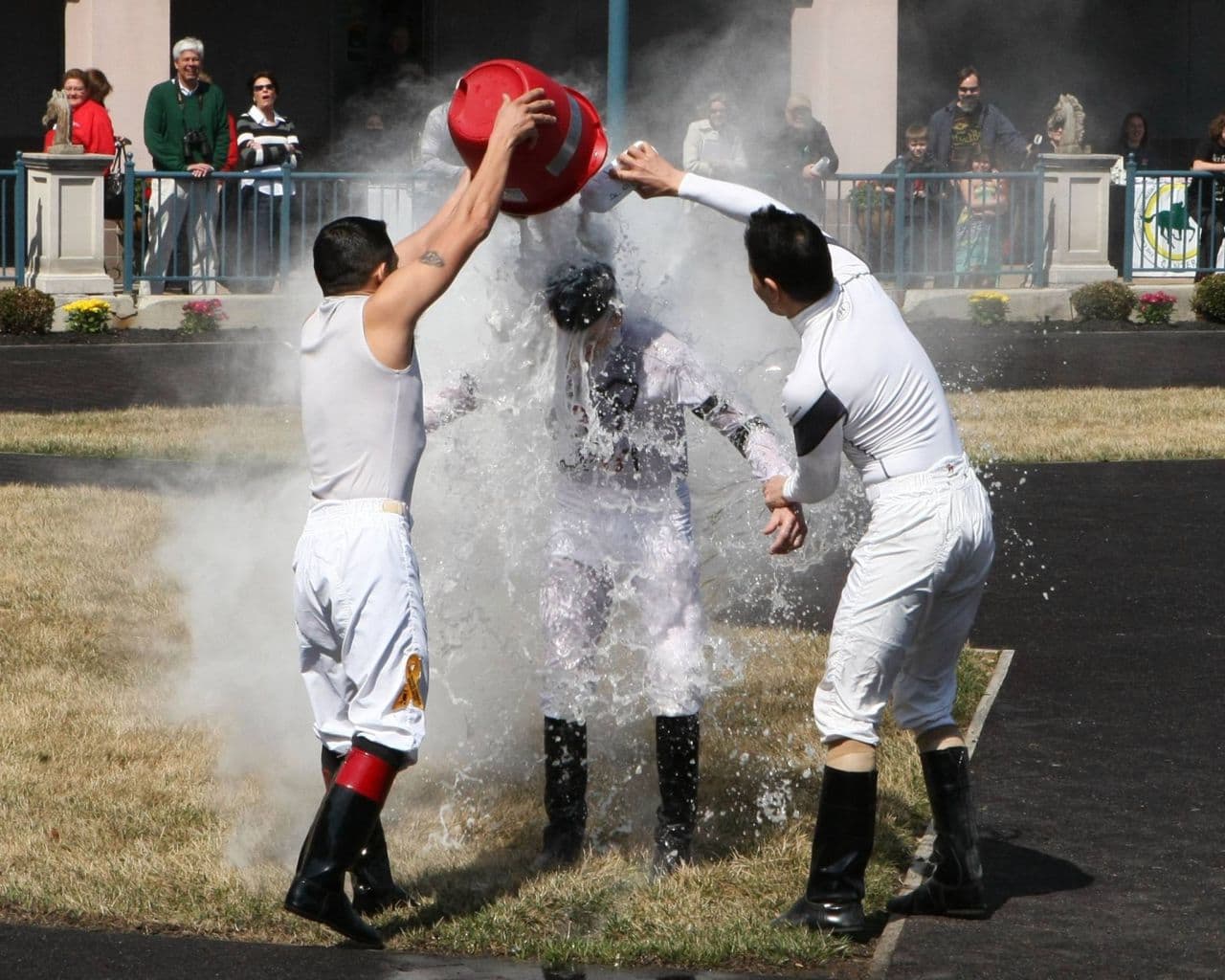 "Come on Cassie," the the trainer cheers. "Come on Cassie. She's getting tired. Come on, Richard! All right, Richard. Come on!"
The pack charges past the turn at 35 to 40 miles per hour. Cassie starts to fade but Richard pushes her to surge on the outside.  He finishes third and hops off the horse, smiling.
"She run a lot better, that filly," Richard says.
Richard doesn't mind the third-place place. Or all the hard work. He will do what it takes to become a great American jockey.
"It's one of them things, it's like, 'Well, why do you do that?'" he says. "And it's because, like, I don't know, but I couldn't not do it. I have no idea what I'd do if I couldn't ride horses."
This segment aired on June 13, 2015.