MC Hammer And The Oakland A's
Play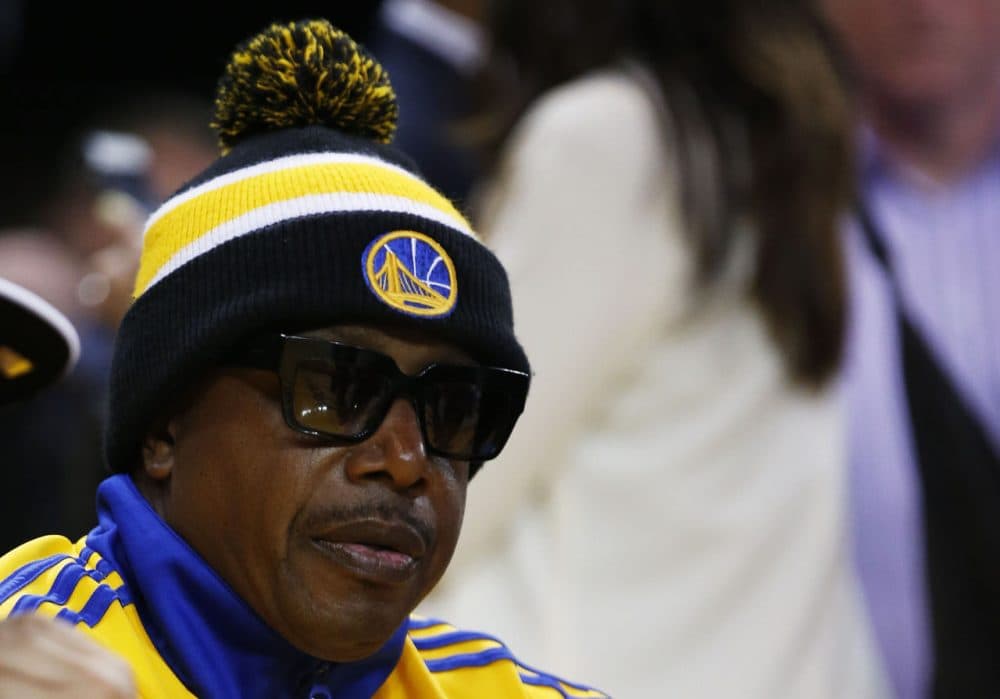 This article is more than 7 years old.
MC Hammer, the Oakland-born rapper famous for his 1990 hit "U Can't Touch This," is now known for being a Warriors superfan; he's a regular fixture at Golden State's Oracle Arena. But long before he was cheering Golden State on its run to the 2015 NBA Finals, Hammer was working for another Oakland team: The Athletics.
Claire McNear of Vice Sports has written about MC Hammer's fandom and his time as A's executive vice president and she joined Bill Littlefield.

BL: How did MC Hammer — who used to be known as Stanley Burrell — begin working for the Oakland A's back in the early '70s?
CM: So there are a lot of stories about what it is he did to get the job with the A's. He grew up in Oakland and he used to go to a lot of A's games. And the stories are that maybe he was selling baseballs outside the Coliseum or he was scalping tickets or he was doing a dance routine to James Brown or he was beatboxing.
But whatever he did, he managed to catch the attention of the A's owner, this guy named Charlie Finley, who had kind of made a name for himself with, let's say, less-than-orthodox ideas. And he caught his eye, and Finley hired Hammer to come in and work as a bat boy.
BL: What exactly was MC Hammer's — or Stanley Burrell's — role with the Oakland franchise?
CM: So he did a lot of different things. He started working for the team when he was 9-years-old. This was 1971, really early in the Oakland A's history. They had only come to the town in '68. And so he started as a bat boy, but I guess Charlie Finley took a liking to him, and he started doing odds and ends. He was sort of an all-purpose gofer. As the years went on, Charlie Finley started spending more time in Chicago, where his insurance business was based. And so Hammer would go up to the owner's box at the Coliseum and during games he would call up Charlie Finley long distance and give him the play-by-play.
And, actually, Charlie Finley liked it so much that one game he informed the A's longtime announcer Monte Moore that he wanted Hammer to go on air, on the actual A's radio station, and do the play-by-play. Hammer went on air and he was doing the play-by-play, and radio executives forced him off after half an inning.

BL: We have spoken before about Charlie Finley's mismanagement. He eventually fired most of the team's front office. How did Hammer manage to stick around — and not only stick around, but climb all the way up to the position of executive vice president (whatever that might have meant with the A's at that time)?
CM: You know, he was pretty cheap. He was paid $7.50 a game, which was a pretty good haul for a kid, and he'd do whatever needed doing. And Charlie Finley fired just about everybody else. They had only about half-a-dozen people working in the front office, including his cousin, at one point.
BL: How did the A's players feel about a teenager parading around the Coliseum wearing a hat with the letters "V.P." on it?
CM: Well, I think most of them were pretty amused by him. But it got to be that as Charlie Finley spent more time away from the team, Hammer developed a reputation for passing on gossip that he picked up in the clubhouse. So they called him "Pipeline." So he'd walk into the clubhouse, they'd say, "Oh, here comes Pipeline" and hush up whatever they were saying.
MC Hammer's "U Can't Touch This":
https://www.youtube.com/watch?v=otCpCn0l4Wo
BL: However, baseball and his connection to baseball did eventually help him launch a music career, right?
That's right, yeah. He stayed in touch with a couple of the A's outfielders. And he was in the Navy for a few years and he got back and decided he wanted to get a music career going. And so he got in touch with these outfielders, who were named Dwayne Murphy and Mike Davis, and convinced them to give him a loan to start his first label and put out his first album.
He actually followed Mike Davis to spring training and has this story about pushing back a table and launching into a dance routine for Davis and his wife. And Davis wrote him a check right then and there.

BL: "Music career" may not be quite the appropriate term as I understand it. The mansion went. Bankruptcy followed. The career was not exactly a long-standing one.
CM: Actually, he had the mega-hit that he's known for which is "U Can't Touch This" and he followed up with another hit, "2 Legit 2 Quit." Bankruptcy happened and all that, but he is actually still making music.
BL: Oh, I didn't realize that. It's still Hammer Time!
CM: That's right!
This segment aired on June 13, 2015.