Empty Seats In Chile's Estadio Nacional Tell A Haunting Story
Play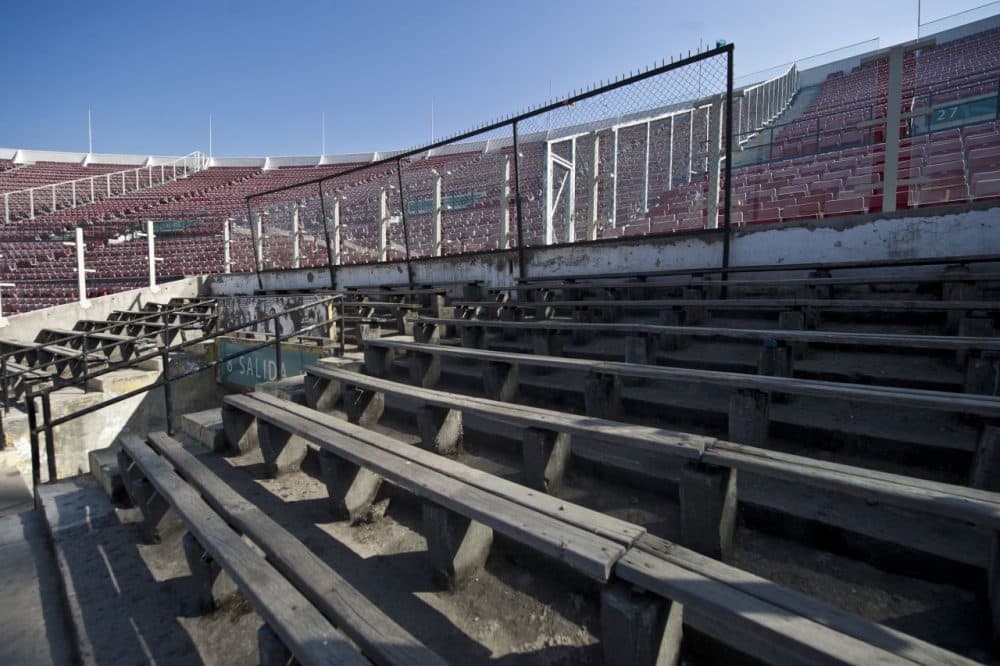 This article is more than 7 years old.
When 47,000 fans gather to watch a match, Chile's national soccer stadium is a raucous place.
Located in Santiago, Estadio Nacional is currently the site of several games in the Copa America tournament. But even during intense international games, one section of the stadium always remains empty — a memorial to the deaths and suffering that happened there more than 40 years ago.
David Waldstein wrote about the building's history for the New York Times this week and he joined Bill Littlefield.

BL: Let's start with a bit of background about the stadium. It opened in 1938 and has hosted some pretty significant soccer matches.
DW: Yes, the World Cup was held here in 1962. There have been several Copa America, which is the championship of South America, that have been held here: 1955, 1991 and this year as well.
BL: Estadio Nacional's place in Chilean history changed drastically in 1973 after a U.S.-backed military coup brought General Augusto Pinochet to power. Pinochet's forces began using the stadium as a prison camp that held an estimated 20,000 people. Official records show 41 people died there. Please describe what things were like at the stadium at that point.
DW: It was pretty darn awful. There were routine, regular beatings, torture and just really horrible conditions. People blindfolded, put hoods on their heads and then called out one by one to be beaten or tortured. One of the gentlemen, Felipe Agüero, said that he saw people, he's 100 percent certain, that they must have died that very night from the beatings they endured. And they would spend either one day there in those barracks or were taken immediately then to the prison camp, the stadium. Agüero told me the story he was just beaten mercilessly on the way, in the bus, to the stadium. And then from there it got worse. It was an awful moment in history.
BL: The use of the stadium as a prison facility was interrupted by soccer. Tell me a little bit about that.
DW: What happened was, the coup was Sept. 11, 1973, and the stadium needed to be prepared for a World Cup qualifying match between Chile and the Soviet Union. So they knew they were going to have to eventually close it down and start preparing for the game. So the Soviet Union complained. They said, "We're not going to play there. This stadium is a place of blood." So FIFA — we've all heard about FIFA lately — they said, "All right, we'll investigate." And they claimed they saw nothing untoward going on there.
And Agüero said he saw the FIFA officials, and they were calling out to them saying, "Hey, look at us. We're here." And he said that the FIFA officials only seemed to care about the conditions of the grass.
BL: What was the result of that visit finally?
DW: I do know that they mandated that the game be played. And the Soviet Union said, "Forget it. We're not going. We're not playing there." But to make it even more farcical, FIFA said, "Well, Chile's going to have to score a goal." So they put on their uniforms, they lined up — there's video of this on YouTube -- they waived to the crowd. The stands look like they're about half full at that point; no longer prisoners but fans. And the Chileans sort of ran down the field as if it was a promotional video, passing the ball amongst themselves about nine times and then kicked it into the goal. So they were awarded a 1-0 victory and a place in the World Cup.
BL: The return of soccer was not the end of their terrible experiences under the Pinochet regime.

DW: No, it wasn't as if they were all just freed because they shut the stadium down as a prison camp. Almost all of them were sent to other prison camps. René Castro, who I spoke to, went to a prison camp in the North and spent two years there before he was finally able to be freed. And it was pretty much the same case for a lot of them. Eventually when they did get out, most of them went into exile. In fact, I think every one of the ones that I spoke to went into exile. So it wasn't as if the horror only lasted two months. It lasted two months at that stadium.
BL: Could you describe the section of the stadium that serves as a monument to the prisoners who suffered there?
DW: It is really a ghostly place. When there's a game there and Chile is playing and it's packed and everybody's screaming and yelling and they're all excited and the lights are on and all the focus is, you know, bright lights on the field. And then you look over there, behind one of the goals. It's a very small section, and it's lit up in this kind of yellow light. And it's just this very somber, haunting image. These little wooden benches are left exactly as they were back then. With all the fans in there and all the excitement and celebration, to see that little reminder of the horror that took place there is a very sobering thing.
But the Chilean government did a great job of reclaiming the stadium from its grizzly past. When they overthrew Pinochet, it became a voting station for the first democratic presidential elections after the 17 years of dictatorship. And they've really been able to re-take it from just being this horrible place it once was.
This segment aired on June 20, 2015.