The Battle For The Waves: Surfers Vs. S.U.P.ers
Resume
This story is part of Only A Game's "Rivalry Show," which looked at stories of rivalries in sports.
I'm a southern Californian who doesn't spend a lot of time at the beach. And what I know about surfing culture I've mostly gleaned from that 1991 Keanu Reeves minor classic "Point Break."
Several times I've been on a wave and a paddle boarder has tried to go for it and it's almost taken my head off.

Rain Lehel, Surfer
But even I've noticed the growing number of paddle boarders out in the water.
"It's kind of like bicycling, you know," said Tim Sanford, a paddle boarding instructor. "It's pervasive. It's everywhere. And anywhere there's water, there's going to be a paddle board and a paddle boarder."
He says a lot of people are coming to the sport because it's a way for mere mortals to feel like they're kind of walking on water.
"The idea of gliding is really what stand up paddle boarding is all about," said Sanford. "Catching the glide, and getting the glide, by creating your own momentum has this addictive feeling to it, so you end up in this blissful state."
But it hasn't been all bliss for stand-up paddle boarders.
As more of them compete to catch waves, they're angering those traditional top dogs of the beach, surfers, like Rain Lehel, who I met on the sand one early Saturday morning in Malibu. And I asked him what he thinks of stand up paddle boarders.
"If they are in the line up, they piss me off! Because they can really get in the way and can kill you if they drop in on you. Several times I've been on a wave and a paddle boarder has tried to go for it and it's almost taken my head off, so they can piss me off if I'm in the line up."
Such anger relates to size. And, yes, it does matter in the water.
Stand-up paddle boards, also called "S.U.P.s" are enormous, up to 14 feet long. In fact, they're so big the Coast Guard classifies paddle boards as "vessels."
Surfers say that size makes the "S.U.P.s" a hazard in surf zones, especially if a paddle boarder is inexperienced.
"It's just a matter of time until they ban 'S.U.P.s,'" said Jefferson Wagner, who goes by the surf name Zuma Jay. "It's just waiting for the first monster injury, or the first monster lawsuit. It should not be out there. It's another safety hazard."
Zuma Jay is a former mayor of Malibu and owns the oldest surfboard shop in town. And Zuma Jay really, really doesn't like stand-up paddle boarders at traditional surfing beaches.
Beyond safety issues, he says paddle boarders, and you hear this a lot from hardcore surfers, just offend his surfing aesthetic, and that quasi-mystical surfer ideal of being "one with the ocean."
"They themselves may feel that that's the experience they are feeling, being one with the wave," said Zuma. "However, I don't feel that way. And that' s just my opinion. It is not surfing, even though they might think it is. They have a paddle, an extra appendage. I am not rushing out there with an extra appendage. It is just myself and my board."
But a lot of paddle boarders don't have nice things to say about surfers.
"Surfers, they are very chauvinistic," said surfer turned stand-up paddle boarder Al Duka. "I used to be one of them. They are very selfish people!"
"Surfers are very selfish people?" I asked Duka.
"Yes. Exactly!" He said.
Duka believes surfers are just wrong if they think paddle boarding is less challenging or takes less skill than what  he's doing out on the water.
"It's more intense," he said.
"It's more intense?" I asked.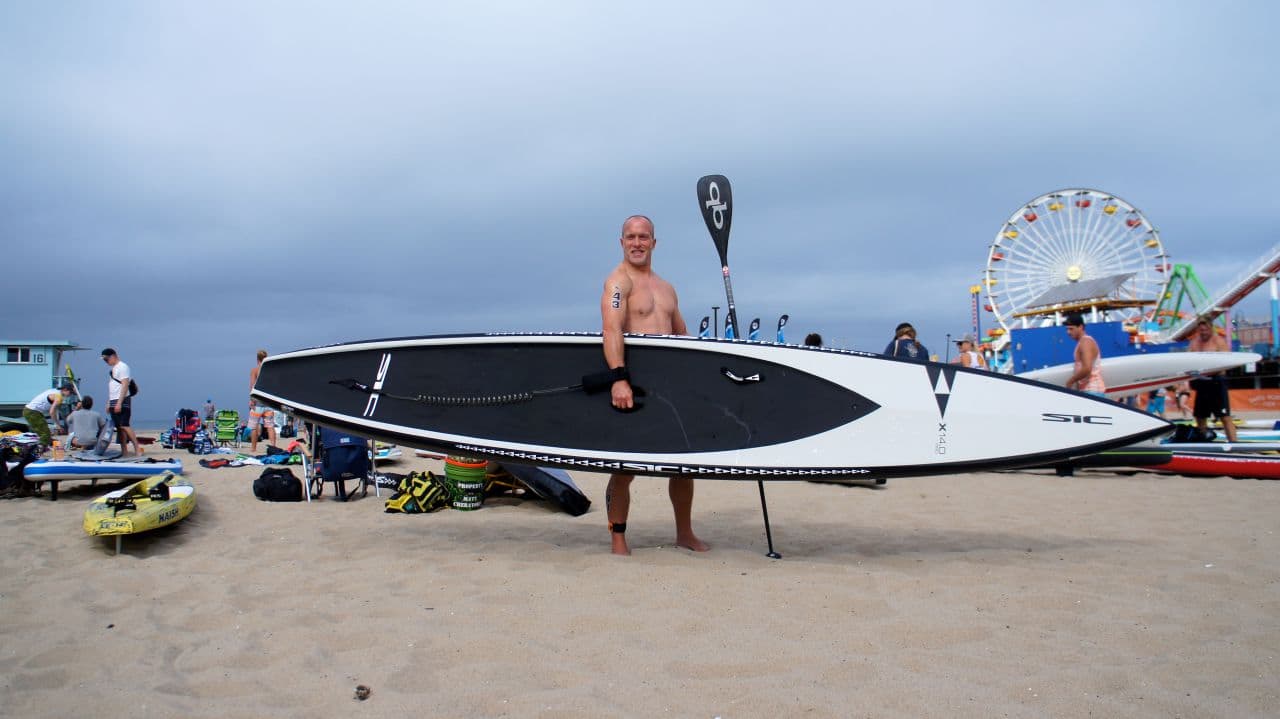 "Yes, because you have to stand up," Duka answers. "As a surfer you just wait for the wave to come to you , but with this you continuously have to be alert. You cannot drift off. You have to be at the moment."
With more than a million Americans now paddle boarding and those numbers growing, the culture clash between paddle boarders and surfers shows no sign of ending anytime soon.
Paddleboard instructor Tim Sanford says you should blame the competition to catch that perfect wave.
"You got to have a strong ego if you want to take on a wave and think you can conquer it. So people have strong egos. And they work hard, and it is a physical environment, and it is dangerous. And you know, people's tempers flare up."
"And there are jerks everywhere. And there are paddle boarder jerks and surfer jerks. When you are passionate about what you are doing and someone is in your way, you know it's a high intensity moment and things can get out of hand pretty quickly."
But there are some in each community who are ready to call a truce.
"I mean, everybody should just respect each other in the ocean, man," said JP Bislick, a surfer. "It's everybody's. I'm just in there to have fun, you know, so should everybody else. Just have fun and go with it."
This segment aired on June 27, 2015.