Fetal Alcohol Syndrome Doesn't Slow Champion Runner
Play
This article is more than 7 years old.
"Shortly after birth I was found alone. I went to a foster home and was later adopted. My birth mother drank alcohol during pregnancy and since I have brain damage from fetal alcohol syndrome, nothing in life has ever been easy." — Andrew Peterson
Last year at the Special Olympics USA Games, Andrew Peterson won three gold medals in the 1,500, 3,000 and 5,000 meters. The 22-year-old runner from Indiana has also earned four varsity letters at his high school and given speeches at schools throughout Indiana.
Indianapolis Star reporter Dana Hunsinger Benbow recently profiled Andrew and his father Craig for the Indianapolis Star. Dana, Andrew and Craig spoke with Bill Littlefield.
BL: Craig, what condition was Andrew in physically at the age of 5 when you adopted him and his three siblings?
"I don't ever want your pity. Rather, I need your respect. The respect that all people with disabilities deserve."

Andrew Peterson
CP: The first time meeting Andrew, he had this big smile on his face and he didn't say a word. And I thought in the back of my head, "Oh, did I miss something? He doesn't talk." And eventually he grunted a few words and I had no idea what he was saying. Likes to smile, seems eager to please, but was pretty awkward, so I knew we had a lot of things to work on.
DHB: When he first came to Craig, he had been called the tin man in his foster home because he was so stiff and didn't have that smooth gait.
BL: When did you first begin to realize that Andrew might have a knack for running?
CP: When we were at the Indianapolis Zoo, we were there on many Saturday mornings, and Andrew would be walking so fast in front of his siblings and me, I kept saying, "Andrew, slow down now. Come on, now." And I would turn my back and he'd be gone. So I knew that there was some energy there.
BL: Let's hear some more from Andrew's speech:
"After a decade of physical therapy, I could finally move my arms and legs together in a smooth motion. Wasn't the fastest kid on the playground, but you know what? No one could run as far as me."
BL: Andrew followed his older sister and joined his middle school's cross-country team. Dana, can you tell us the story of his first 6th-grade meet?
DHB: He was a tiny, tiny, little 6th grader, and his dad said that he was so little that they had to find a singlet to fit him, but it was still falling off of him. And some of the coaches hadn't believed in him and worried that he couldn't do this. And he ended up coming in second ... out of all 30, and that's when Craig said that he was like, "OK, now we really need to work on this." So they started running on the weekends and really putting a lot of effort into it and he just became an amazing athlete.
BL: Andrew, what do you like about running?
AP: I like to meet lots of new people and be successful.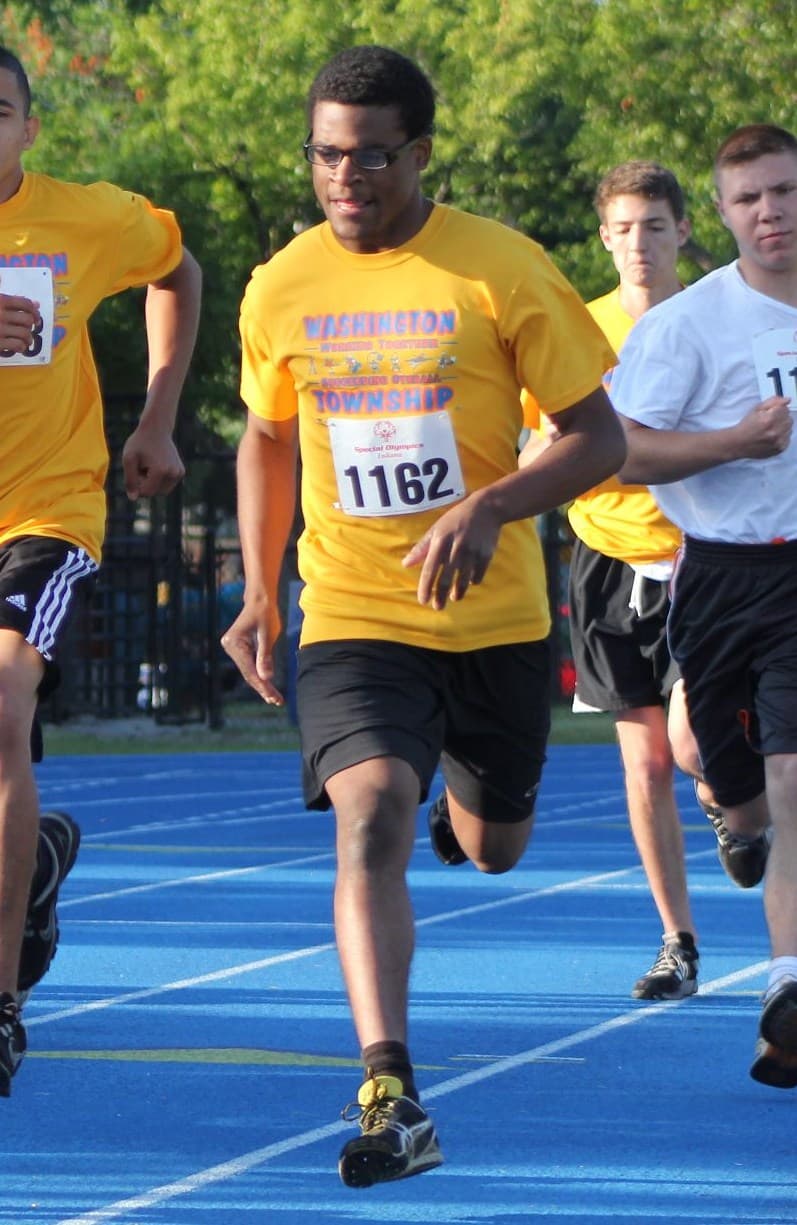 BL: Craig, it must have been incredibly exciting to discover after the struggles that you'd gone through with this child that he was incredibly good at something.
CP: Bill, I think that's a key message for all your listeners is that all children, regardless of their abilities, have something they're good at. And what made it special for Andrew is, I was a runner in junior high and high school so having one of my children want do something that I like to do, that made it even more fun.
DHB: And you beat [your dad] now, right?
AP: Pretty much, yeah.
CP: Yeah, a month ago we ran a 5K together — or I should say we started the 5K together — and we ran maybe the first 10 meters together, and I saw Andrew about 30 minutes later at the finish line.
BL: Sipping a cold drink and wondering where you'd been. As I mentioned earlier, Andrew now tells his story at high schools across Indiana. Craig, what's it like when he comes to the podium to deliver his speech?
CP: All the side conversations stop, and people listen.
BL:  Let's listen in once more:
"I don't ever want your pity. Rather, I need your respect. The respect that all people with disabilities deserve."
This segment aired on July 18, 2015.