Heart Condition Won't Stop Disc Golfer's Quest For Fourth World Title
05:53
Play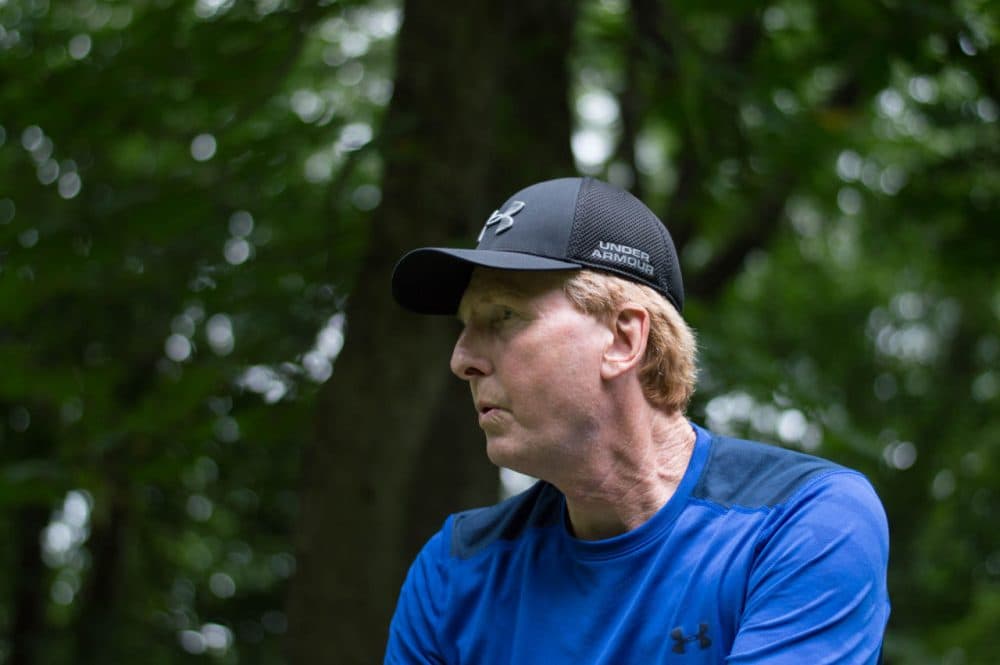 This article is more than 6 years old.
"I'll be 63 when the tournament starts," Red Whittington says.
"When I saw the World Championships on the ABC Wide World of Sports in 1976, it was a life-changing event for me. I said to myself, 'I want to be a world champion.'"

Red Whittington
"Oh, you so you have a birthday coming up?" I ask.
"Yeah, my birthday is Aug. 2. And I've gotten three real good birthday presents so far, and I'm working on a fourth. I want to bring back another title to Pittsburgh, also known as the city of champions."
While he drinks his second vegan protein smoothie of the day, he shows me trophies from his past titles and a framed promotional poster from the 1976 Frisbee World Championships.
"When I saw the world championships on the ABC Wide World of Sports in 1976, it was a life-changing event for me," he says. "I said to myself, 'I want to be a world champion.' They say follow your heart. That's where my heart is. I put my heart and soul into it."

"At the time in Pittsburgh, I didn't know any other players that were as dedicated as I was. And I wanted to be as good as I could, so I decided to move down to Sarasota, Fla. I didn't know anybody there. Packed my bicycle in a box and took a Greyhound bus down there and just showed up and was introduced to disc golf down there in the summer of 1980. So I've been playing disc golf for 35 years, and throwing the disc about 47 years."
Win three world championships in most sports and people will probably know your name. Win three world championships in disc golf and people might still be asking you, "What's disc golf?" (For the record, it's a lot like regular golf, but instead of golf balls and holes it uses Frisbee-like discs and metal baskets.)
"I moved back to Pittsburgh and eventually we got the parks and recreation interested in a disc golf course. And I've been playing that course — that's been my my home course for 27 years. Rough estimate I've played 5,000 rounds there."
Red took me to his home course in Schenley Park. From the hill we're on, we can see that it's raining downtown, but the weather is holding for us — for now.
"Here on the tee, I'm looking at the basket," Red says. "It's approximately, oh, about 275 feet. It looks like it's flat, but I'm actually throwing a little bit uphill. It levels out but then it goes up the hill.

"This is a tricky shot. I don't birdie this hole that often. And by birdie I'm saying I make it in two shots, because this is a par-3 hole."
Red has a lot to consider before taking his shot. He has to pick the right disc, gauge the wind direction and elevation change and choose his approach.
"Oh, it looks like a beauty," he says. "Look at that! It's right under the basket, I can't believe it. It's exactly the way I imagined it."

"Putting really is the key," he continues. "No one ever won a world title that wasn't a good putter. But some of these guys can throw twice as far as I do. But guess what? When they get up to the basket and say they're 20 feet away, that 20-foot shot costs just as much as that 500-foot toss they just did. I always like to quote Shakespeare: 'The putter is mightier than the driver.'"

"Back in the day, I went to 10 world championships in a row. I toured a lot until 1999 and I took some time off. I thought, 'Well, you know what, I'll just be as good as I used to be and I'll be fine.' But guess what? Everybody is so much better now."
Red says his father sponsored much of his disc golf career, and he worked for 40 years as a waiter until he injured his non-throwing elbow carrying heavy trays of food. Five years ago, Red was diagnosed with atrial fibrillation, a condition that causes his heart to sometimes beat irregularly and rapidly. He had it under control with medication, until the lead-up to this year's world championships.
"Just in the past couple of weeks, I went to the emergency room twice. I actually had to withdraw from a tournament I was in. After the first round I was in the lead. I really did not want to leave. But I decided it would be better for me to go to the emergency room, get this checked out. I managed to play well even though I was in that state, AFib, for at least an hour, hour and a half before the round was over."
So, with the World Championships coming up in less than a month, Red decided to have a surgical procedure that he hopes will cure his condition.
"I was going to postpone this until after the world championships because I didn't want my training routine interrupted. I'll have to rest up for a whole week after that procedure. But hopefully if everything goes all right, I'll still have two more weeks to train for the world championships."

"I think my chances are good. Physically, even though I'm going into the hospital for a procedure next week, I'm in pretty good physical shape. I'll show up on the day of the tournament when it starts and I'll say, 'You know what? I deserve to win this more than anyone else because I train harder than anybody else.' I'm not saying I'm going to win, but I intend to win. And I'm gonna keep my eye on that prize."
Red's doctor ordered a full week of rest after his procedure, but this weekend he's back to league play with the Pittsburgh Flying Disc Society. The Professional Disc Golf Association World Championships will be held in Pittsburgh during the first week of August.
This segment aired on July 18, 2015.