Is It Time To Put Diver Greg Louganis On The Wheaties Box?
04:46
Play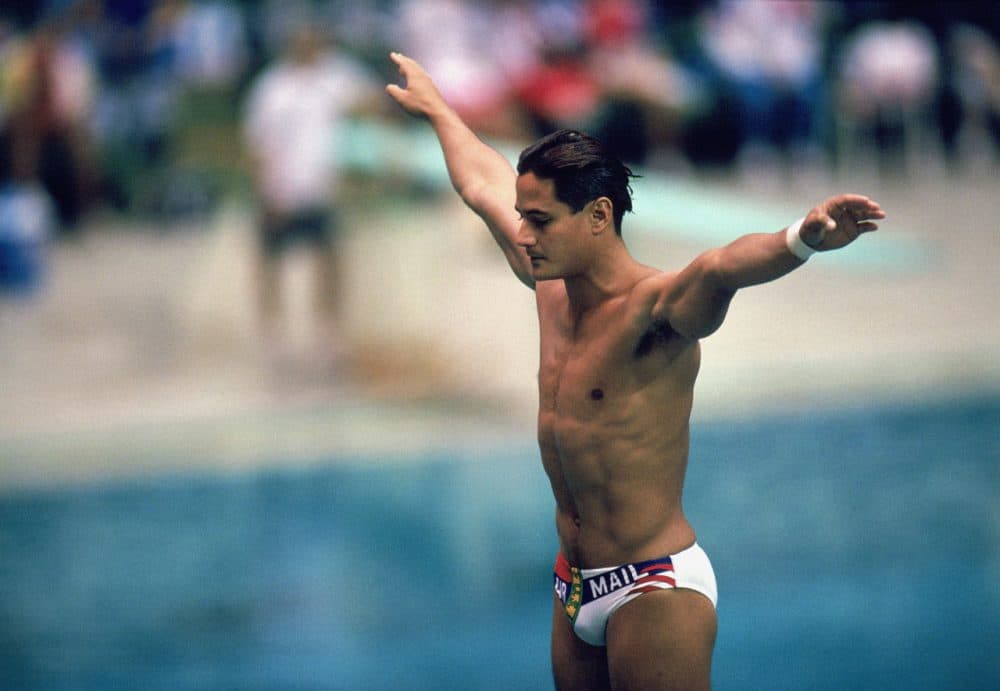 This article is more than 5 years old.
Greg Louganis might be the best diver of all time. He won two gold medals at the 1984 Olympics in the 3-meter springboard and 10-meter platform. And he repeated that feat in 1988. But he's missing one accolade shared by many of the world's greatest athletes: he's never appeared on a Wheaties box.
Julie Sondgerath of Chicago has set out to change that. She's created a Change.org petition to "Put Greg Louganis On The Wheaties Box." She joined Bill Littlefield.
BL: Have you always been a fan of Greg Louganis?
JS: I guess maybe you could call me a passive fan. I was in high school in the '80s when he was in the Olympics, and he's hard to miss. I mean, he was an icon then and he's an icon today. So, yes, I guess the answer is yes.
BL: You've said you started this petition after watching HBO's documentary about Louganis called, "Back On Board." Tell me about the scene that inspired you. 
JS: It was the scene when they were at the Olympic headquarters and Greg was passing the Wheaties [boxes] with all of the champions on them and he just kind of shrugged, you know, like it escaped him. And they broke to Ron O'Brien, his coach. And Ron had to kind of explain [that] this seems to be one of the things that was missing that was an obvious road for Olympic champions. And it was very sweet. He didn't seem bitter about it. He was just like, "Yep, it eluded me."
BL: Now the documentary suggests that homophobia is the only reason why Louganis was not pictured on the Wheaties box. Do you agree with that?
JS: You know, I do agree with that. Because in your intro you said Greg might be one of the best divers in the world, and I respectfully disagree with you. I think he actually is. I mean, I think it's documented. It's well-received. And I do feel like the General Mills of the '80s, they're probably not the same corporate entity they are today, so hopefully the decision makers that are in place today would have a different take on this subject.
BL: Greg Louganis himself has emailed you and tweeted out a link to your petition. He also told The New York Times that he sees your petition and those who have signed it as an act of "love and compassion." That must make you feel pretty good?
JS: It did. It did. I started the petition, and then the next morning I felt like, "Gosh, I should have reached out to him and at least told him" — I don't even know if that's possible. So I emailed him, just a very quick sentence: "Hi, my name is Julie Sondgerath. I started a petition. Here's the link." And he responded back that afternoon. And that, that's when I felt a little more legit.
BL: At last count that petition had 26,000 signatures and they were still coming. Did you expect to get that sort of response?
I would like to print out those signatures and meet with General Mills and see if we can move the needle on actually getting Greg on the Wheaties box.

Julie Sondgerath
JS: You know, when I hit 100, I was elated, as crazy as that sounds. Again, I felt like there was a justification on my side when I hit 100. I was like, "That's awesome. People agree with me." As of even this weekend, there were 5,000, and that was fantastic. And then in the last 24 hours, we've had like an additional 18,000 signatures. And that, that has just blown my mind.
BL: Now I understand that your petition has caught the attention of General Mills. So what's next?
JS: Right, so it does say that they're looking at how to celebrate his successes. I would like to print out those signatures and meet with General Mills and see if we can move the needle on actually getting Greg on the Wheaties box.
BL: If this succeeds and we do see Greg Louganis on the Wheaties box, do we see Greg Louganis circa 1984 or 1988 or do we see a much more mature and dignified looking Greg Louganis circa 2015?
JS: I guess ultimately that decision's up to Greg 'cause it would be his box, right? I guess maybe I envision him today. He's still in spectacular shape. He's still diving, although obviously not actively. I think the message would be, "I made it," if it was a picture of him today.
This segment aired on August 29, 2015.