After Ebola: Survivors' Soccer Club Helps Erase Stigma In Sierra Leone
Resume
The Ebola outbreak that devastated West Africa last year left more than 11,000 people dead.
Erison Turay of Sierra Leone is one of nearly 16,000 people who survived the virus. He has founded a soccer team made up of Ebola survivors.
Video journalist Ben C. Solomon traveled across West Africa for three months last summer covering the outbreak for The New York Times. He met Erison at a hospital on the day he began filming. Solomon tells the story of their meeting to Only A Game.
BCS: We went to Kenema, the city he lived in, which was the heart of the outbreak at the time. The hospital was really under the worst stress for the outbreak. They were just whizzing bodies by in kind of like lackluster body bags. It was really a dangerous place.

We met him because he had just been released a couple days before and he was reaching over the tarps to throw drinks and food to his mom, still in the Ebola ward.
Nearly a year after that first meeting, Solomon returned to Sierra Leone to find out what had happened to Erison.
BCS: When we found him, it was clear that he had lost a ton more family. He was one of eight brothers and sisters, and he had uncles and aunts and a big extended family. But of them, it was just him and his mother who made it. And the kids that didn't get sick, the kids of the Ebola victims, there were 15 left who are kind of staying with him and being taken care of by him.

When we went back to see Erison, he was depressed. He was really sad and kind of beaten down. But immediately, within 10 minutes of catching up with him, he started talking about this soccer club and his idea to create this all-survivor team who would defeat all the other teams and show everybody that the survivors are stronger than everybody thinks.

In reality these guys have a lot of health problems, and it's hard for them to play just as is. But just the fact that — I think that a lot of the communities don't accept the survivors. A lot of the communities really stigmatize them and push them away. It's hard, Ebola as an outbreak, because there's no real person or face to put the blame on or to put the worry on. And for the survivors, I think they take a lot of the brunt of that anger and that frustration towards the outbreak. So this team kind of became a reasoning to kind of show that they can be real people too.
Solomon attended the team's first game, a match against the Ebola aid workers.
BCS: It was scaldingly hot, but it was packed. There were hundreds and hundreds of people. I think the people when they walked in were very nervous and very curious to see what it was. I mean, I think people had heard bad things about survivors. They had kind of worried about them.

But as soon as the game was over, they were just as accepted in the community as they ever were. It was really a beautiful moment to see not only Erison but the whole team kind of embraced and welcomed back into this community and without the stigmas and the fears of this virus.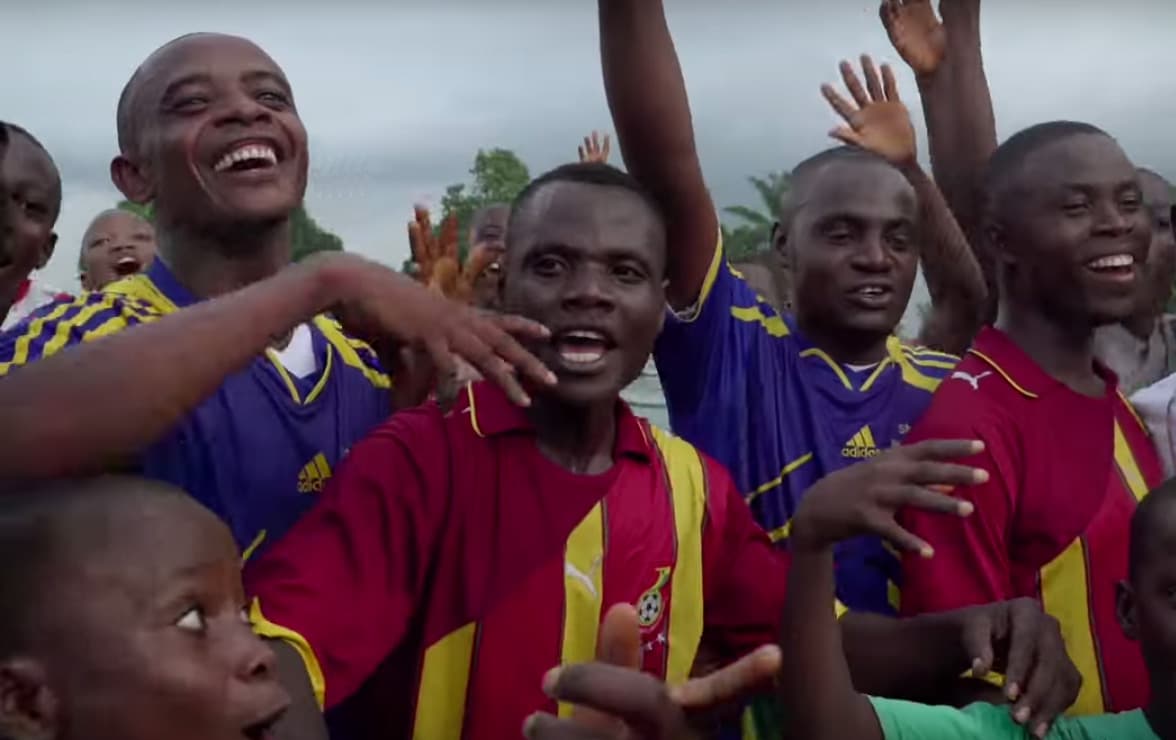 Ben C. Solomon and his colleagues at the New York Times won the 2015 Pulitzer Prize for international reporting for their coverage of the Ebola outbreak. Solomon has since written that catching up with Erison was "one of the most important stories of our Ebola coverage."
BCS: I think that the Ebola outbreak was such a confusing and intense moment. And the coverage we did reflected that and showed kind of how crazy the situation on the ground was. It wasn't until the outbreak started to fade that really the long-term problems set in — the stigma against these survivors, the economical difficulties of these towns that have been destroyed, these families that have lost entire extended families and don't know how to support themselves.

And I think for me it was just really important and really beautiful to be able to go back and find this really happy and kind of redemptive story. Just the fact that they're able to have this game is a real symbol that people are definitely starting to ease them back into the society and accept them for what they have become.
This segment aired on September 12, 2015.