Nationals Youth Academy: 'A Mirage Amongst Tumbledown Streets'
04:22
Play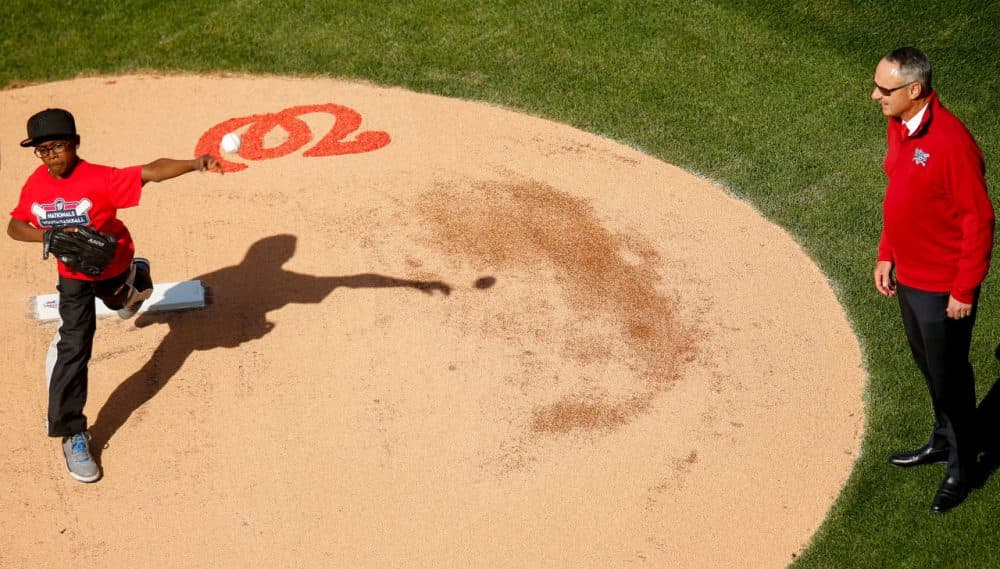 This article is more than 4 years old.
When workers broke ground on a $17 million baseball complex in southeast Washington, the locals were skeptical. "Most people looked at how green and perfect it was and immediately assumed it was going to cost a lot of money to come inside," the facility's program manager told Bill Pennington of The New York Times. Wrong. It was free.
Pennington joined Bill to talk more about the new baseball complex.
BL: Tell me a little bit about the neighborhood that's now home to the Washington Nationals Youth Baseball Academy.
BP: It's a pretty gritty, tough place. It's Wards 7 and 8 in Washington. It's pretty much the most downtrodden parts of the city. The poverty levels are the highest there. Crime is generally the highest there. It's a tough place to live. And then rising out of it is this baseball academy, which almost looks like a mirage amongst those tumbledown streets.
BL: Chris Reed, the program manager who I just quoted, told you, "We're here to save lives." How does baseball save lives?
People not only don't follow baseball, not only can't name one Nationals player, they don't even know the rules of the game.

Bill Pennington, The New York Times
And they spend a lot of money per student to do that. It's really organized and systematic. It's not just like, "Let's roll out a bucket of balls, and, while we're there, we'll be nice to these kids." No, they've got a very specific plan for what they are trying to do from each grade on up.
BL: Bill, it would be easy to praise the Nationals and Major League Baseball for their altruism, but the sport has quite a bit to gain here, too. Most of our listeners are probably aware of the fact that baseball's fanbase is older than those of the other sports, but how is that issue magnified in communities like the one where this academy is located?
You go into the neighborhood in southeast Washington where this academy is, people not only don't follow baseball, not only can't name one Nationals player, they don't even know the rules of the game. You know, I talked to kids who didn't want to play because they thought that the way you were made out in a baseball game was that someone threw the ball at you, and that they didn't want to get hit by the ball. It sounded too dangerous. I mean, that's how stark the dropoff in baseball awareness has gotten in many American cities. They play football and they play basketball. They might run track and maybe play some soccer, but baseball is way down the line.
BL: This academy is still in its very early days, but do you see any evidence that baseball is coming back to neighborhoods like this?
Well yeah, they hadn't had a little league in this neighborhood in — nobody could remember the last time they had a little league game in that neighborhood. And this year, this past spring and summer, they did have a little league. About 140 kids played in the little league hosted at the academy. It is definitely sort of a hub of activity. They've had something like 400 events there with about 1,000 people coming through the doors — not to watch, but to participate.
And academically, while there isn't any hard data, I did go visit the schools they've partnered with, and the principals there feel like it is helping, and the kids do too. I mean, I guess we really won't know for 10 years, let's say. It might take 10 years to see how it all shakes out, but so far so good, I would say.
This segment aired on October 3, 2015.