Meet The NCAA's First Openly Transgender Swimmer
Resume
Home isn't only the place where you grow up. Jay Pulitano said he found a home on the swim team at Sarah Lawrence College. The New York school originally was just for women, but became co-ed in the '60s.
"My parents would joke that, when I was 2 years old, they'd bring me to the community pool, and I would just throw myself underwater in the kiddie pool and then cough and choke on the water. But then after I was done coughing I would laugh because I was having so much fun under water, which gave my mom anxiety attacks. My whole summers were all swimming.
For the first time I didn't have to feel worried that people would find out or afraid or whatever. I was just automatically accepted.

Jay Pulitano
"One of the biggest things that attracted me to Sarah Lawrence is because it's such a liberal school, and I heard it is so open to people who are trans or in the LGBTQ community in general. When I actually ended up going to Sarah Lawrence, it was a total contrast to my experience in high school in that everyone just assumed I went by 'he.'"
Jay is transgender. Throughout high school he competed with the girls. And even though he identifies as male, his only choice in college was to keep swimming on the women's team.
"I always had feelings of wishing that I could look more like a guy, always thinking as a kid, like, 'Oh, guys looked so cool.' That was the only way I could think of it.

"I introduced myself as Jay, so then I was just 'Jay' and 'he' right away without any question, and it was totally normal to them. For the first time I didn't have to feel worried that people would find out or afraid or whatever. I was just automatically accepted.

"In the beginning of my freshman year, the assistant coach at the time said that the staff wanted to have a little meeting with me. They wanted to let me know that if I do decide to start testosterone then I would be ineligible to swim."
The NCAA considered testosterone, or T, a performance-enhancing drug in all cases. If Jay wanted to medically transition, his coaches told him, he wouldn't be able to keep swimming. But that was OK -- Jay wasn't ready to take that step yet...not until the summer before his senior year.
"I've suffered with depression for many years. And I think it kind of just made me really really stuck in, like, the what-ifs. Like, what if I decide to start testosterone or take these medical steps and then I end up regretting it and hating myself for doing it?

"Then when I finally did treat my depression, I was able to think about my gender in a way that didn't just make me super tense and overwhelmed. And for the first time, I was just excited about it. So it was sad to know that I would have to wait months until the end of the swim season.

"At the same time, it was kind of like — I'm only going to have one chance for my senior year of swimming and I've already waited my whole life. So I guess I can wait a few months longer, because swimming does really make me happy."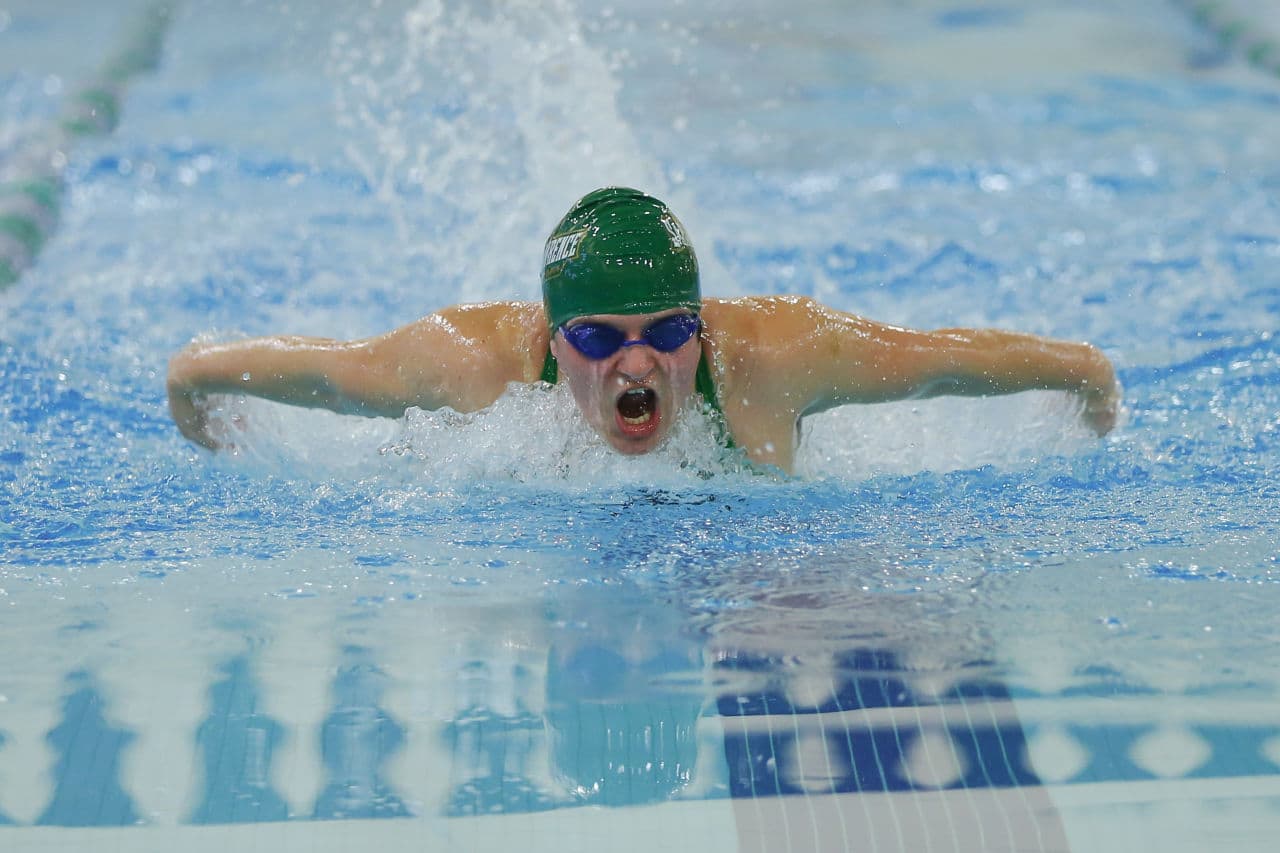 Jay spent that summer of 2014 lifeguarding at Sarah Lawrence. He told his coach he wanted to start T and would wait until the end of the swim season. But it turned out that in 2011 the NCAA had released policies for trans athletes, and his coach told him he could start testosterone and keep swimming — on the men's team.
"Wow, I can start T right now? So at first I was like, 'Let me just, like, think about this,' because mentally I was going to start in February, but then within a couple days I was like, 'You know, you want to start T and you want to swim, so let's do this then!'

"At the beginning of my career, I was one of the fastest swimmers. But then when it came to the men's team, I would either be average or dead last — which was a contrast. So it kind of stunk to not be as competitive and to not score as many points, but at the same time my coach would say how, because Sarah Lawrence used to be an all-girls school, it still has this gender imbalance. So my coach was just happy that he had another guy on the men's team and somebody to fill in the relays and all that.

"I haven't had top surgery, so I actually had to get a uniform exception to wear a woman's suit still. So that first meet, I remember actually having anxiety dreams about it. How, like, officials or coaches on the other teams would see me going up on the block for my heat and then be like, 'No you're not in this event. You can't swim there!'

"It ended up going totally smoothly. I never got any comments of questions the entire season.

"I was kind of naive in a way because I was like, 'Oh, testosterone builds muscle — so basically I'm going to be Superman and drop like 20 seconds in all my events.' But then I ended up just having around the same times that I had had before, because testosterone isn't magic and works very slowly."
Jay graduated from Sarah Lawrence in 2015. He was the first openly transgender swimmer in the NCAA.
This story was produced as part of Only A Game's "Celebration of Home."
This segment aired on November 28, 2015.