'The Brothers:' A Tradition Unlike Any Other
Play
This article is more than 6 years old.
"We've seen crazy stuff from Jean on the golf course," Julian Baviera says, "like, we've seen Jean hitting his golf bag, because surely it's going to help with his clubs. Surely. And then stopping and doing it again. And then having a coffee to relax."
I'm in a car with Julian, Pierre and Jean Baviera. We're on our way to the Kenmare Golf Club in County Kerry Ireland. The Baviera brothers have made this trip 10 years in a row. They're returning to defend a title…and much more.
"It's like a religious celebration to come here," Julian says. "It's as important, you know. I know that I could sacrifice my career for coming here. I have no problem with this."
Jules is the best golfer of the three. He spent time on a semi-pro circuit in Florida. Jean and Pierre are no slouches either. When they were kids their dad got obsessed with the game. Every family vacation was spent golfing. To this day, they play together — but only once a year, at The Brothers Tournament in Kenmare. The Brothers Tournament is an annual competition that pits teams of three brothers against each other. The Bavieras make it to Ireland every year, no matter where they are living. One year they came from three continents to play: Jules from Miami, Jean from Paris and Pierre from Dubai.
65 sets of brothers, three brothers in each, plus the people that come down just for the laugh. And it's a great weekend away for families -- for brothers -- to be together.

Dudley Castrell
"It's very special," Pierre says. "Because me, I've been abroad, and have been away from my family for like more than 10 years. It is so rare, in a year, in life to have this certainty of having a couple of days where it's just the three of us, and it's precious. It's so precious. I love it. I love it."
The Bavieras turned heads when they won the tournament in 2004. It was the first year they entered. They won again last year.
"Where are we?" I ask Jean. "How do you feel? What's going on?"
"This is the start of the first round of the Brothers Tournament 2015," he explains. "We're on the first tee, the three of us. Pierre's going to start, hit first. I will be following and then Jules. It's pouring rain, but if we hang on we'll have a good chance."
Then I meet John May.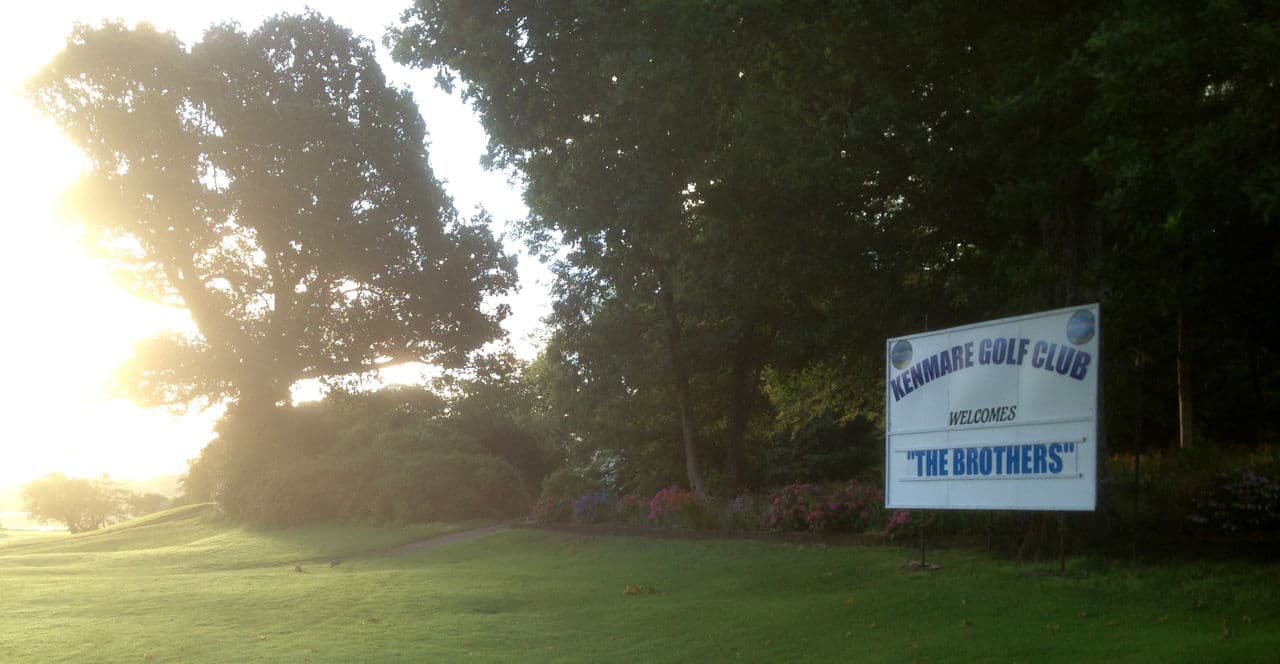 "This is the 38th year of our Brothers," says May, the captain of the Kenmare Golf Club. "It's a fantastic competition. It's an international competition. We've got the Redfurns from America, we've got the Bavieras from France, we've got English teams, we've got from all over Ireland, from the North of Ireland."
The Bavieras are not the only team which has been playing in the tournament for years.
"Once you're in," May says, "you're in."
But, barring an emergency, if a team skips a year, they're out. Most stay in for the long haul.
"The first year I came down," Dudley Castrell says, "my wife was due — our youngest son. She was two weeks, and she said, 'You're not going to the golf, are ya?' and I says, 'You'll be grand, you'll be grand!' because there's a five-year waitlist to get into this."
"I'm from Dublin," Castrell continues. "We got me three brothers: Allen, who's just arrived, and Donnell. And this is our 18th year at The Brothers, our 18th tournament.
"Sixty-five sets of brothers, three brothers in each, plus the people that come down just for the laugh. And it's a great weekend away for families — for brothers — to be together, because before you know it one of us is going to be dead."
The Brothers Tournament usually runs over two days but on Day One a rain that was torrential — even by Irish standards — closed the courses. Only one round will determine everything.
Jules is at hole eight. It isn't going well.
"It's just a fight — one shot after another," he says. "I try to keep it on play, try to make a good shot and all that."
At the next hole there's a break tent. Two women named Brivid and Mary are running things.
"Would you like a cup of tea or coffee?" Brivid asks me.
"We were just saying," Mary says, "there's some families where there's more than three brothers and they have a competition to see who gets on the team."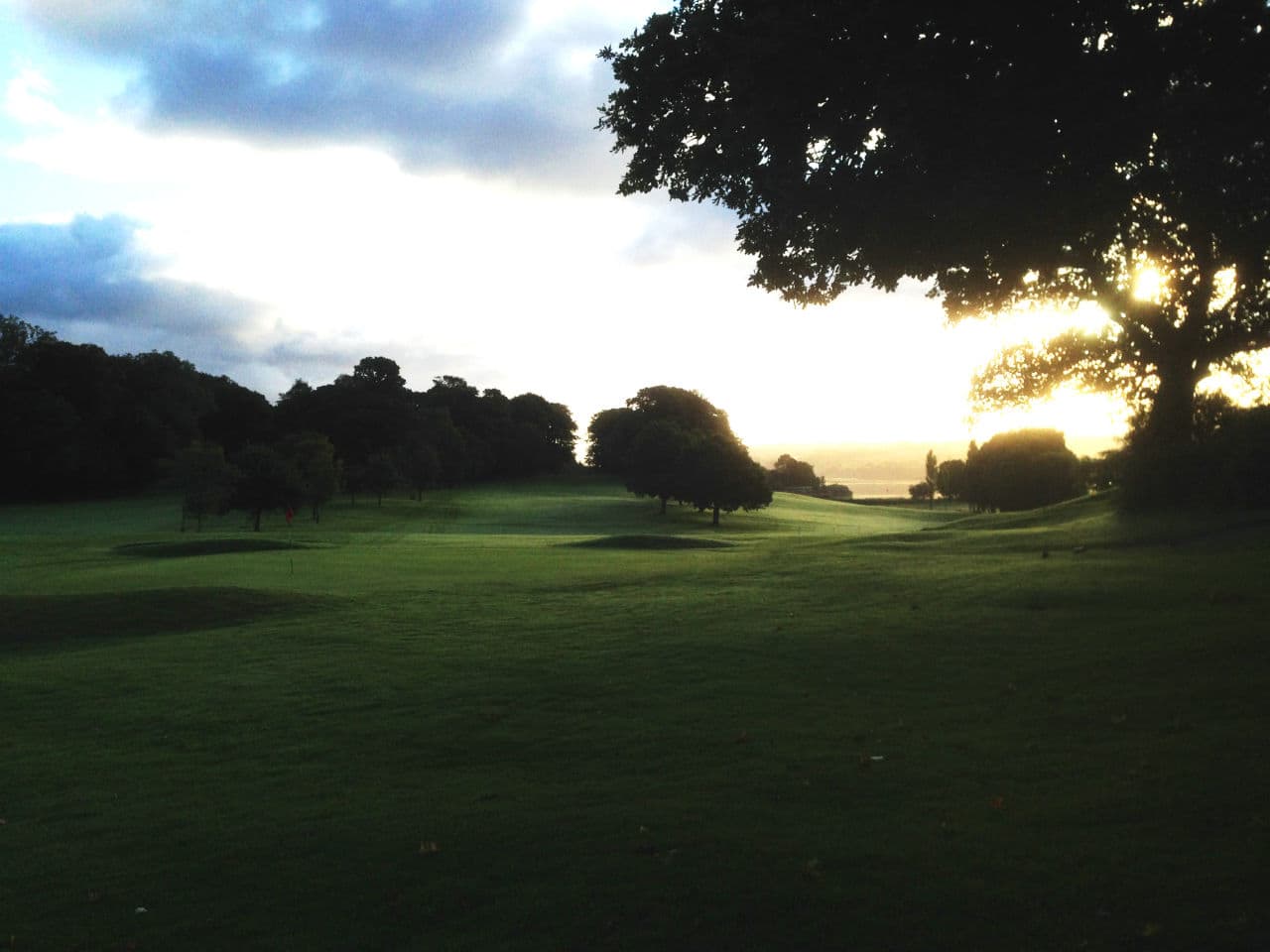 "People do take it very seriously," Brivid says.
"But it's always great fun as well," Mary says.
"I have never — normally when you go to restaurants you see couples or groups of women," Mary says. "But I love when you're in Kenmare the weekend of The Brothers, there's tables of brothers everywhere. They're chatting and, you know, brothers don't go out socializing together normally. I have a friend whose brothers play. And she wanted to come down for the weekend. They said, 'Brothers only. No.'"
The club recently started a Sisters Tournament, but for now it's not nearly as popular. Only a couple thousand people live in Kenmare. When the brothers are around, the town is overrun: restaurants are packed each night, and it's impossible to find a room.
Pierre rolls into the tent, but not with good news.
"So, Pierre, you're half way through. How do you feel?" I ask.
"I feel good," he says. "It's a lovely day, except the Gods of Golf beat me on the previous hole."
I know I could sacrifice my career for coming here. I have no problem with this."

Julian Baviera
After the 18th, the Bavieras huddle together counting their scorecards. For the Brother's Tournament, Kenmare uses an alternate scoring system that awards points per hole. The highest score wins.
"It's a decent score," Jules says, "but it's still 88. We're not going to win with his. Eighty-eight — we're not bad. We're not bad, but we're not going to win. We're going to be net 85. We have to be like 90, 90-something to win."
The Bavieras end up placing 7th, not great for them. But the weekend is not over yet. As the sun goes down over the glistening golf course all the competitors move inside for the tournament's final stage.
I meet Michael Sullivan and his brothers at the 19th hole.
"Well, the brothers are Gerald, he's the eldest; this is Allen. He's a very deliberate golfer, which he's damn slow," Michael says. "He's delaying the whole back up there. If we know that Allen is playing it will be a two-hour delay."
"I want to toast to all the brothers," he says. "Look at the boys. As you can see the crack is great, and some fellas haven't even hit a golf ball. This is what it's all about."
The 150-odd brothers rage deep into the night. But sometime in between the awards ceremony and the sing-song, the Bavieras duck out. Jules and Jean prefer wine anyway. And it may be a year before all three clink glasses at the same table again.
This segment aired on December 12, 2015.