The NCAA Tournament's Most Valuable Mascots
The NCAA Tournament is here, which means it's time for 68 teams, and their mascots, to get their chance to shine on the sport's biggest stage. Here's a look at some of the oddest mascots in this year's field — no generic Huskies or Bulldogs to be found!
Wichita State — Shockers 
WSU's nickname is a tribute to the university's history. In the early 1900s, students at what was then called Fairmount College made money by harvesting, or shocking, wheat in the fields around the school. The name was officially adopted by the university in 1926. Twenty-two years later, the school held a competition to create a mascot worthy of the nickname. And thus, WuShock was born.
If you were on the free-throw line and saw this guy staring at you, wouldn't your nerves kick in?
WuShock has already led Wichita State to one tournament win, as the team dominated Vanderbilt in Tuesday's "First Four" game.
South Dakota State — Jackrabbits 
Though this friendly but fierce rabbit has been the face of South Dakota State athletics for over 100 years, it wasn't until 2010 that he was finally given a name: Jack.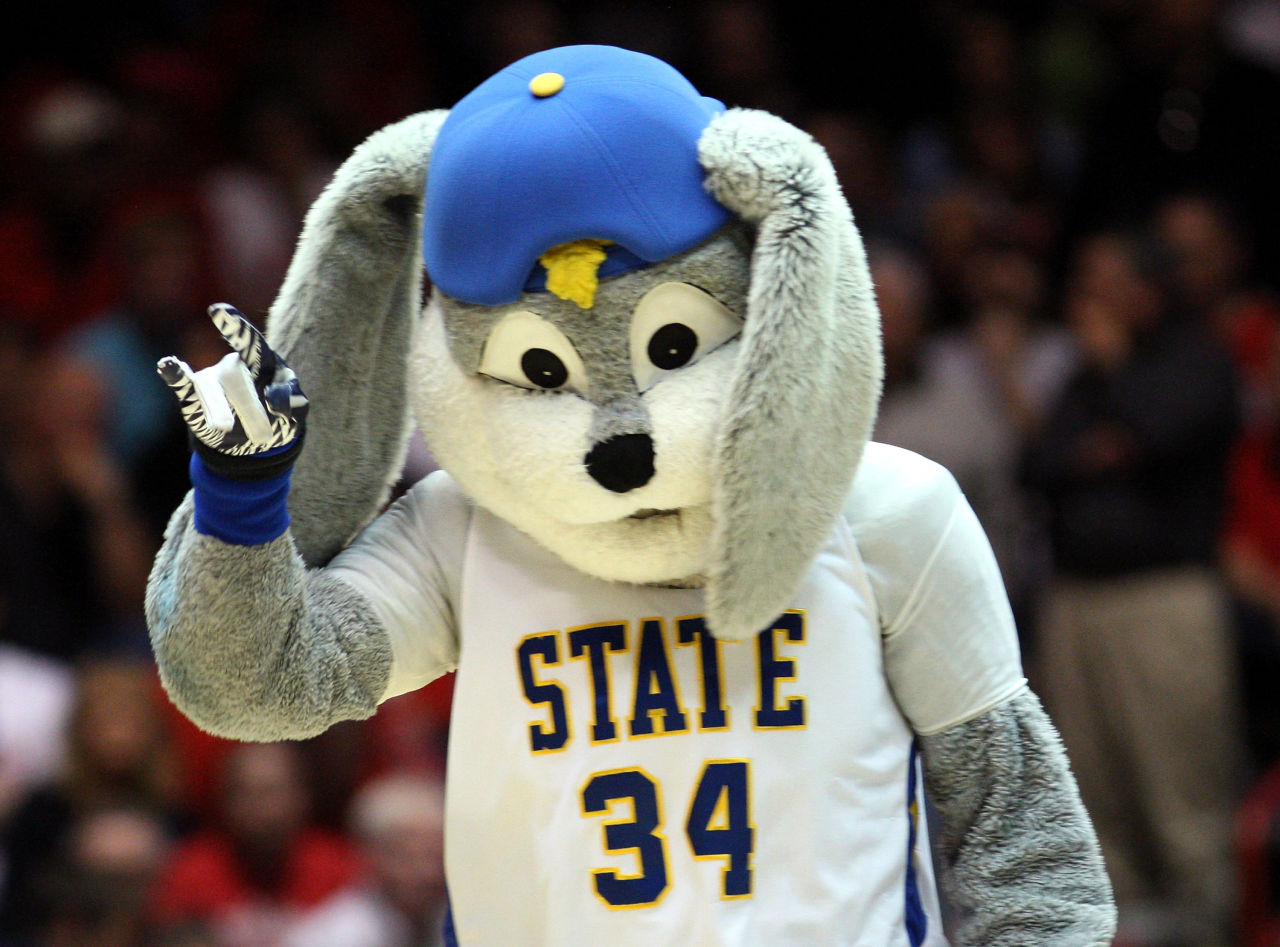 Stephen F. Austin — Lumberjacks 
The Southland Conference champions get their name from the woods surrounding the school. The mascot is unique because it is represented by a real, bearded student with a sleeveless shirt and a large axe.
Interestingly enough, Stephen F. Austin's Lumberjack will face off against another human mascot: the West Virginia Mountaineer.
Hampton And Seton Hall — Pirates
Seton Hall's nickname stems from the 1931 baseball team's improbable comeback victory, which prompted one sportswriter to declare, "This Seton Hall team is a gang of Pirates!"
Hampton would adopt the nickname two years later when "Pirates" beat out "Seasiders," "Ironmen," "Buccaneers" and "Wildcats" in a student-newspaper poll. The Hampton Ironmen would have been a solid second choice.
Chattanooga — Mocs 
Fans watching Thursday's game between No. 12 Chattanooga and No. 5 Indiana might wonder what a Moc is. Well, Moc is short for Mockingbird, Tennessee's state bird. The university's official mascot Scrappy the Moc, gets his name from former football coach A.C. "Scrappy" Moore.
Providence — Friars 
Providence's wide-eyed Friar Dom might be the creepiest mascot in college sports. Hey, Friar Dom, it wouldn't hurt to smile!