3 Stories You Should Know: A&M Rant, NFL PR, Athlete Endorsements
07:55
Play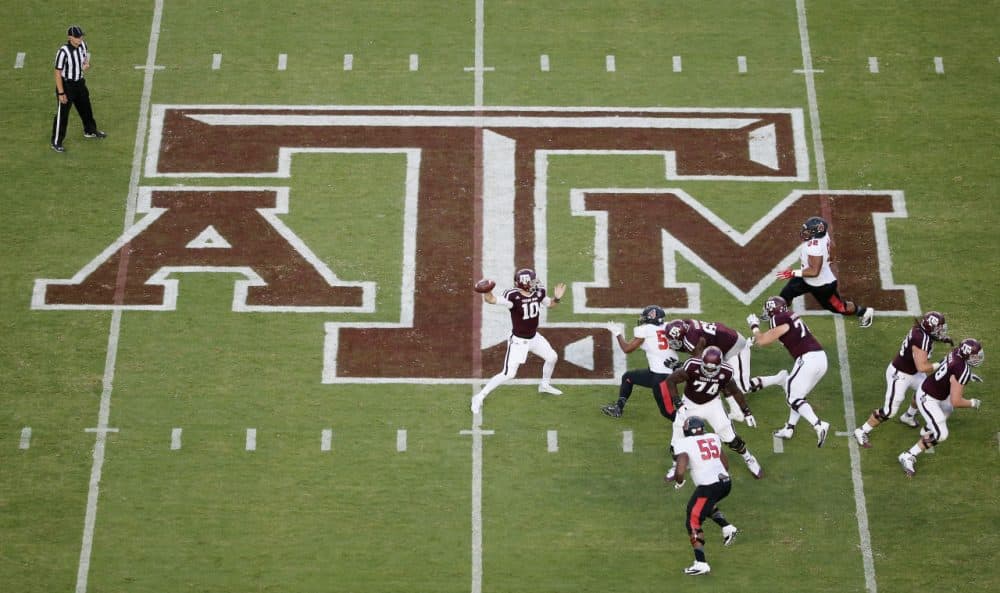 This article is more than 5 years old.
After learning that quarterback recruit Tate Martell had decommitted, Texas A&M wide receivers coach Aaron Moorehead took to Twitter to express his not-so-subtle feelings. Moorehead's comments led a second A&M recruit to decommit and a third potential recruit to stop considering the school. This social media dust-up is the first of this week's "3 Stories You Should Know."
Nancy Armour of USA Today and Patrick Hruby of Vice Sports joined Bill Littlefield.
1. Texas A&M's Twitter Blunder
While Texas A&M wide receivers coach Aaron Moorehead contemplates the power and consequences of 140-character messages, it's clear his tweets left a mark on potential Aggie recruits. Nancy Armour weighs in.
NA: He apologized yesterday, saying this was just because of his passion for Texas A&M and he wanted to defend Texas A&M. But it kind of shows that kids are not the only people who need a lesson in social media etiquette and a what you say out in public stays out in public. And it reflects not only on you but the people you represent.
2. NFL Strengthens Washington Defense 
As more fans worry about the long-term health risks of football, the NFL is trying to combat the so-called "War on Football." On Thursday, Politico reported that the NFL hired Natalie Ravitz as it's senior vice president of communications. Ravitz served as the chief of staff to media mogul Rupert Murdoch. Her hiring comes after the NFL picked up President Bill Clinton's press secretary Joe Lockhart. Patrick Hruby thinks hiring these PR execs shows the NFL is serious about its standing in Washington. 
PH:. The NFL is like any other big industry. It wants to protect its interests. And one of the biggest threats to that is federal interference. It just wants to be left to its own devices. How do you do that? Well, here in Washington we know: the way you do that is through relationships. And the best way to establish relationships is to buy them.
3. Should Athletes Endorse Presidential Candidates? 
Apparent GOP nominee Donald Trump has received endorsements from former Indiana University basketball coach Bob Knight, former Notre Dame football coach Lou Holtz and many other sports figures. On the other side of the aisle, Abby Wambach has endorsed Hillary Clinton. Bill Littlefield has nothing against athletes or coaches who take a stand on political issues, but he wonders why we should care when they endorse a specific candidate.
BL: If a former athlete has become a thoughtful writer, a social critic — say, for example, Kareem Abdul-Jabbar — then, sure. But a cranky old coach or an athlete who sounds as if he's never read a newspaper, let alone a book? I don't care who they support!
More Stories You Should Know:
This segment aired on May 7, 2016.