3 Stories: Zero Latino Managers, NCAA Concussion Lawsuits, David Ortiz
06:59
Play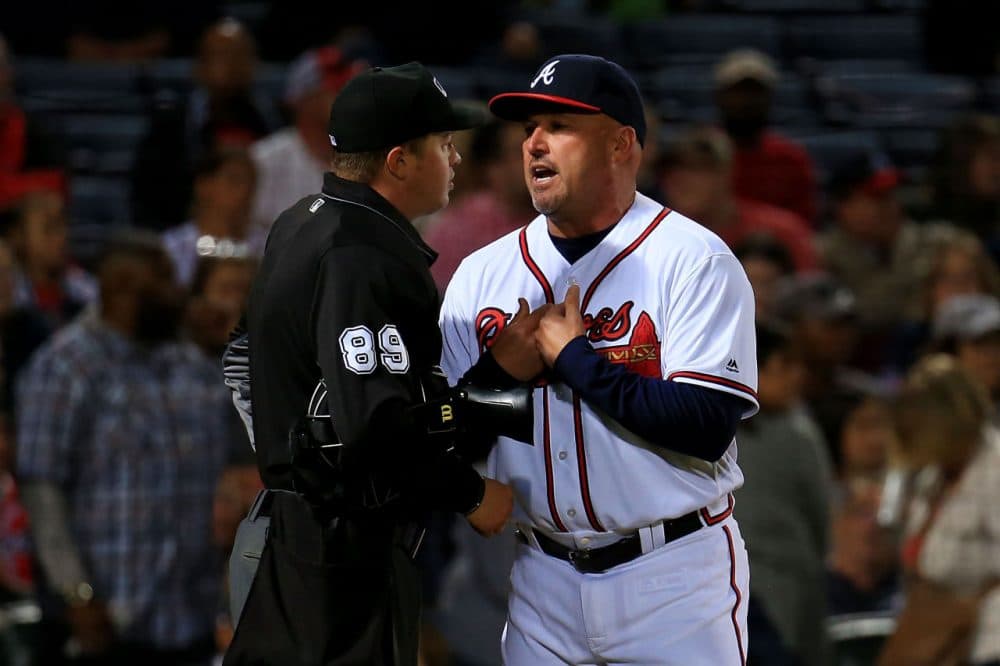 This article is more than 4 years old.
The Atlanta Braves, off to a 10-30 start this MLB season, fired manager Fredi Gonzalez. Now there are only two non-white managers and zero Latino managers in Major League Baseball. Also earlier this week, six lawsuits were filed by former NCAA football players over head injuries. Are college football programs and conferences more vulnerable than the NFL when it comes to such lawsuits? And David Ortiz has said this will be his last MLB season. But, so far, it's been on his best years at the plate. Should we beg him to stick around for another year?
Mina Kimes of ESPN The Magazine and Will Leitch of Sports on Earth joined Bill Littlefiled for this week's edition of "3 Stories You Should Know."
1. Fredi Gonzalez's Firing
Former Atlanta Braves manager Fredi Gonzalez was fired on Tuesday after leading the team to one of its worst starts in history. Gonzalez's firing was not shocking. But now there are zero Latino managers in MLB. (Meanwhile, 30 percent of the league's players are Latino.) Mina Kimes addresses MLB's problem with diversity in management positions.
MK: Baseball does have a "Selig Rule," like the "Rooney Rule," which requires teams to interview minority managers when positions open up. But, as with the Rooney Rule, it's unclear if it's working. And now, with Gonzalez gone, I think it's clear more than ever that the league does have a serious diversity problem.
2. NCAA Concussion Lawsuits
Former college football players filed six class-action lawsuits against colleges, conferences and the NCAA on the grounds that concussions caused by football were mishandled. Top programs like Auburn and Penn State are among the schools mentioned in the lawsuits — and there's expected to be many more suits to come. Bill Littlefield wonders if these types of lawsuits — and the injuries that prompt them — are ever going to be enough to bring down college football.
BL: How many multi-million dollar lawsuits like the ones that appeared this week is it going to take to encourage people in those athletic departments — not to mention the people in the lots and lots and lots of athletic departments losing money — to consider life without football? And boy would it change the culture on some of those campuses. Does anybody here regard what I'm suggesting as radically wrong?
3. Big Papi's Retirement Plans
David Ortiz, at 40 years old, announced his retirement before the start of the 2016 MLB season. Now that he's in the middle of one of the best seasons of his career, fans are hoping that maybe Big Papi will change his mind. Will Leitch makes the argument that Ortiz should follow through with his original plans to hang up his jersey for good.
WL: David Ortiz is having this great year, and everyone's saying, "Stay, stay. You can't leave, you can't leave." For David Ortiz to go out on top is so rare that it should be appreciated rather than us being like, "No, no come back again, so we can get mad at you when you inevitably struggle because you're the infinitely old age of 40."
More Stories You Should Know:
This segment aired on May 21, 2016.