'Top Gun,' Long Snapping, And The Navy: Joe Cardona's Unlikely NFL Career
Resume
Joe Cardona worked two full-time jobs last year. One of them was long-snapping for the NFL's New England Patriots. His second job involved a bunch of 18- and 19-year-olds.
"A large part of it was ensuring that they're studying and just ensuring good general order and discipline in the hallways," Cardona says.
Cardona worked at the Naval Academy Preparatory School, located 60 miles from Gillette Stadium in Newport, Rhode Island. Because Joe Cardona — long snapper for the New England Patriots — is also an ensign in the U.S. Navy.
The only active member of the military in the NFL in 2015, Cardona started every game for the Patriots.
So how did an active-duty Navy ensign end up in the NFL? Or, put another way, how did an active NFL player end up in the Navy?
Back To His Navy Roots
A good place to start is with the movie "Top Gun."
Cardona can't remember the first time he saw it.
"I must have been young," Cardona says. "My dad always came up with the line, whenever I'd ask for something, he'd say, 'That's a negative ghost rider. The pattern's full.'"
Joe Cardona's dad spent 24 years in the Navy. He still works on naval bases in San Diego, where Joe grew up.
"Being in San Diego, you have the Marine Corps air station, Miramar," Cardona says. "You have jets flying around everywhere. My dad would always point 'em out to me. 'That's an F18,' something like that."
Those jets flying overhead, plus that movie about hotshot naval aviators, gave young Joe Cardona an idea of what he wanted to be when he grew up.
"You know, maybe be a pilot or something. The Top Gun — I could be Goose or Maverick," he says.
And when he was in eighth grade, Joe Cardona and his class took a trip to the East Coast. They stopped in Annapolis, Maryland, at the Naval Academy.
"It's breathtaking, honestly, the campus itself," Cardona says. "You see Mids in uniform walking around. And as a young kid in eighth grade, I just saw myself wanting to be there."
By the time he and his classmates left, Cardona knew where he wanted to go to college. In the meantime, he brought home what would become his favorite Navy football t-shirts.
"One of them said 'Anchors Aweigh' on the front," Cardona says. "It was like a men's small, but I just continued to stretch it as I grew. And I cut the sleeves off and everything. I wore that around everywhere."
Cardona was about to start high school, and he wanted to play football. But…
"I was probably about 5-foot-8, maybe, about a buck-forty going into high school," Cardona recalls.
"He goes, 'Well, you're too small to be a lineman. And you're too slow to do anything else. So we're gonna make sure you're good at snapping, so that at least you have a position on the field.'"
Cardona's dad was worried his son wouldn't get to play. So he came up with a strategy.
"He goes, 'Well, you're too small to be a lineman. And you're too slow to do anything else. So we're gonna make sure you're good at snapping so that at least you have a position on the field,'" Cardona says.
The long snapper's job is to hike the ball on punts and field goal attempts. It calls for precision and consistency, not speed and strength. Cardona bought in — he took snapping seriously.
"It was just something that kinda came naturally," he says.
'A Dream Come True'
Cardona got good enough and big enough — he's 6-foot-2 now — to play other positions in high school. But he held on to the snapping. And you can probably guess what happened next: a certain college football program from Maryland was in the market for a long snapper.
During junior year, one of Cardona's high school coaches pulled him aside. The coach asked if he could send Cardona's recruiting tape to the Naval Academy.
"And instantly the light went off in my head," Cardona says. "I immediately was like, 'Yes, please send my stuff there. I'm very interested in it.'"
Even though the academy's football program was interested in Cardona, he still had to go through the full application process. That meant writing essays, interviewing with his congressman, passing a conditioning test and more. Eventually, a thick packet showed up at his house.
"It was a huge moment for me. One I'll definitely never forget," he says. "It was a dream come true, really. I wasn't jumping up and down. I think we were more stoic than that. But it was definitely a great moment."
"At that point, when you're committing to the Naval Academy, where's the NFL in your brain?" I ask.
"I wasn't even thinking about the NFL," Cardona says.

Cardona was still thinking about becoming a pilot.
Once he got to Annapolis, he traded in those old Navy football t-shirts for a real jersey. He became just the second freshman in Navy history to start at long snapper. And it wasn't long before he was considered one of the best long snappers in the country.
Still, Cardona wasn't dreaming of a career in football. Then came his junior year and something called pre-commissioning physicals.
"They give you all these medical tests and stuff, and part of it is the flight physical, which basically measures your basic measurements all around your body. And so my torso was too long," Cardona says. "I could fly helicopters and some of the bigger aircraft. But I got disqualified from jets.
"And I basically asked the doctor, I go, 'Hey, you know, what's the big deal? It's just my sitting height and it's only by a few, like maybe a half an inch.' And he's like, 'Well, Joe, if you have to eject from your aircraft, not all of you is gonna make it out.' So I was like, 'OK, well, I'm not going to fly that then. I'll be fine.'
"So that was actually a moment where I said, 'OK, well if I can't fly jets, which is what I came here wanting to do, maybe I'll give the NFL a shot.' And that was early in my junior year," Cardona says.
"OK, well if I can't fly jets, which is what I came here wanting to do, maybe I'll give this a shot, give the NFL a shot."
From Newport To Foxboro 
A year and a half later, the Patriots decided to give Joe Cardona a shot. They picked him in the fifth round of the 2015 NFL draft, making him just the fourth long snapper ever selected.
It was a bit of a risky move. Because Cardona, as a Navy grad, had a five-year service commitment. That meant he could be stationed almost anywhere — and that he'd potentially have to put his football career on hold.
But the Navy worked out a plan: Cardona was stationed in Newport, Rhode Island, with a schedule that allowed him to both serve and snap. During the week, he'd drive back and forth between Foxboro and Newport, from practices to shifts at the Naval Academy Prep School. (Of course, he worked most Sundays, too.) His schedule didn't allow him to do much else. Like, rest.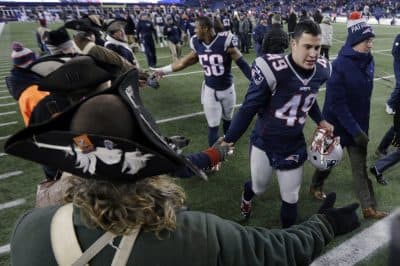 "Tuesday was the overnight. You can get some sleep here and there, but you're always on call to be woken up for whatever myriad of things," Cardona says. "General tomfoolery will be had, people get sick throughout the night. Stuff like that. Just general things."
Then he'd hop in his car and drive to Foxboro for practice Wednesday afternoon. On the way there, Cardona would try to switch gears.
"I mean, I'm sure the Massachusetts State Police wouldn't appreciate me talking about me going over game plans on my way up. But just making sure I was ready for whatever practice would hold," Cardona says. "Just checking over things as I was driving and going through mental reps in my head."
Then he was on the field in Foxboro for afternoon practice.
"It was all go here. There was no showing up and being lackadaisical or being tired," Cardona says. "It was no excuses, as far as that goes. I had to do my job."
Doing His Job(s)
And by all accounts, Cardona did his job. Actually, both of them.
This year, Cardona's schedule is a bit easier. He's now a reservist, so he doesn't have to worry about working full time at the academy. But he knows that his orders could change, and his NFL career could be interrupted.
"If they need me to deploy or anything like that, then that's what they'll do and that's what I'll do. It's something that I accepted when I took the oath," Cardona says. "I'm making the most of the opportunity that's in front of me right now, but there are things that are more important than football in this world. And if that were what was asked of me, I'd be excited and willing — excited and ready — to do whatever's asked."
Joe Cardona was too slow to be a running back. He was too small to be a lineman. And he was too big to fly a jet.
But to long snap for the New England Patriots while serving as a reservist in the U.S. Navy?
Joe Cardona is just right.
This segment aired on September 24, 2016.