Sports Figures Make Their Presidential Picks
When LeBron James sat with his arm around his hard-earned Finals trophy during a postgame interview last June, he read some incoming congratulatory tweets. One of them was from President Obama:
LeBron shook his head in disbelief. Then Isiah Thomas, sitting next to him, chimed in: "When the President calls you King James, you know you're all right!"
It's no secret that Obama has a special affinity for basketball: He's made a bracket for March Madness every year he's been in office (although he hasn't called the winner correctly yet), and he's been known to hit the court himself.
LeBron recently wrote an op-ed in the Akron Beacon Journal endorsing Hillary Clinton: "I support Hillary because she will build on the legacy of my good friend, President Barack Obama. I believe in what President Obama has done for our country and support her commitment to continuing that legacy."
LeBron's firm endorsement of Secretary Clinton certainly wasn't the first time a sports star has backed a presidential nominee in a significant way. Let's take a look at some other notable athletes and coaches who have thrown their support behind a candidate this year.
The 2016 Presidential Election
Here are three sports figures who are supporting Donald Trump:
Curt Schilling, former MLB pitcher, wrote on his blog, 38pitches, why he's voting for Trump in November:
"He loves this country. You can laugh, you can mock, but you also are full of crap if the current administration has ever given you the confidence that they love this nation above all else. He will protect my family, and my loved ones. I say that because Mr Trump is where he is for one major reason. He's been successful because he understands that surrounding yourself with smart people and listening to them, then parsing ideas and deciding, is how you win."
Rex Ryan, head coach of the Buffalo Bills, endorsed Trump at a rally in April:
"One thing I really admire about [Trump] is he'll say what's on his mind," Ryan said. "So many times, a lot of people want to say the same thing, but there's a big difference: they don't have the courage to say it. They all think it, but they don't have the courage to say it. Donald Trump certainly has the courage to say it. That's what I respect."
Tito Ortiz, MMA fighter and former Light Heavyweight Champ in the UFC, told CBS Houston that he likes Trump's plan:
"I'm a Trump guy. I wasn't in the beginning, of course. I'm Mexican — when he said we need to take all the Mexicans out of the United States, well, good luck on that one. They'll find a way to get back here anyways. But in the long run, I think he wants to bring money back to our country and with the debt that we are in, I think he has an opportunity to do that."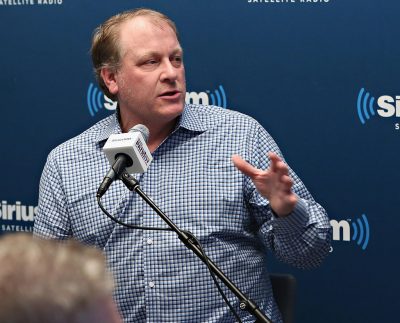 And here are three notable athletes supporting Hillary Clinton:
Kareem Abdul-Jabbar wrote an op-ed in the Washington Post last April, calling this election "a choice between hell and reason."
"Clinton possesses that rare but crucial combination of idealism and pragmatism. She can both envision a better world and take the necessary steps to make that vision a reality. She embodies the principles of the Age of Reason and isn't afraid to fight against the confederacy of dunces who would undermine the principles of inclusion and diversity that America stands for."
Abby Wambach, a recently retired U.S. soccer player and Olympian, campaigned for Clinton in New Hampshire. She noted Clinton's influence on the younger generation:
"I think that it just gives that 10-year-old girl the opportunity and the belief that she can actually do anything that she wants and sets her mind to."
LeBron James recalled his upbringing in Ohio in his piece from the Akron Beacon Journal:
"Only one person running truly understands the struggles of an Akron child born into poverty. And when I think about the kinds of policies and ideas the kids in my foundation need from our government, the choice is clear. That candidate is Hillary Clinton."
And while Jill Stein of the Green Party doesn't seem to have any official endorsements from sports figures, Gary Johnson has garnered athletic support. According to his website, among the athletes backing him are Chris Long, a defensive end on the New England Patriots, and WWE wrestlers John Layfield and Sean Waltman.