3 Stories: Bumgarner's Brilliance, NFL Ratings, Jumbotron Proposals
09:27
Play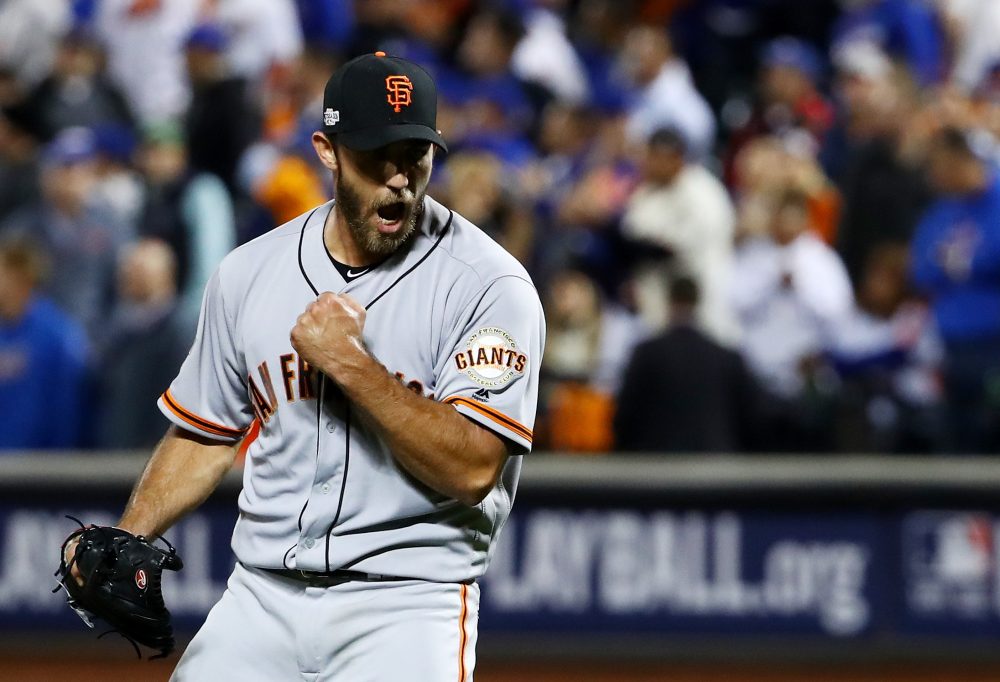 The San Francisco Giants advanced to the NLDS Wednesday night thanks to Madison Bumgarner, who added yet another complete-game shutout to his postseason portfolio. Is it time to recognize him as the greatest playoff pitcher of our generation? That's the first question on this week's edition of "3 Stories You Should Know."
Erik Malinowski of Bleacher Report and Claire McNear of The Ringer join Bill Littlefield.
1. Madison Bumgarner's Playoff Dominance
For the third time in his 13 postseason starts, Madison Bumgarner threw a complete-game shutout, this time shutting down the New York Mets. His postseason ERA is now just 1.94 over 97 1/3 innings, and the 27 year old already has three World Series rings to his name. Erik Malinowski believes there's no questioning Bumgarner's greatness.
His four-hit shutout propelled the Giants ahead and just really cemented his status, I think, as the best playoff pitcher of this generation. I don't even think there's really much of an argument about it. I wonder if we are, in fact, appreciating him enough in the moment, because it seems, once the calendar does flip to October, he really just kicks it up to a whole other gear.
2. NFL Viewership Takes A Hit
The NFL and the networks that broadcast it have fumbled through the first four weeks of the 2016 regular season. Despite continued growth in viewership over the last decade, pro football on TV isn't as popular among viewers this year. What's to blame? Why aren't we seeing this trend in college football viewership? And should media executives be worried? Bill Littlefield wonders.
Maybe in some areas of the country the passion for college football is such that people can't be distracted from it. And the NFL has got bad officiating, dull matchups, Tom Brady out for the first four games, Peyton Manning retired, outrage at radicals like Colin Kaepernick, of course. Maybe the NFL is suffering, I don't know. In any case, the broadcast execs all say they aren't worried, so probably they are.
3. Jumbotron Marriage Proposals
A baseball game might seem like the perfect stage to proclaim your love for your significant other and ask for his or her hand in marriage. Memorable, romantic and projected on a Jumbotron for a stadium full of people to see, the mid-game proposal has been seen all over the sports world. But Claire McNear is begging for it to stop.
It seems like, as a country, we have decided that the acceptable places to propose are over a candlelit dinner, on a balcony with a sweeping view of the skyline and at a sporting event. And it's an epidemic. There's just something so weird about involving all these other people — these strangers who have never met you or your significant other — in what should be a really intimate moment. I'm all for big displays of love, but this has gone too far.
More Stories You Should Know:
This segment aired on October 8, 2016.