3 Stories: Cubs Win, Friday Night (College) Lights, NFL Fan Violence
07:20
Play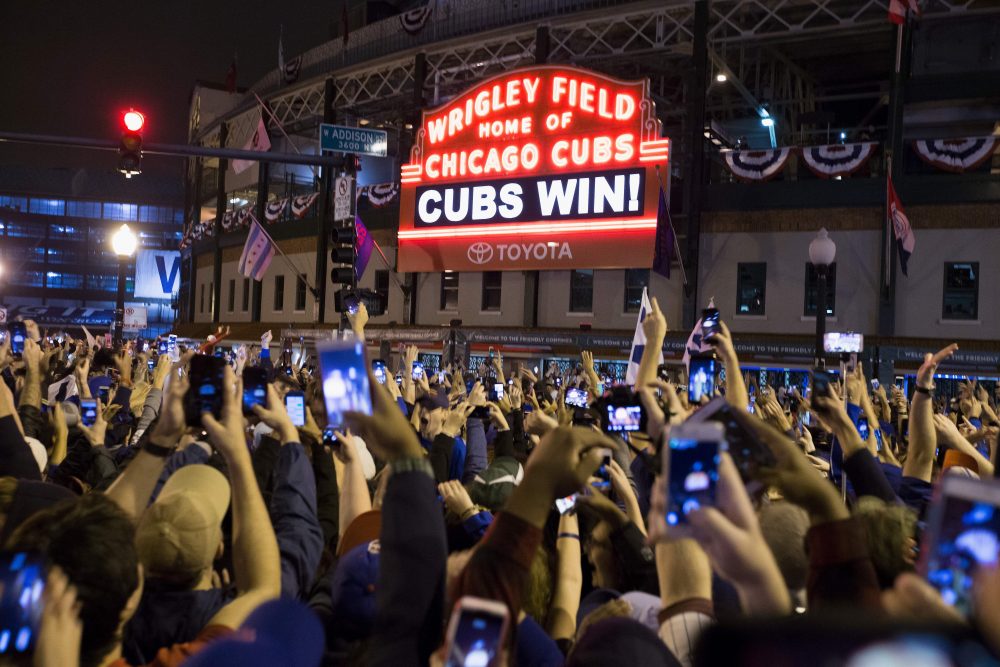 This article is more than 4 years old.
Chicago is celebrating after the Cubs claimed their first World Series title in 108 years. So who should baseball fans pity now? That and more on this week's edition of "3 Stories You Should Know." Will Leitch of Sports On Earth and Rachel Bachman of the Wall Street Journal joined Bill Littlefield.
1. Cubs Win The World Series
The Chicago Cubs defeated the the Cleveland Indians 8-7 in 10 innings to win the World Series, finally ending MLB's longest championship drought. Many across the country are happy for the Cubs, but Will Leitch has strong words for those who aren't true Cubs fans.
I'm happy for longtime Cubs fans, for fans who have waited a long time. Now, for the people who think that David Ross has played for the Cubs for 20 years, or the people that are in your Facebook feed, that are suddenly like, 'I spent a month in Chicago one time and I love the Cubbies!' The Cubs are your pet rock, and I'm not happy for you guys at all. Let's just not forget: in 2004, everyone was happy for the Red Sox, and it did not take long for that to turn... That turn is coming.
2. Big Ten Conference To Play Friday Night Games 
Although some other conferences have already tiptoed into the territory of playing games on Friday nights, the Big Ten's move is likely to encourage the trend of scheduling college games for Friday nights. The conference has new television agreements with ESPN/ABC and Fox that include a package of six prime-time Friday games beginning in 2017. Rachel Bachman isn't sure this is a good idea.
High School football fans are very upset about this. They say it's trampling on their traditional "Friday Night Lights" territories. I also wonder whether there's a risk of college football straying into NFL territory, and saturating every day and every night with its content that people kinda just get tired of it.
3. Increasing Violence At NFL Games
The Washington Post published a story suggesting violent and dangerous behavior at NFL games has been increasing over the past five years. Bill Littlefield thinks there's a variety of factors to blame, including alcohol.
The games themselves do seem to be part of the explanation for the violent behavior: incidents are worse and more numerous when division rivals play each other, and there's more violence when the home team loses. Of course, when people are allowed to show up earlier and earlier to tailgate, there's more violence because they're drunk before the game starts.
More Stories You Should Know:
This segment aired on November 5, 2016.