What It's Like Watching Sports In Virtual Reality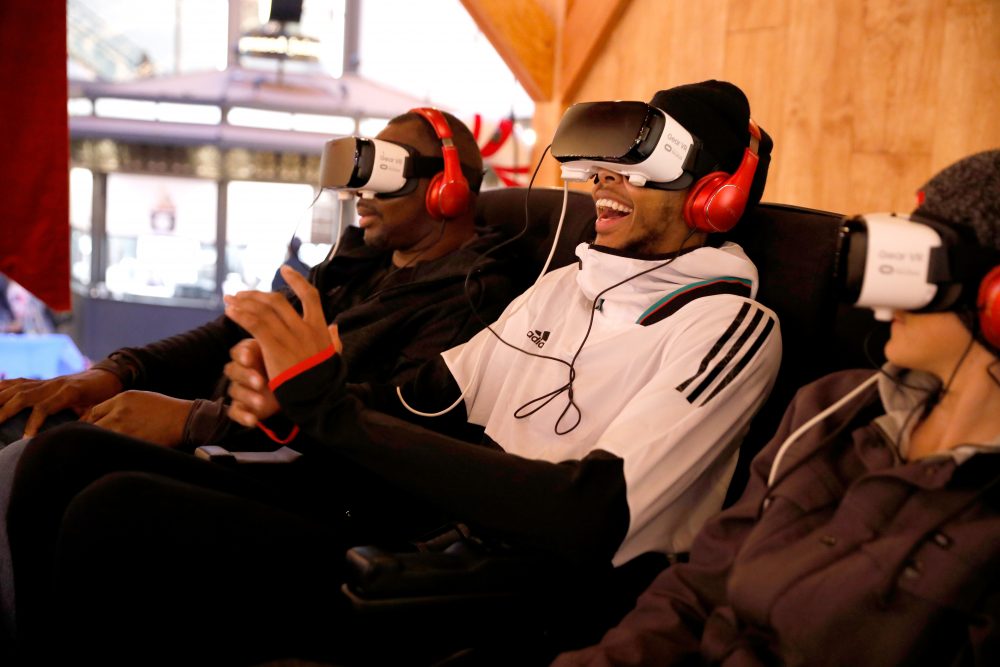 This article is more than 4 years old.
Virtual reality technology is coming to sports. In fact, it's already here. The NBA is broadcasting one game a week through VR, making it the first American pro sports league to use the technology on a regular basis. Now you can strap on those goggles and be in the crowd. But does it really feel the same? Here are some reviews.
It Puts You Courtside, And It's Immersive 
Here's what some writers have said after watching the NBA in VR:

"The headset tunes out external stimulation: the broadcast really places you courtside, providing close-up views of the players, refs, and fans," Sean Gregory writes for TIME. "Porzingis' drive down the lane, and punishing left-handed finish, is much more vivid in VR. At one point, I thought Knicks center Kyle O'Quinn was going to fall on me."

"Instead of looking at the game, you are enveloped in it. The action is much closer, fluid, mesmerizing," writes the Wall Street Journal's Jason Gay.
It Looks Great
Fox Sports broadcast the 2016 MLS Cup live in VR, and fans were impressed:

"It still looks a tad unreal, like it's 85% real life, 15% a videogame," Gay says of the NBA game he watched. "The players seem weirdly smaller than they actually are. The video definition can improve (and will). You also can't watch it for a long time."

"The big problem with the VR presentation, at this point, is the resolution," Gregory writes. "Players can appear blurry, which puts strain on your eyes, and your patience, over the course of an NBA game."
Goggles = Anti-Sports? 
NextVR is making highlights packages for NFL games. But Tim Moynihan of Wired says watching them via VR is unlike a traditional sports experience:

"VR is a solitary pursuit, one that requires clamping a headset on. Watching sports is a social endeavor, one that revolves as much around the camaraderie of the experience as it does the game itself."
Moynihan talked to Duncan Stewart, director of technology research for Deloitte Canada to see how many people are actually interested in VR:

"There are indeed some people who are interested enough in the VR perspective to watch sports and wear a device on their head that blocks out their wife or husband, kids, parents, friends, pets and smartphone for hours at a time. But not many."
Jason Gay believes so:

"Let's face it, the goggles are neat, but antisocial. A huge part of the sports-viewing experience is doing it with friends. (But what if you could virtually watch the game with friends….?)"
VR Is The Future Of Watching Sports
VR companies are still testing the waters. But here's why Gay thinks VR will take off in the NBA:

"Basketball has a widening world-wide audience, with a huge number of fans who are not likely to see a game in the flesh. VR is a chance to approximate that experience, putting you a few feet from Steph Curry when you're really 6,000 miles away."
Gregory thinks VR shows promise:

"Neither the NBA nor NextVR are saying how many fans are watching the VR games. The numbers are surely modest at the outset. Either way, VR won't go mainstream right away. But based on my experience, it has a future on the court."