NPR, Sports And Stand-Up: A Comedy Experiment
07:18
Play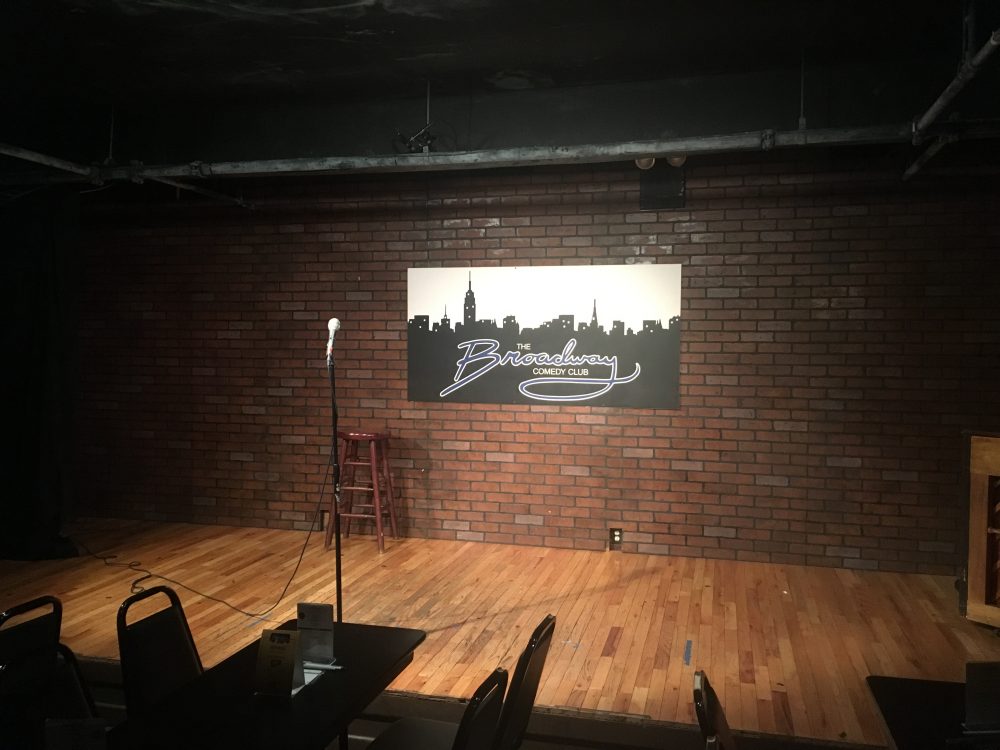 This article is more than 4 years old.
"Trump is kinda like the Rudy of politics. Like, it's kinda been fun watching him run for president, but we're not going to let him play a whole game," comedian Dustin Chafin joked during a stand-up routine about a month before the election.
Chafin was part of an experiment that Only A Game concocted with the Broadway Comedy Club in New York City.
It began with an idea: a night of stand-up comedy, with only sports jokes. Sports and comedy — both fun on their own. Surely they'd go together like baseball and Cracker Jacks, Stockton and Malone, and the NCAA and exploitation, right?
But think about it for a second: Do you know any good sports jokes?
I didn't. I actually googled "sports jokes," and this was the first one that came up: "What did the football coach say to the broken vending machine?"
Wait for it ... "Give me a quarterback."
OK, wow. So Google wasn't a help — but eventually I remembered this ...
That, of course, is Abbott and Costello. Pretty good stuff — but that routine debuted in the 1930s. That was 80 years ago.
With a drought like that, I started to worry: Could a night of sports stand-up actually be funny? More specifically, can NPR-appropriate sports stand-up actually be funny?
Searching For The Best Sports Jokes
Luckily, Broadway Comedy Club host AMarie Castillo and about a dozen brave comedians were willing to step to the plate. "Step to the plate." Get it?
I promise their jokes were better than that.
"I'm excited to be here," Paul Landwher said at the beginning of his set. "I am from New Hampshire. A little bit more about me, I just turned 30 years old this year."
Paul was one of the first comedians to take the mic. But he didn't start with sports.
"Kinda some big news though — I didn't just come here to brag or anything, but I've actually been kinda killing it. I actually finally moved out of parents' basement everybody, so that's a pretty big deal for me," he said. "Yes. It got flooded."
Every stand-up comedy night has the guy who still lives with his parents, right?  But then Paul started talking about his adult soccer league — and how his dad still watches him play:
"He cheers for me when I'm out there. He's just like, 'Yeah, go Paul, go!' Even when I score, he's still cheering. He's like, 'No, just keep going. Move out.'"
Athleticism — or, more accurately, a lack of athleticism — became a common theme.
"I was a bad little league player, OK, which I'm sure shocks no one," James Mattern said. "I was the little league baseball player where the third base coach was like, 'Come on! A walk's as good as a hit. A walk's as good as a hit.' If you play little league, and they tell you a walk's as good as a hit, you should quit and play soccer, all right?"
Now if you thought Paul and James were being hard on themselves, wait until you hear Freddy G.
"I look like Blake Griffin if he was really into accounting," he said. "Being a male redhead, you don't feel very sexy. Like in New York, I'm at best a 6. But in Cincinnati, I'm a solid 8 because I look like their quarterback. Andy Dalton is the best possible version of this. Which means the best possible version of this still can't make it out of the Wild Card round."
DraftKings Vs. Tinder
Self-deprecating humor is one pillar of stand-up comedy. Dating is another. And there was even some of that on sports night.
"They did some studies, and the people who fill out their brackets on DraftKings, it's about 85 percent of them are men," Veronica Garza said. "They're between the ages of 25 and 35. They make between $85,000 and $100,000 a year. So you're thinking to yourself, this is a good DraftKings app — but it's an even better Tinder app."
Of course, comedians are also famous for saying things that are a bit (or a lot) offensive. But that wouldn't happen on NPR sports night, right?
"Let me tell you guys something," Nate Fridson said. "If you have white guilt and you're looking to settle that debt, move to the hood and start playing pickup basketball. You will be even in a week."
And Dustin Chafin said...
"I'm part Native American. Choctaw. That's a thing. And I can't take the sports logos, right — the Native American teams. Ain't that still racist? People don't realize how racist that is, right? Washington Redskins. Cleveland Indians. You couldn't do that to any other race. You couldn't have, like, 'The Baltimore Blackies,' you know what I mean? You couldn't have like 'The Long Island Jews,' right? Got a little Hasidic curl and a calculator --"
OK, OK. Let's pull back a little bit — let's go with something a bit less heavy-handed. Maybe Freddy G can rescue us from getting too many angry tweets and emails...
"I think a lot about the sports team's names," Freddy G said. "The worst sports team name is the Brooklyn Nets. They're the only team named after a piece of equipment from that sport. I mean there's no football team called the Goal Posts or baseball team called the Steroids. It's crazy. The net is the least important part of the basketball equipment. Naming a basketball team the Nets is kinda like naming a clothing store the Tags."
"If you play little league, and they tell you a walk's as good as a hit, you should quit and play soccer, all right?"

James Mattern
'A Sports Show On NPR. That's Crazy, Right?'
So can sports and comedy go together?
Sure. Sports jokes work for the same reasons any joke works. When people poke fun at themselves, it's funny — it doesn't matter if they're talking about their ugly noses or their little league batting slumps.
Along that line, there's one last sure bet for succeeding at stand-up — sports-themed or otherwise: Break the fourth wall and let people laugh at themselves.
Here's Michelle Tomko.
"It's a sports show on NPR. That's crazy, right?" she said. "I know all of us die-hard sports fans get our latest sports news from NPR. Clearly. Clearly, that's the place to go. It's like going to Fox News for facts. Except maybe golf. Golf would be good for NPR, right? Diane Rehm and Terry Gross doing golf because they have soft talkers. And they're soft talkers, right? 'Well, we're on the 18th hole, Diane Rehm here.' Terry Gross is like, 'I just wanna go back a minute, I want to play an excerpt from when you teed off.' Like I could see golf. But like other sports on NPR? That's kinda weird."
This segment aired on December 17, 2016.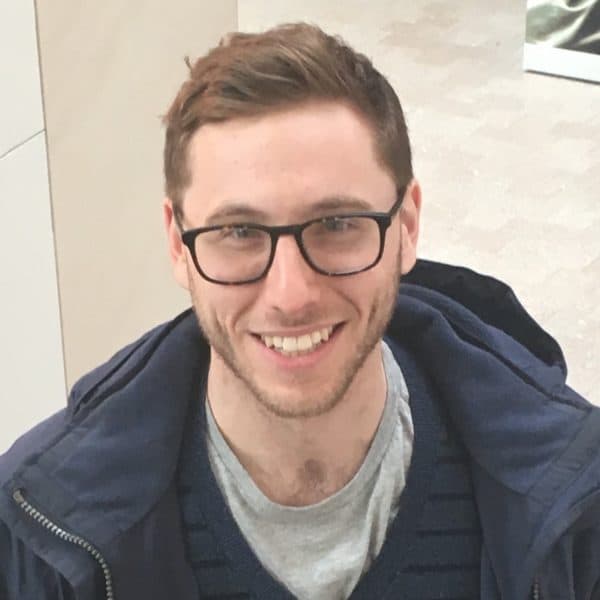 Martin Kessler Producer, Only A Game
Martin Kessler is a producer at Only A Game.