3 Stories: 'Boogie' To New Orleans, Jameis Winston, Pie Incident
09:18
Play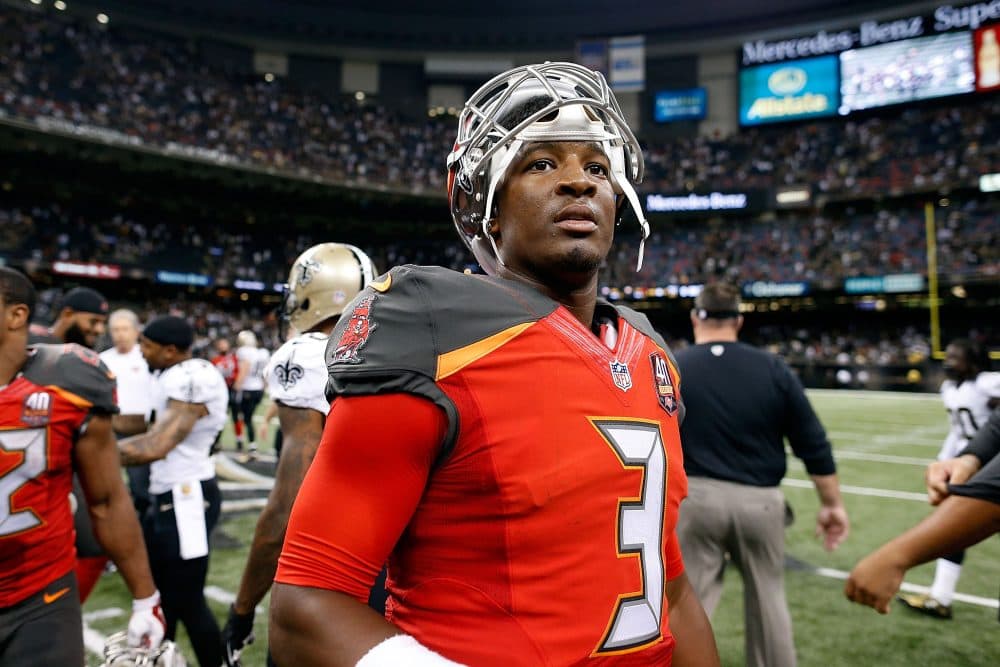 This article is more than 3 years old.
NBA fans can stop frantically refreshing Twitter – or, at least, they can give their thumbs a bit of a rest: because the NBA trade deadline has come and gone. But one blockbuster move has everyone talking. That and more on this week's edition of "3 Stories You Should Know."
ESPN's Don Van Natta Jr. and Mike Pesca, host of the daily Slate podcast The Gist, joined Karen Given.
1. 'Boogying' in New Orleans
Last Sunday, the New Orleans Pelicans acquired DeMarcus Cousins (and Omri Casspi) from the Sacramento Kings. New Orleans now has two of the best big men in the league in Cousins and Anthony Davis. Mike Pesca sees this as a throwback to an earlier era of basketball.
In basketball, it's all about huge gaps between players, and this allows guys like Steph Curry to nail threes willy-nilly. The Pelicans have gone another way — maybe out of design, maybe it's just because they already have Anthony Davis, this great center. They got 'Boogie' Cousins, and now they're going to have a throwback to the days of Twin Towers or guys who will need the ball down low. And I like the lagniappe, as a New Orleanian might say, of this little bit of difference that the current breed of Pelicans brings.
2. Jameis Winston's Mistake
When the Buccaneers quarterback visited Melrose Elementary School in St. Petersburg, Fla. on Wednesday, he told the boys in the audience to stand up and be strong. Then he addressed the girls, saying, "But the ladies, they're supposed to be silent, polite, gentle." Karen Given wonders why Winston was chosen to speak in the first place.
You might remember Jameis Winston from those rape allegations at Florida State or the ill-advised shouting in the cafeteria incident or the fact that he walked out of a grocery store with crab legs that he hadn't paid for. ... I'm not at all surprised that Jameis Winston said something stupid, and this was stupid. But what surprises me is that people at an elementary school thought that it would be a good idea to have this guy come talk to young kids.
3. The Pie-Gate Affair
What do you get when you mix a 300-plus pound backup goalkeeper, an FA Cup match and a meat pie? An investigation from the gambling commission in Britain. Sutton United reserve goalkeeper Wayne Shaw ate a meat pie on the sideline during the final minutes of his team's match against Arsenal on Monday and may have encouraged friends to bet on the stunt. Don Van Natta Jr. wonders whether Shaw is a hero or villain.
Turns out the team sponsor for the match, Sun Bets, had offered an 8-1 novelty wager on whether Shaw would eat a pie live on TV. And Shaw made no secret of the fact he'd been aware of the bet and that a few of his mates — though not his teammates — might have even wagered on him and the pie. ... What's sad, though, is he has lost his job. He's a backup goalkeeper but he really was an assistant coach and he's a guy that did a lot of scut work around this little-known team. He finally gets his 15 minutes of fame and then this happens to him and he's been treated pretty shabbily.
More Stories You Should Know
This segment aired on February 25, 2017.