Lifelong Michigan Fan Trades Wall Street Job For College Football Dream
Resume
"My parents met at Michigan as freshmen," Michael Hirsch says. "My dad actually rigged a Secret Santa to get my mom because he thought she was cute. And the rest was history."
Hirsch was born on Jan. 15, 1992. He grew up on the outskirts of Chicago near Northwestern University. But his parents made sure that he and his sisters remained loyal to the family team.
"It was like we were all brainwashed as little kids, almost," Hirsch says. "I mean, we were all decked out in Michigan gear all the time."
The walls in Hirsch's bedroom were covered with posters of Michigan football players.
"That was probably my first ambitious dream, if you will — my first goal in my life that I can remember was I wanted to play for Michigan," he says. "I always dreamed about what it would be like to look up and see 100,000 people around you and to sing the fight song and everything."
Michael Hirsch was a talented high school football player. As a 220-pound running back, he rushed for 3,375 yards and scored 50 touchdowns.
But that wasn't enough to impress the Michigan Wolverines.
"I always wished that Michigan would recruit me," Hirsch says. "But I kinda knew — I had a sense, 'You know what, I'm doing OK, but I'm not at that level — that elite level.' An analogy that I'll make, I guess, is if, I don't know, you thought someone in your high school was the cutest girl in your high school, and, sure, you wanted to date her. But it's not like if you didn't have the chance you felt terrible, because a thousand other people couldn't date her, too."
If he couldn't date the cutest girl, Hirsch figured he'd go for the nerdiest. He decided he'd use football to try to get into a good college.
"And I found this dream school with a great football program in Harvard," he says. "And so I committed there."
'I Just Couldn't Shake It'
So in the fall of 2010, Hirsch moved into his freshman dorm. (Full disclosure: Hirsch and I went to Harvard at the same time, but we didn't know each other because he was way cooler than me.)
Hirsch played on the JV team as a freshman. He had added 10 pounds since his high school days, so he started running less and blocking more.
In March, spring practice began.
"And I just felt like I had a cold that I couldn't shake," he says. "And you're working really hard because you have those 6 a.m. workouts every day. I thought maybe I was run down, so I just tried to rest. And you know what, I couldn't shake it. I thought maybe I have some allergies or something."
But he didn't worry about it too much. He finished out the year and went home for the summer.
"My mom's, like, 'Your voice sounds a little different, and you still don't feel good. Let's start to go to some doctors and figure this out,'" Hirsch recalls. "So then I saw, I wanna say, like, 15 doctors. They kept putting me on different antibiotics. I'd try this for a little bit. I'd try that. And my health just kept getting worse. My ears were sore. My knees were sore. My throat hurt all the time. Sometimes there would be blood in my spit, and it was kinda progressing quickly."
He saw even more doctors. Finally he found an allergist who called it: Hirsch had Wegener's granulomatosis. It's a rare autoimmune disease that causes blood vessels to become inflamed. Untreated it can lead to organ failure and, eventually, death.
"I was playing Div. I football, like, a month ago and suddenly I'm sitting in a hospital bed."

Michael Hirsch
"I was playing Div. I football, like, a month ago, and suddenly I'm just sitting in a hospital bed," he recalls. "And I remember all these doctors kept coming in and out, and I'm hooked up to different things. It was, like, 'Oh, wow. This is actually something that's pretty serious.'"
The doctors put Hirsch on a plan: every week he'd inject himself in the leg with a drug to reduce inflammation. He would also need to visit a doctor regularly for blood tests and other treatments. Luckily, he connected with a top rheumatologist at a hospital just three subway stops from Harvard's campus. So Hirsch could go back for his sophomore year while he underwent treatment.
But football?
"I mentioned it to a doctor, and he said, 'Oh, no. You're not gonna be able to play any sport, not to mention a contact sport.' That was absolutely a tough moment for me, just because all my best friends were on the team," Hirsch says. "I was so excited to go back and compete and be with them, and suddenly that was taken away. And there was certainly a little bit of an empty feeling there — a 'What next? What am I going to do?'"
From Prospect...To Team Manager 
During the fall of his sophomore year, Hirsch held out hope that he'd someday be able to rejoin the team. But as his recovery dragged on – he needed blood infusions and then he got tubes put in his ears and then he underwent trachea surgery – he came to accept that he was never going to be able to suit up for the varsity.
He could've found something else to do – like play video games all the time or actually do all the reading for class or, you know, hang out with me on the school newspaper. But he decided that he'd made a four-year commitment to the team. So if he couldn't play, he'd be a manager.
So the guy who'd scored 50 touchdowns in high school spent his sophomore, junior and senior years carrying water, setting up cones and filming practices.
"It certainly was a sense of loss," Hirsch says. "I continued to dream about playing football all the time after that. I'd wake up and I'd be, like, 'Dang, that's a dream now.'"
"I continued to dream about playing football all the time after that. I'd wake up and I'd be, like, 'Dang, that's a dream now.'"

Michael Hirsch
By his senior year, Hirsch was in remission and in good health. He graduated in May 2014 — right on schedule — and landed a job on Wall Street as an analyst for Citigroup.
And Hirsch was happy (or at least as happy as a first-year Wall Street analyst can be). But he kept having those dreams about football.
"Probably every two weeks, I'd have a dream I was in high school playing or in college playing. I got one more year. I got one more chance," he recalls. "And I'd always wake up, and it was a very bitter-sweet dream to have, because I didn't have that."
A New Goal: Becoming A Wolverine
That's when Michael Hirsch got a pretty wild idea. Since he had only played one season for Harvard's JV team, he still had college eligibility. If he could get the OK from his doctors and the NCAA, and if he could get into a masters program somewhere, he could join a football team as a graduate student.
And since he was already dreaming, Michael Hirsch decided he'd go with the biggest dream he'd ever had: He was going to try to play football for the Michigan Wolverines.
The first steps were getting into playing shape — and into business school. So every day Hirsch worked on Wall Street from 6 a.m. to after 6 p.m. Then he'd go to the gym. And after that he'd study for the GMAT before bed. Eventually his coworkers started asking questions.
"They were looking at me, like, 'Why are you eating all that protein on the desk at work?' Or 'Why are you 20 pounds bigger now? What's going on, dude?' I remember one of my co-workers said, 'What are you training for, dude? You're an adult. It's not a good look to just bulk up like that.'"
Hirsch didn't say anything about his plan because, well, he didn't want people to think he was crazy.
So he kept his scheme a secret. And eventually, he got the GMAT score he needed for Michigan's business school. And he connected with one of the football coaches. He invited Hirsch to come visit the campus on the same weekend as potential walk-ons.
"My parents met me in Ann Arbor. I flew from New York for the day, and they wanted to come on the visit with me," Hirsch says. "And I was, like, 'I'm not 18 years old. You guys can't come on the visit with me. I'm 23. I have to have this adult persona. That's part of the sell that I'm trying to show here to join the team.'"
Whether it was his adult persona or his backstory or the fact that Michigan was looking for some depth at fullback, the coaches told Hirsch he'd have a spot on the team.
All he had to do now was get cleared by his doctors and present his case to the NCAA. So back in New York, Hirsch spent his days calling hedge funds and clients — and secretly emailing doctors and NCAA officials from his cell phone.
First the doctors said OK. And then one day while Hirsch was at work, he missed a call from an Ann Arbor number.
"This was, like, 5 on a Tuesday on the trading floor," he says. "I ran into, like, a side meeting room. I listened to the voicemail. I still have it saved. You know, it said, 'Hey, Mike, this is Coach Harbaugh. I've got some great news for you.' And at that point my heart just jumped out of my chest. I didn't even listen to the rest of the message. And I called him back, and he let me know that I had won my case. I had earned eligibility and I was going to be able to join the team. It was just one of the happiest moments of my life."
And in what's likely a first for Wall Street, an analyst was granted a one-year sabbatical...to go play college football.
Grandpa Arrives In Ann Arbor
Last summer, Michael Hirsch showed up at training camp. He was 24 years old and working on a masters in management. But on the football team, he was a rookie. So he trained and ate meals with the 18-year-old freshmen. They taught him about rappers he'd never heard of — and gave him some nicknames: 'old man,' 'dad,' 'grandpa.'
Michael Hirsch was thrilled.
And on Sept. 3, 2016, in Ann Arbor, Michigan opened its season against Hawaii in front of 110,000 fans.
Hirsch knew he was way down the depth chart and unlikely to play. But then Michigan started winning. By a lot.
"I'm, like, running the mental math. And I'm trying to figure out where the threshold is for them to throw in the second team guys and the third team guys," he recalls. "I just wanted to get on the field once. Play one actual play."
At halftime, Michigan was up 35-0. Hirsch's teammates started getting excited for him.
"They're looking at me, raising their eyebrows, like, 'Hey, Hirsch. It could happen, dude. This could be it,'" he recalls. "I'm just rooting for us even harder than I ever have before."
Stepping Onto The Field
Then Michigan went up 40 points. Then 50 points. One of the coaches told Hirsch to start getting ready.
"And at that point, you're standing around for, like, two and a half hours," Hirsch recalls. "I'm, like, 'Oh, my goodness. I better warm my legs up and get ready to go out there.' And so a lot of anxiety, standing right there next to the coach on the sideline. And then, finally, he said, 'Hirsch, hop in there.'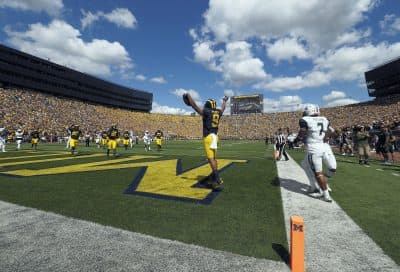 "So, then it all happened super fast. On one hand, I'm, like, 'Holy cow, I did it. I'm registering a play for Michigan.' And I go in the huddle. And Shane Morris is playing quarterback. I remember when he committed to Michigan. I'm that big of a fan. So I've been a fan of this guy and all the guys in the huddle my whole life. And now I'm out there in the Big House playing with them. And suddenly the huddle is broken, and I'm, like, 'Oh, my god. There's a play! I have to do it now!'"
It was 3rd down with four yards to go. Michigan called a pass play. Hirsch's job was to run to the left and look for the ball.
He was open. Morris lofted a pass over a defender.
"Luckily, I didn't have much time to think about it, because I definitely would've dropped it if I overthought it — which woulda been sad, right? His big moment and then he just drops it," Hirsch says with a laugh.
Hirsch caught it.
"And I ran, and I just tried to run into someone — tried to run someone over," he says. "I probably coulda went further, but I kinda ran to the first guy I saw."
Hirsch picked up 15 yards and a first down.
"For an old man, 24 year old, who was sitting at a desk for a long time, I was happy about it. I had a stat. And that's pretty cool, right? I get to be in the Michigan records. If anyone's looking at who the worst fullback is with the worst catch ever, there I am," Hirsch says with a laugh.
A Michigan Wolverine
That ended up being Hirsch's lone catch of the season. He hardly played after that game. But Hirsch says he couldn't have been happier watching from the sidelines as a Michigan Wolverine for the 2016 season.
In September, he'll return to his job at Citi.
Michael Hirsch's football career is now officially over. And he's finally OK with that.
"I haven't had a dream about football since. I haven't had a single time where I've dreamt about 'One more chance. One more possibility,'" Hirsch says. "So, I'm sleeping well at night."
This segment aired on April 1, 2017.