Ballpark Food: Favorite Eats From Around MLB
Baseball is back! And so is that ballpark hot dog, box of Cracker Jack and...chicken funnel sandwich?
Yes, this season, a number of new food creations are coming to ballparks around the country. Blue Jays fans can enjoy a Churro "Dessert" Poutine while Rays fans can sip (and eat) a Brunch Bloody Mary.
With plenty of food options — both new and old — what's a fan to eat? Here are some recommendations from Only A Game staff and contributors.
Garlic Fries in San Francisco
Mike Pesca (host of the daily Slate podcast, The Gist): I enjoyed the garlic fries at San Fransisco's Pac Bell Park. Well, when I was there it was Pac Bell Park. Then it was SBC Park. Now its AT&T Park. The fries, however, have stayed consistent.
Claire McNear (The Ringer staff writer): Picture this - garlic, on fries. Fries, but with garlic on them. The Giants, in their infinite wisdom, have been smothering French fries in mountains of fresh garlic since at least the days of Crazy Crab, and to experience it — to savor the fries, to spend the rest of the game trying not to breathe in your seatmates' direction, to start furiously popping Tums to stave off heartburn — is to wonder why the fries aren't sold everywhere. Not just other ballparks, where vendors should be required by law to sell them, but every last restaurant and street corner in the entire US of A.
Straight From Home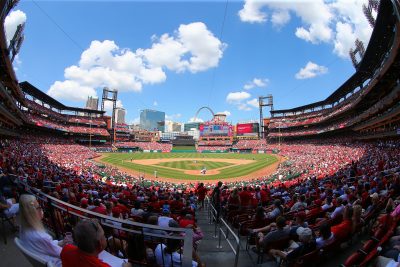 Will Leitch (Sports on Earth Senior Writer): I do not go to baseball games to eat or, more to the point, I do not go to baseball games to stand in line waiting to eat. Thus, my favorite food situation in Major League Baseball is at Busch Stadium in St. Louis. Why? Because you can bring in your own food. (You can also do this in Texas and Tampa Bay and a couple of other places.) No lines. No deep fat fried triple bacon cheeseburgers. Just food prepared the way I want it, when I want it. That way I don't have to miss a pitch. Particularly because they bring the beer right to me. Now, if they can just figure out a way for me to go to the bathroom without having to leave my seat ....
Peanuts
Bill Littlefield (Only A Game host): Peanuts. That's about it. Because "ballpark food" has always been something of an oxymoron, hasn't it? And I know the team owners say they have to maximize revenue streams to pay the utility infielders $10 million a year, but inflating the prices on bad hot dogs and worse beer seems unfair, even by whatever standards those owners recognize.
The Dog
Cindy Boren (Washington Post Reporter): I stick with a hot dog – it must be a kosher dog because those are just the best – with mustard because I am there, after all, for the baseball and to socialize with my companions. The exception to the rule: Boog Powell's Barbeque at Camden Yards. Nationals Park is a veritable restaurant row, but if I want some of those offerings, I'll go to a restaurant, not a ballpark. Give me a kosher pup and a brew and I'm happy to watch the game.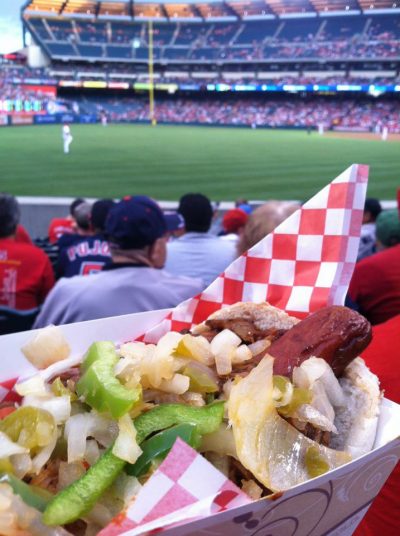 Karen Given (OAG producer): It was the summer of 2012, and my (now) husband and I were on our first ballpark journey together. We had back-to-back games in LA and Anaheim, and I wasn't feeling the food offerings at Angels Stadium. That's when I found the skeeter dog on the menu at a BBQ stand near the entrance. It was a hot dog covered in brisket and pulled pork. I'm pretty sure my cholesterol levels are still recovering, but it was delicious.
Sweet Treats 
Ice Cream
Jackie Bamberger (former OAG intern): As a kid, I used to always beg my dad to buy me the special chocolate and vanilla ice cream (with rainbow sprinkles, of course) sold in a mini Dodgers helmet at Dodger Stadium. I still have some of those plastic hats in my room! It's simple, but it has a place in my heart.
Doug Tribou (former OAG producer): I've always been a fan of things that come in things that you can keep. Hot fudge sundae in a mini batting helmet? Sign me up. Ice-cold Coke in the 1987 Dave Righetti New York Yankees collector's cup? Count me in (and yes, I still have the cup). When I lived in Portland, Maine, I went to many games at Hadlock Field, home of the Double-A Portland Sea Dogs. I was always a sucker for Sea Dog Biscuits, which are ice cream sandwiches made on chocolate chip cookies.
Alex Schroeder (OAG producer): Before they were the Richmond Flying Squirrels, the San Francisco Giants' Double-A affiliates were the Connecticut Defenders. And before that, they were the Norwich Navigators. I, as an avid Navigators fan growing up in southeastern Connecticut, made frequent trips to watch the Minor Leaguers at Dodd Stadium, and my favorite treat as a kid was the soft serve ice cream in a miniature baseball helmet. It's a universal gimmick at ballparks, but the sprinkles (and plastic souvenir helmet) always kept me coming back.
Root Beer Float In Oakland 
Martin Kessler (OAG producer): The O.co Coliseum is probably not the best place to watch an MLB game. (OK, it's the worst place to watch an MLB game.) But, once a year, you can overlook the stadium's flaws...because the A's give out free root beer floats! That's vanilla ice cream. Plus root beer. For free! Mark your calendar this year for July 18.
Sports Bars In Boston 
Gary Waleik (OAG producer): The year was 1976. And it was a good year for ball park food, if not for the Red Sox. I remember eating one of those crunchy "Sports Bars" while sitting along the left field line and watching Olympic boxing results came in via the new and highly controversial jumbo scoreboard in the centerfield bleachers. "Leon Spinks wins gold!" (Cheer) "Michael Spinks wins gold!" (Cheer) "Ray Leonard wins gold!" (Cheer) "Teofilo Stevens wins gold!" (Boos) As the results came in, I unwrapped the foil and uncovered a frozen delight consisting of a hard chocolate coating covering ice cream in a vanilla/chocolate/vanilla pattern. It was hot that day, and the cool ice cream was great. I was 13. I could eat that stuff then and not gain weight.
What are we missing? Tell us about your favorite ballpark food below!