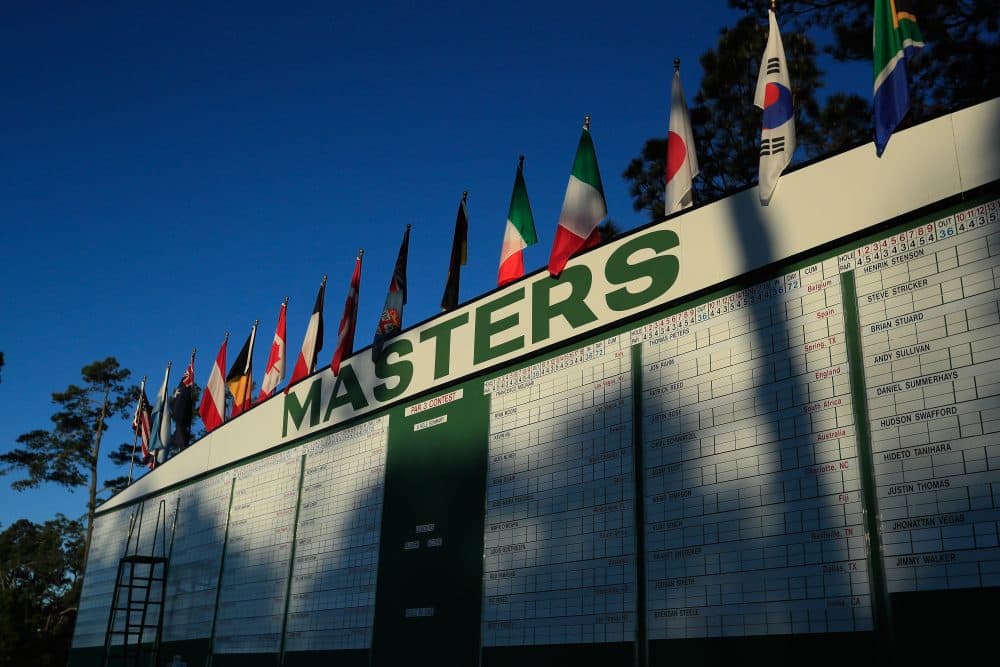 This article is more than 3 years old.
British golf writer and broadcaster Henry Longhurst once said: "A good caddie is more than a mere assistant. He is a guide, philosopher and friend."
With the 2017 Masters underway in Augusta, Ga., this quote is especially relevant. The Augusta National Golf Club boasts one of the PGA's most challenging courses.
Caddies not only have to lug 40-pound golf bags under the Georgia sun — they also have to offer advice throughout the tournament. Yet the caddie's contribution is often overlooked. You may know the favorites to win this year's Masters, but do you know who will be carrying their clubs? It's time to meet some of the caddies.
Jim "Bones" Mackay
While some caddies carry multiple golfers' clubs throughout their careers, Mackay has spent all of his years alongside Phil Mickelson. This is Mackay's 26th Masters appearance.
And it's no wonder the two have been together for so long — Mickelson has won three Masters titles with Mackay and is one of the most accomplished golfers in the 2017 tournament. Safe to say they've built a winning chemistry.
Steve Williams
Williams may be most known for carrying Tiger Woods' clubs for years, but he will be on Adam Scott's bag again for this year's Masters.
Williams caddied for Scott when he became the first Australian to win the title in 2013.
J.P. Fitzgerald
The current caddie for 27-year-old Rory McIlroy, Fitzgerald is a seasoned veteran. He's carried clubs for pros such as Ernie Els and is known to keep a lighthearted approach. Els once said of Fitzgerald, "J.P. has a good sense of humor, which is something I enjoy about him. At times, you need someone out there to keep things lighthearted and not always too serious."
Fitzgerald will try to help McIlroy earn his first green jacket this year — an achievement that has eluded the Irishman since he turned pro in 2007.
Austin Johnson
Austin and his golfer may have the closest relationship of any duo. That's because he caddies for his older brother Dustin Johnson. DJ currently holds the No. 1 golf ranking in the world. But he recently dropped out of the Masters due to a back injury. His brother-caddie has proven he'll do whatever it takes to help him succeed though:
Joe Skovron
Skovron is the caddie for lifelong friend Rickie Fowler. He even got to march with Fowler in the Rio Olympic Opening Ceremonies, representing the U.S. golf contingent.
Fowler is seeking his first green jacket.
Michael Greller
Greller was a sixth-grade math teacher and part-time caddie. Then he caddied for Jordan Spieth during an amateur tournament that Spieth won. After that, Spieth took the caddie alongside him full-time. And the two seem like a good fit:
Greller caddied for Spieth when he became the youngest Masters champ in history in 2014. He'll be trying to help the now 23-year-old win another green jacket this weekend.