3 Stories: Aaron Hernandez, Indiana Policy, Cubs Rings
09:04
Play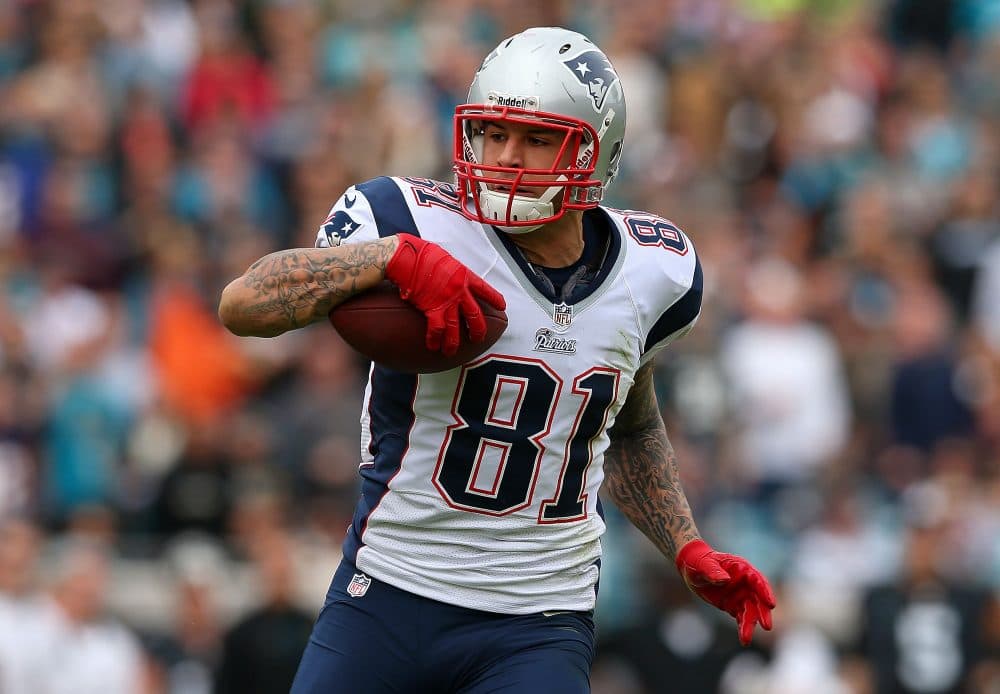 This article is more than 3 years old.
Want more Only A Game? Follow along on Facebook and Twitter.
---
This week, former New England Patriots tight end Aaron Hernandez committed suicide in his prison cell. The former Patriots tight end was serving a life sentence for a 2013 murder. What does the media's response to that death tell us about how the affect of celebrity? That story and more on this week's edition of "3 Stories You Should Know."
Mike Pesca, host of the daily Slate podcast The Gist, and WBUR's Shira Springer joined Bill Littlefield.
1. The Death Of Aaron Hernandez
On Wednesday morning, news came of Aaron Hernandez's death. A day earlier, Facebook murder suspect Steve Stephens also took his own life. Mike Pesca sees some differences in how the media responded to the news:
In covering Hernandez, ESPN and all the other sports outlets — they talked about the tragedy of it all, the sadness of it all. I don't think that's inappropriate, but it did strike me as totally different than the Steve Stephens coverage --which the tragedy was only extended to his victim. ... In dramatic terms a tragedy is a story where the protagonist dies, and so for us, Hernandez was the protagonist.
2. Indiana Sexual Violence Prevention
A new Indiana University policy will not allow any student athlete with a history of sexual violence to join an athletic team on campus. Bill Littlefield says:
It will be interesting to see how it is actually applied. It sounds as if the coach would not have the discretion to say
"Well, yeah, but I got this kid, and I can really bring him around and can help him become a mature, good citizen." I like the idea of eliminating the discretion and actually having a policy in place.
3. World Series Ring Agreement
After a 108-year World Series drought, the Chicago Cubs finally won a title in the 2016 season and received their World Series rings on April 12. But the team organization is encouraging those who received a ring to sign an agreement -- if the owner were to sell the item, the team reserves the right to buy it back for $1. Shira Springer discusses:
Basically, the Cubs want the people who received the rings to cherish them, not to use them as a salable asset. I get that, but it's a gift. And the people who receive the gift should have a right to do what they want with it. I'm thinking of the employee five to 10 years down the road who needs cash. ... It just seems destined to be a source of controversy that lingers way into the future.
More Stories You Should Know
This segment aired on April 22, 2017.