'Nobody Who Looks Like You Is On TV:' The Story Of A Sikh Broadcaster
Play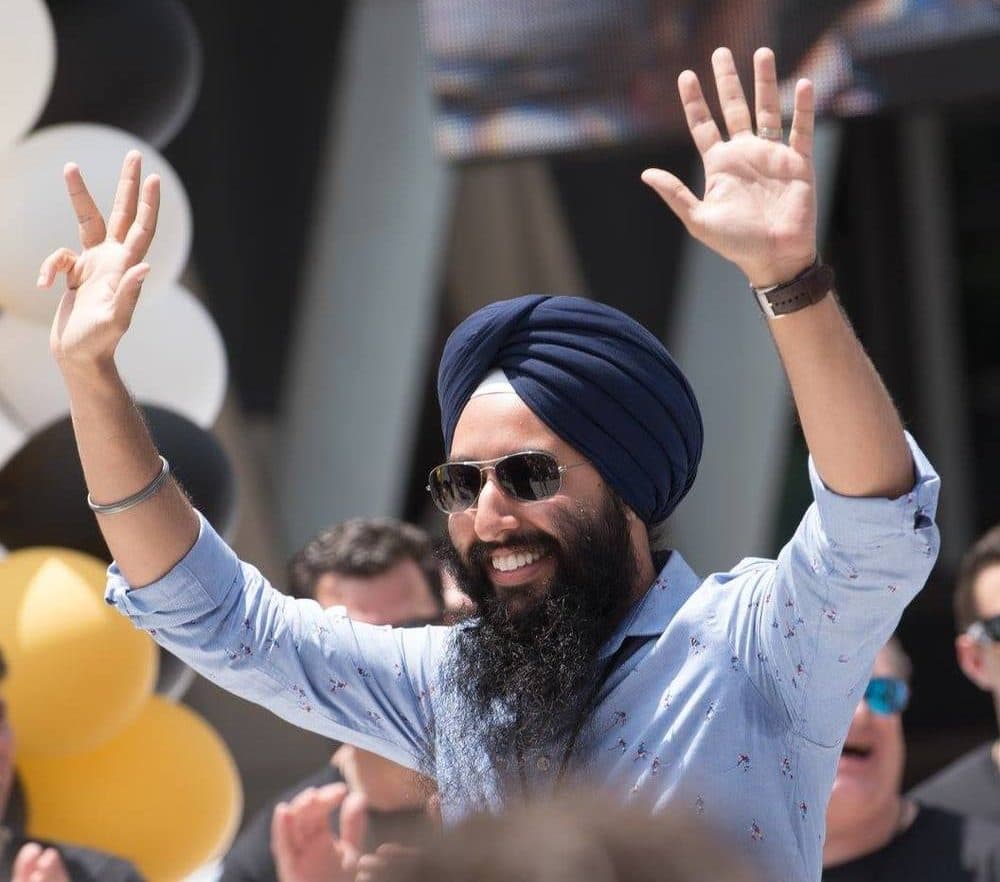 This article is more than 5 years old.
Eleven seconds and a few "Boninos" was all it took during last year's Stanley Cup Finals to put hockey announcer Harnarayan Singh on the map. But getting to that moment took his family generations.
It was snowing when Harnarayan Singh's father arrived in Canada in 1966. It was June.
Santokh Singh was from India. He'd never seen snow. He and his wife were willing to put up with cold weather for what they thought would be a better life.
Santokh had secured a job as a teacher in a small town in Alberta. He'd interviewed over the phone. When he a showed up at the school, the principal said:
"'You're wearing a turban, and you have a beard.' It was basically, thanks but no thanks," Harnarayan Singh says.
So Singh's father scrambled to find another job. There was one town that would take him: Brooks, Alberta. Population: 3,000.
"They were in a big-time need for teachers — the year before the entire staff had quit over a dispute with the administration, so they readily accepted my dad," Singh says.
Beginning In Brooks
Brooks, Alberta was an odd place for the couple to end up. There were no other Sikhs. And the town was on its way to becoming one of Canada's biggest beef processors.
The Singhs were vegetarian.
Santokh knew to expect some bigotry. His own grandfather had tried to start a new life in Canada back in 1908, and the locals made it clear he wasn't welcome. His grandfather returned to India.
But the Singhs stayed put. Santokh's wife, Surjit, also worked as a teacher. Santokh became the high school's lone calculus instructor. They started a family, and in 1984 their fourth child came along — Harnarayan.
By then, Brooks' population had grown to 10,000. The Singhs were still the only Sikhs. They spoke Punjabi at home. And from his very first day of kindergarten, Harnarayan Singh wore a formal, adult-style turban to school. He wanted to look just like his dad.
At recess one day, a classmate pulled off his turban. Singh burst into tears.
He kept wearing his turban to school. And he found a way to fit in.
A Prayer For Wayne Gretzky
"Like, a lot of my pictures from elementary school, I'm wearing hockey sweaters," Singh says. "And I almost very early on figured out that the questions about the differences in my appearance were put by the wayside when we just talked about hockey. And I became kinda just one of the other kids."
Singh never actually played ice hockey — but embracing the game wasn't an act. His favorite player was Wayne Gretzky. When the NHL star's birthday rolled around, Singh made sure his family celebrated it just like he was one of their own: with a Sikh prayer and a sweet pudding called parshaadh.
And Singh loved to watch games on TV in his living room.
"I would run around, kinda emulating the players, but as I was emulating the players with my mini hockey sticks and the hockey balls, I would also be commentating the game and providing crowd noise and all sorts of stuff," he says. "My family realized that I was interested in the announcing side of it, so they proceeded to give me this toy microphone and a stand from Radio Shack. And that was just — it had a little speaker and the mic and everything. And that for me was just the perfect toy."
Growing up, Singh told folks in town that he wanted to become an NHL announcer. And some of his neighbors were quick to dismiss him.
Singh still remembers a conversation he and his father had with the family doctor. After he learned about Singh's broadcasting dream, the doctor said, "You have to be realistic. Nobody who looks like you is on TV."
"I went home," Singh recalls, "and it made me think, too, that, 'Am I just dreaming? Does this even make sense?'"
Singh figured his dad — a guy with seven advanced degrees, fond of saying stuff like "You can't B.S. a calculus test" — would agree that it was time to get serious.
But later that day, Singh's father approached him.
"I think my dad," Singh recalls, "could tell I was a little down in the dumps and said, 'What's wrong? Are you thinking about what was talked about today?' And then I said, 'Yeah. Well, maybe I should be more realistic.' But surprisingly at that time my dad said, 'Well, you should go for what your passion is.'"
Following His Passion
So Singh went to broadcasting school. He got a job as a local news reporter for a radio station in Calgary. He tried to pitch his editors on as many hockey stories as possible.
After a couple years, he didn't feel he was getting any closer to becoming an on-air broadcaster. He even thought about switching careers and enrolled in real estate and mortgage courses.
"Look this was my dream. I couldn't give it up, so I just said, 'Don't worry. I'll be there!' Without even knowing how I would figure that out."

Harnarayan Singh
Then one day in 2008 he was sitting at his desk and...
"Lo and behold, I get this call from Joel Darling — Executive Producer, Hockey Night in Canada in Toronto," Singh says. "I'd heard the name but never even thought I would talk to somebody so high up within the Hockey Night in Canada family. He said, 'Your name has come up. We are thinking of doing Hockey Night in Canada in Punjabi.' And I'm kinda like, 'Is this even real?' I never imagined that there would be a Punjabi broadcast of Hockey Night in Canada. But there we go. I, of course, accepted it before even understanding what all it was."
A few weeks later, Singh was in a studio in Toronto calling the 2008 Stanley Cup Finals…in Punjabi. The broadcasts were a success. Turns out, after English and French, Punjabi is Canada's third most highly spoken language.
And soon after, the Canadian Broadcasting Corporation decided to make Punjabi broadcasts a Saturday night fixture. And they wanted Singh to be the play-by-play guy.
Going The Distance
The problem was, the Toronto studio was 1,600 miles from Singh's home in Calgary, and the gig didn't pay enough for him to quit his day job and move — especially for one night a week of work on a show that might not last very long. But…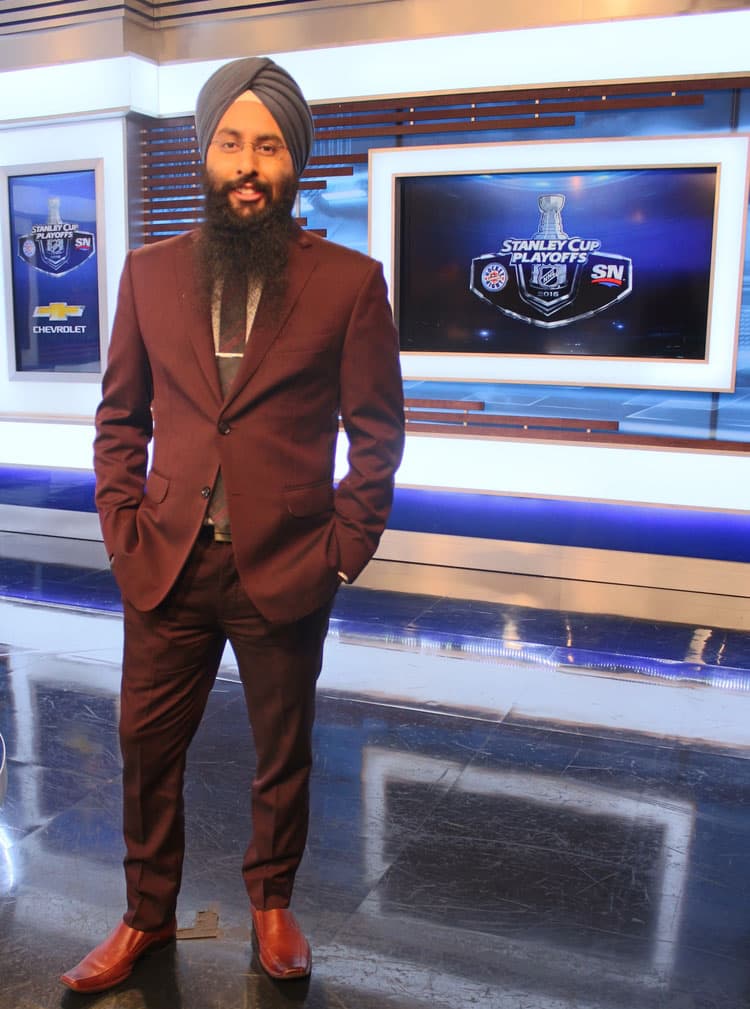 "Look, this was my dream," Singh says. "I couldn't give it up, so I just said, 'Don't worry. I'll be there!' Without even knowing how I would figure that out."
Singh concocted a plan. He'd work a normal week in Calgary, and then…
"I would take the red-eye flight Friday," he says. "I would get there Saturday early morning, and I would rent a car. I'd go to the CBC Toronto, do my prep for the two games that we were going to call. And the games would finish at 1 a.m. ET."
Singh couldn't afford to stay in a hotel every week. So after the game...
"I would just drive back to the airport," he says, "and try to find some benches to lay on."
Singh learned where to find the benches without the arm rests. And he learned to tie his bags to his leg so they wouldn't get stolen.
Then he'd take the first flight out of Toronto.
"And I'd arrive in Calgary at 9:30 a.m., and my sister would pick me up," he says. "And we'd go straight to the temple."
Singh did this every weekend – and he kept it all a secret from the Hockey Night Punjabi producers. He paid his own travel expenses.
A couple years in, he started feeling tired all the time. He went to a doctor, who said the crazy schedule had probably done damage to his body. Ever since, Singh has had to take thyroid medication.
But Singh was finally getting to call NHL games.
Hockey Night Punjabi Goes Viral
And as the show grew, things got better for Singh. The studio itself was moved west — first to Calgary, then Vancouver. And in 2012, Singh left his weekday reporting job.
It's now been nearly 10 years since Singh started calling NHL games in Punjabi — and he and his crew have a devoted following. They spice up their calls with references to Punjabi foods, poetry and music.
"For example, if a team has a really bad period, we'll throw in that they need a cup of chai tea in the intermission to get going," he says.
But the call that changed Singh's life came during last year's Stanley Cup Finals, when Pittsburgh Penguins center Nick Bonino scored a game winning goal in Game 1.
The call went viral. More hockey fans learned about Singh and the Punjabi broadcasts.
Becoming A Pioneer 
This season, Singh's been taking on more responsibilities. In November, on top of his regular Hockey Night Punjabi duties, he worked a Leafs-Flames game as a rinkside reporter for a Sportsnet national broadcast. That made Harnarayan Singh the first Sikh to broadcast an NHL game in English.
"It's really special," Singh says. "It makes me feel emotional that we've come such a long way as a community, but also as a family, since my parents first came here so long ago. And, really, they had to go through the challenges. I mean, I'm getting to do the fun stuff here."
Fun stuff – sure. But also important. Because now when Sikh kids say they want careers in broadcasting, nobody can tell them there's no one on TV who looks like them.
This segment aired on April 29, 2017.